Review: A CHORUS LINE at Ivoryton Playhouse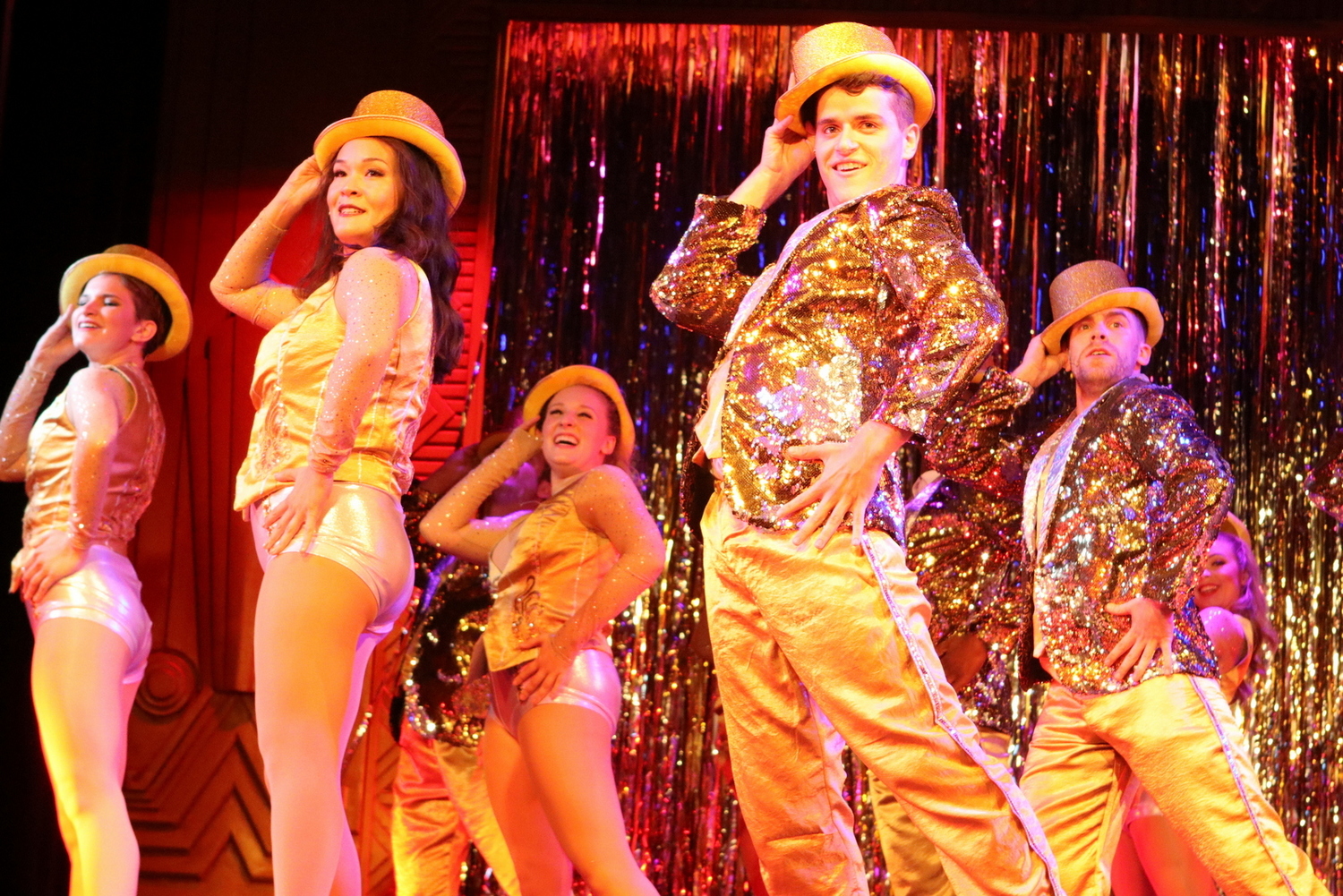 A CHORUS LINE, the hit musical about dancers auditioning for a Broadway show played for 6,137 performances in its original run and, depending on who you ask, there are numerous reasons for that. First, and foremost, audiences connected with the people on stage and their experiences. They saw their own wishes and dreams played out through the diverse and talented group of people assembled. The second reason is because it offers a unique variety of energetic musical numbers (with some amazing dancing, naturally) interspersed with dramatic monologues that get at the heart of the human condition. And third, and probably most importantly - it is simply a wildly entertaining musical. I am pleased to say that all of these elements (and more!) are present in the current production of A CHORUS LINE at the Ivoryton Playhouse in Ivoryton, CT.
For those who have not had the pleasure of seeing A CHORUS LINE before, the musical (with music by Marvin Hamlisch, lyrics by Edward Kleban, and book by James Kirkwood and Nicholas Dante), which is set in 1975, focuses on a rigorous audition for 8 spots (4 men, 4 women) in the chorus of an upcoming Broadway musical. The characters on stage show off their dance skills but unexpectedly find themselves being asked by the director, Zach (Edward Stanley), to talk about their personal lives. Over the course of the play each person takes a turn talking about themselves - their fears, their joys, and why they dance. This gives the audience not only a rare peek into the audition process, but also into the real people that inhabit those smiling faces dancing in the back on the line.
This was my first visit to the Ivoryton Playhouse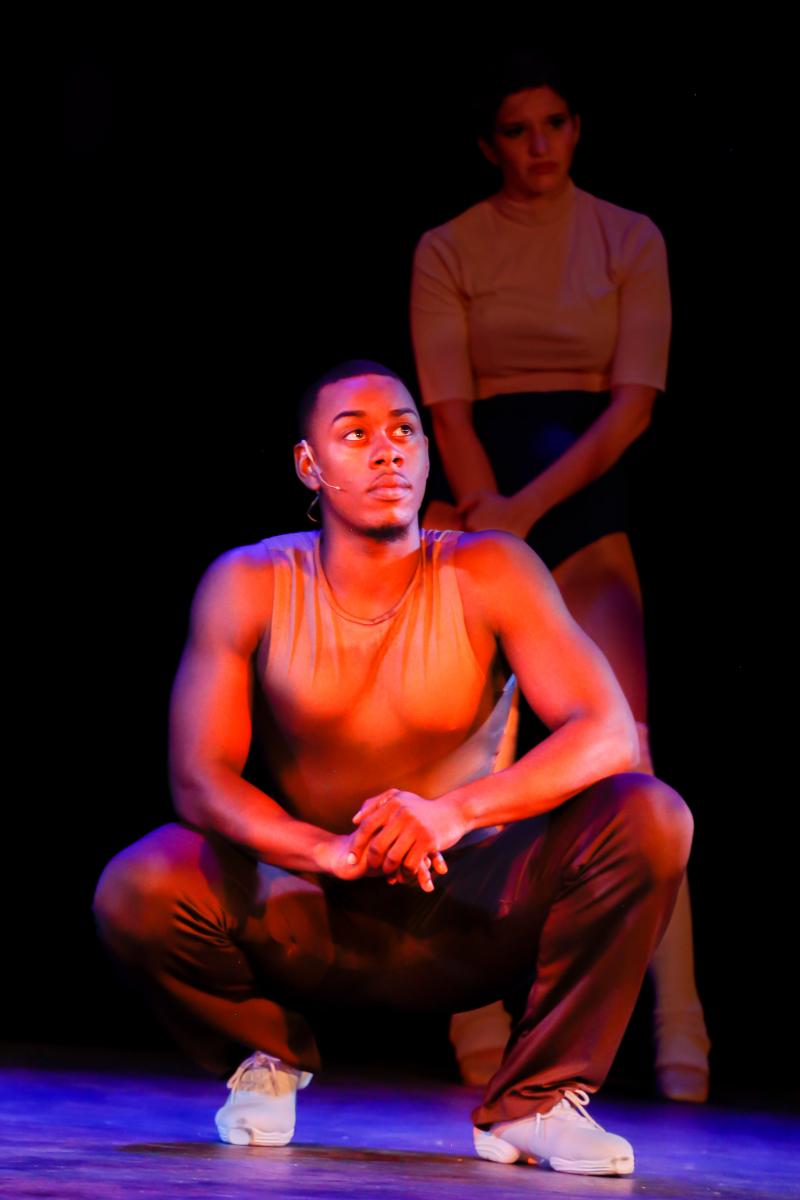 and I am thrilled with what I saw on stage in A CHORUS LINE. The direction and choreography (by Todd L. Underwood) is crisp and exciting. It works very well to have direction and choreography for A CHORUS LINE performed by the same person, ensuring seamless transitions from electric dance numbers to engaging dialogue. Speaking of the choreography, the classic Michael Bennett moves that are expected (the iconic opening "I Hope I Get It" and the thrilling closing "One") are all there, but Mr. Underwood (assisted by co-choreographer Bob Avian) infuses new energy and style to the dances, especially in numbers like "Hello Twelve", all while retaining an authentic 1970's sensibility.
Besides strong choreography, what makes or breaks a production of A CHORUS LINE is the strength of its cast. As one of the few "ensemble" musicals that gives most every member of the cast a moment to shine, if the audience doesn't connect with each in a personal way then something critical is lost. I am pleased to say that, to the person, each character portrayed on stage in Ivoryton Playhouse's production is not only believable, but extremely talented to boot. With seventeen main characters on the line (and a few others cut after the opening number) there are too many great performances to call out all of them here, but I will note a few standouts worthy of mention. First, Stephanie Genito as Cassie does a great job with her featured number "The Music and the Mirror", delivering an emotional and energetic take to her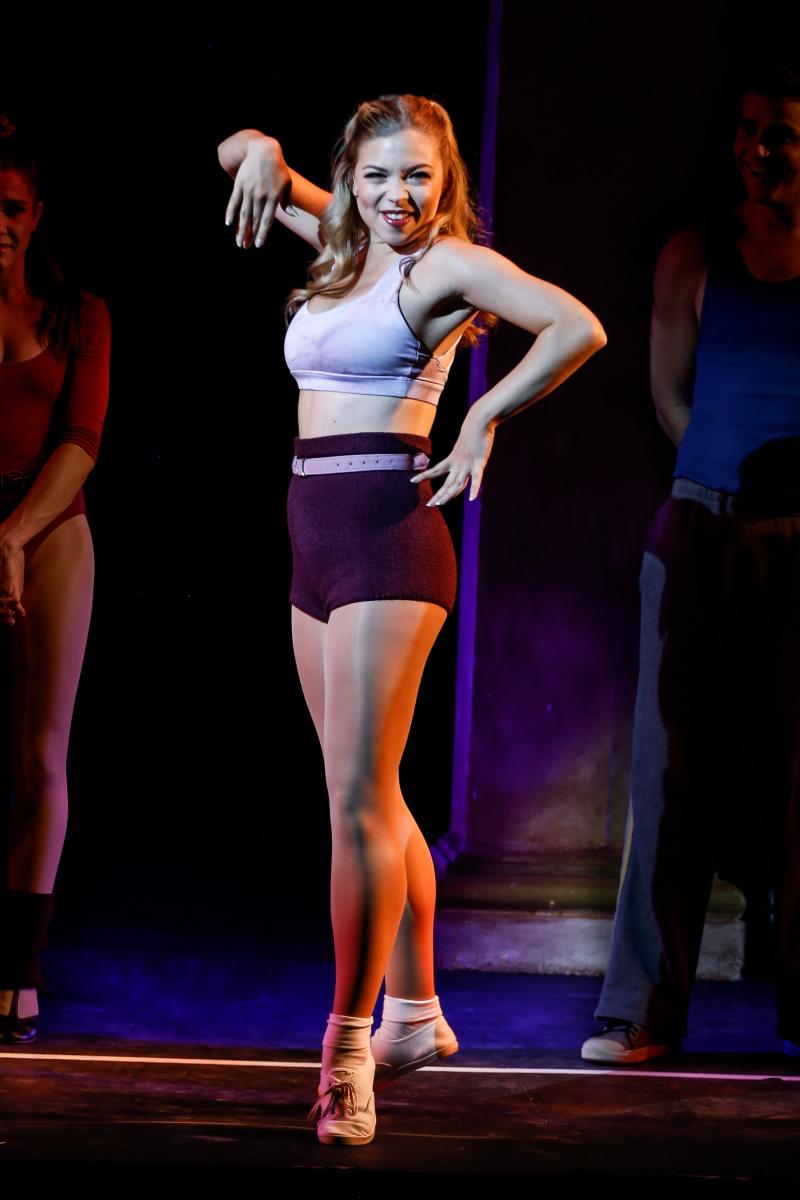 spotlight number. Alexa Racioppi's Val was perky and hilarious during "Dance: Ten, Looks: Three" and Matthew Carp was endearing and enthusiastic as the talented young Mark, especially when recounting his awkward self-diagnosis as a young boy. Dakota Hoar, as Mike, delivers a fun "I Can Do That" and the three women who perform "At the Ballet" Lili Thomas (Sheila), Kayla Starr Bryan (Bebe) and Liv Kurtz (Maggie) did a beautiful job with that emotional number. Ronnie S. Bowman, Jr. shows off an extremely strong voice (and solid dance skills) as Richie. Joey Lucherini delivers an emotional monologue as Paul and as the dry, yet hilarious Bobby, Sam Given is both hilarious and emotionally touching (especially in the final scene of the play.)
The orchestra, hidden under the stage and led by Michael Morris is solid and provides the foundation for the energetic musical numbers (and they nail the signature 70's brass sound). The staging by scenic director Martin Scott Marchitto is simple, yet effective punctuated by Marcus Abbot's lighting and Tate R. Burmeister's effective sound design. Finally, Kate Bunce's costumes are on point for the period with some nice nods to each character (e.g., Sheila's boots in the closing number.)
Overall, Ivoryton Playhouse's A CHORUS LINE is everything you want it to be. It is an intimate, yet thrilling look at a side of the theatre that not everyone gets to witness - told in a fresh way by an extremely talented cast of young actors. As I have said in the past, A CHORUS LINE is truly a love letter to the theater and to those dancers who occupy the usually anonymous line and the Ivoryton Playhouse has done the show great justice by bringing this classic to life in such a thrilling way.
A CHORUS LINE runs through September 2nd, 2018at the Ivoryton Playhouse which is located at 103 Main Street in Ivoryton, CT.. Performance times are Wednesday and Sunday matinees at 2pm. Evening performances are Wednesday and Thursday at 7:30pm, Friday and Saturday at 8pm. Additional matinee performances are on Saturday, September 1st. Tickets are $55 for adults; $50 for seniors; $25 for students and $20 for children and are available by calling the Playhouse box office at 860-767-7318 or by visiting our website at www.ivorytonplayhouse.org.
Photos courtesy of Jonathan Steele
Top Photo - Kayla Starr Bryan, Lili Thomas, Sarah Warrick, Matthew Carp, Cory Candelet
Mid Photo - Rodney Bowman Jr.
Bottom Photo - Alexa Racioppi