BWW Review: A DOLL'S HOUSE PART 2 at Ensemble Theatre Cincinnati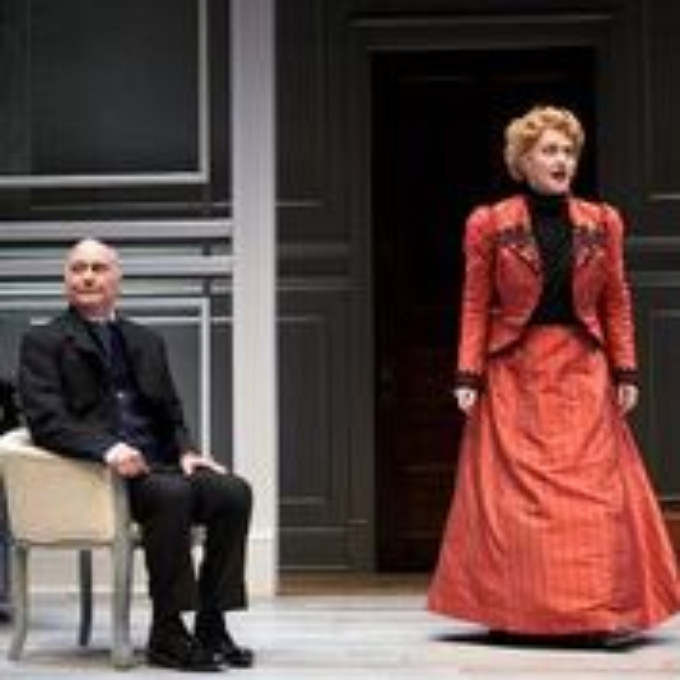 Lucas Hnath's A Doll's House Part 2 seems to want to move Nora Helmer forward. Hnath's Nora is 15 years older. She has travelled, taken lovers, and authored books that inspire women to leave their husbands. Her beloved servant Anne-Marie (played by Christine Dye) opens the famous door, and Nora comes strutting back in wearing an expensive and beautiful red dress. She is obviously doing very well...on her own! And it's not because she married a rich man! She's a full-blown feminist now - and that means she wants to destroy marriage, of course.
For the remainder of the 90 minutes, Hnath systematically sets out to prove that humans are selfish as each character tries to manipulate the others with long speeches. A meek and wounded Torvald (no match for the fiery and powerful feminist), risks everything to give Nora what she wants (only after being pushed to the brink), and it's too little too late. Nora rightfully (in my opinion) throws it back in his face. But, it seems, at least for the group of women I followed out of the theatre, that the main takeaway is STILL that Nora was the only selfish one.
There were moments in the script, but the moments come out as words, words, words, nothing more. Hnath's idea, that Nora takes years to be able to hear her own voice - not Torvald's - telling her what to do and how to do it, is striking. Women know these voices well. They tell us what to eat, when to go to bed, what to wear, who to have sex with. They tell us to have children, that there's something wrong with us if we don't love them a certain way. They say our breasts must look like this, our butts like that, our hair, our nails, our teeth, our breath, our souls...
What makes Ibsen so compelling for me is the extreme realism. Finding the behavior behind the words, the subtext, is like tilling a fertile garden. But this cast can't quite get its hands dirty. Hnath has robbed some fine actors of the opportunity with his surprisingly flat writing.
Connan Morrissey as Nora has her moments, and those moments come when she is tipped off balance, her new-found feminist "confidence" beginning to crack. These moments happen most often in the scene with her daughter, Emmy (played by Esther Cunningham.) In fact, in the end, the servant, Anne Marie, and the daughter, Emmy, end up being the most interesting characters because they have things to conceal. Their truths drip out like an IV.
Unfortunately, in her scenes with Torvald, the ones you would think could have the juiciest possibilities, intentions and motivations are dumped out like a bucket of water. The audience spends a lot of time watching them clean up, which is a lot less interesting than watching them try not to spill it in the first place.
Director Regina Pugh makes a lovely effort to focus on movement and connection, but Hnath's writing doesn't allow for those exquisite moments of behavior to shine through. Brian c. Mehring's stylish but desolate set keeps the actors limited and moving furniture around to show control. The home is not like a Doll's House at all anymore. All of Nora's things were removed, making it a skeleton of what it once was. A bone-colored frame surrounds the actors like ribs, the famous door creating a big hole in the middle of the chest.
Hnath's study begins promisingly enough. Nora struts in in her bright red dress as if she is the heart that has returned to the empty chest it left 15 years ago, but somehow she doesn't bring new life with her. No one has learned anything, and nothing has changed. She leaves. Again. But this time, the door doesn't slam shut with a shocking resonance. It simply closes with an ordinary click.
A Doll's House Part 2 plays through March 30th at Ensemble Theatre Cincinnati. For tickets and more info go here.
PHOTO BY: Ryan Kurtz
Tony Campisi as Torvald and Connan Morrissey as Nora in Lucas Hnath's A Doll's House Part 2
Related Articles View More Cincinnati

Stories

Shows