BWW Review: Gettysburg Community Theatre Penguin Project's THE WIZARD OF OZ at the Eichelberger Performing Arts Center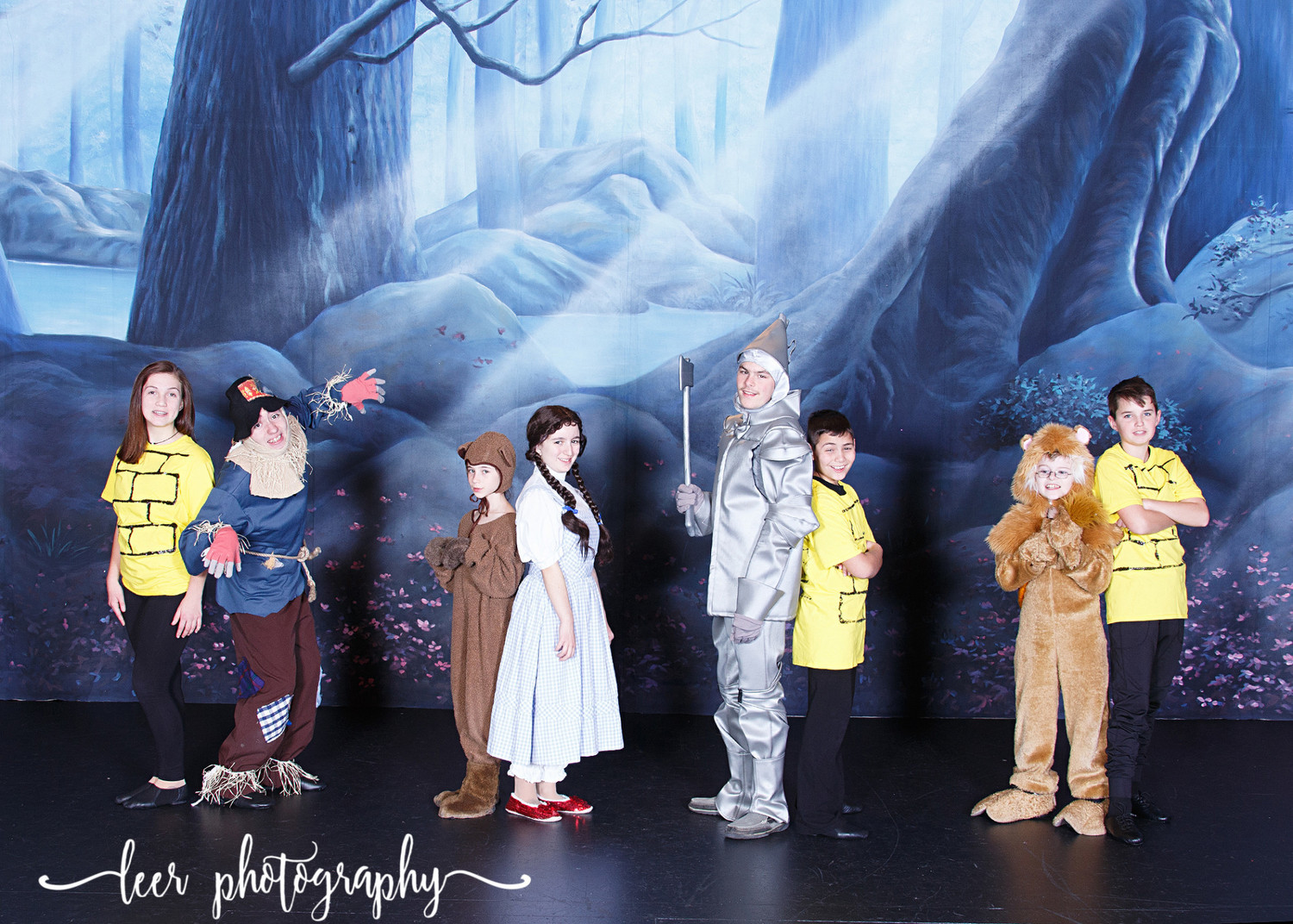 It's an unique experience to be a reviewer. We're tasked with having an understanding of theatre and performance and to be able to express what we experience at a variety of different shows to an audience of readers who may have seen the show or may be deciding whether or not to see the show. As a reviewer for many community theatres in the area, I see my role as many-faceted. On one hand, I'm a reviewer, and a review, to be a true review, necessarily includes some level of critique. I feel a responsibility to my readers to give them an idea of what they might expect if they see the show. On the other hand, as a supporter of the arts and a frequent director and performer myself, my personal goal is to promote the arts, to promote the theatres in our area, to lift up the many volunteers who do such amazing work. So, I try to frame my writing from these various points of view.
I've been honored to be asked to write some new types of columns lately and to cover some different approaches to theatre and the performing arts. Most recently, I had the immense privilege of seeing The Wizard of Oz presented at the Eichelberger Performing Arts Center by the Penguin Project of Gettysburg Community Theatre. For this piece, I will be taking off my reviewer hat and simply sharing what I experienced as an audience member during this show.
Entering the theatre space there was an energy and sense of anticipation. The audience knew that they were going to be treated to something extraordinary. For those readers who are not familiar with the Penguin Project, it is a program first started in Illinois by Dr. Andrew Morgan. The project gives children and teens with special needs the opportunity to perform a show and to work with peer mentors in their preparation and performance. Gettysburg Community Theatre's chapter of the Penguin Project began in 2014 with a production of Peter Pan, Jr. Gettysburg Community Theatre's 2018 Penguin Project performance The Wizard of Oz: Young Performers' Edition featured 50 children with and without special needs from 14 different school districts and 6 different counties.
One of the first things that I noticed as the lights came up and the show started was the confidence and poise that these young performers displayed. They tackled their songs, blocking, and interactions with each other on the stage fearlessly. As Ella Scott, playing Dorothy, began "Somewhere Over the Rainbow", you could feel the mood in the room shift from one of anticipation to one of awe and encouragement. So many of us never have the courage to stand in front of an audience like that, to see this young lady, with her mentor Mina Gladson at her side, step forward and begin to sing this song that so many of us know, and to think of it in the context of the goals of the Penguin Project, was truly inspiring.
Some of my absolute favorite scenes were the ensemble scenes-particularly Munchkin Land. The enthusiasm and joy the children and teens were experiencing being on stage together and showing the audience what they could do was infectious. Add to that the beautiful costumes and brilliant backdrops, and the audience couldn't help but be mesmerized.
It was easy to see why so many of the actors enjoyed the Jitterbug Scene, as they told us in the interview BroadwayWorld posted a few days ago. Just watching them let go and dance and sing like they do in that scene left me with a profound feeling of joy and freedom. From where I was sitting, I was also able to watch music director Carrie Trax as she conducted the songs-it was a pleasure to see how she was able to engage with the students even from a distance, and served as a reminder that it takes a whole host of dedicated volunteers to put together a performance.
The quartet of characters who travel to see the Wizard of Oz-Ella Scott as Dorothy, Samuel Albert as Scarecrow, Marcus Norrie as Tin Man, and Joel Payne as Lion-were delightful to watch as they interacted with one another and with their mentors on stage to bring the story to life. One of my favorite songs of the show was "If I Were King of the Forest". Not only was it well performed by Joel and the rest of the group, but it also seemed to highlight the whole theme of the evening-having the courage to be who you are and to be seen for yourself, having the courage to help one another along the way, and having the courage to never give up.
Something I found fascinating to watch was the way in which the mentors worked with their actors on the stage. They knew just when and how to offer extra help or support, and it was done in such a way that it just felt like part of the show-they always kept the focus on their partner actor and were never distracting. It takes extreme focus, dedication, and patience on the part of the actor and the mentor to learn how to work together like that, and it was impressive and awe-inspiring. I'd say we could all learn something about better ways to work together from watching these young people on stage.
This was a completely new theatre experience for me, and it is difficult to find the words to describe just what an experience it was. I strongly believe that the performing arts can change lives, and I believe I saw it on the stage at the Eichelberger Performing Arts Center as the Penguins poured their whole selves into The Wizard of Oz.
I wish there was room to write something individual about every actor on that stage. While I don't have space to write something about each, I do have the space to name all of the actors who worked together and deserve recognition for what they accomplished: Hunter Minck, Joel Payne, Olivia Faasen, Ella Scott, Alex Lecrone, Marcus Norrie, Cassie Smith, Kirra Bishop, Robert Schelssman, Austin Schuster, Zane Hausner, William Lyston, TJ Williams, Kaleigh McMaster, Victoria Craver, Leah Watson, Katie Kniery, Kasey Duncan, Payton McInturff, Danny Burton, Samuel Albert, Janna Scott, Amaree Brown, Avrey Sponseller, Stacee Wolf, Caleb Greenwalt, CJ Lair, Stella Gladson, Mina Gladson, Sydney Christner, Jack Rios, Jordan Coscia, Gillian Scott, Max Carlson, Olivia Schuster, Kevin Foster, Madison Dittrich, Layla Sponseller, Audrey Norwood, Maya Richwine, Kalia Hoedemaker, Ivy Nieves, Brandon Gladfelter, Natalie Hurwitch, Madelyn Greco, Sara Miller, Piper Miller, Liliana Hoedemaker, Brooklyn Pyren, Emma Greenwalt, Lily Smith, and Myka Walker. And the production team: Chad-Alan Carr, Carrie Trax, C. Andrew Adcock, Kevin Foster, April Howard, Geoffrey Baker, John Keefauver, Michael Connelly, Lexi Connelly, Travis Sowell, Amanda Wetzel, Tessa and Audrey Trax, and parents of the cast members. Congratulations to the entire cast and crew of The Wizard of Oz: Young Performers' Edition! Your hard work, dedication, courage, and talent were beautiful to experience.
The Penguin Project has spread to 15 different states, and I hope to see it continue to grow. If you'd like to learn more about the Penguin Project, you can visit www.penguinproject.org. To support the Penguin Project in Central PA, visit http://www.gettysburgcommunitytheatre.org/the-penguin-project.html. You can show your support of this incredible program by visiting their page, coming to see their shows, becoming a sponsor, and volunteering. I highly recommend anyone who wants to experience a performance with real heart that will inspire you to have courage in your own life to see a Penguin Project performance.
Photo Credit: Leer Photography