BWW Review: SILENT SKY at Blackfriars Theatre
Blackfriars' "Silent Sky" is a flawlessly-executed production of a deeply moving and profound play, written by one of our greatest living playwrights.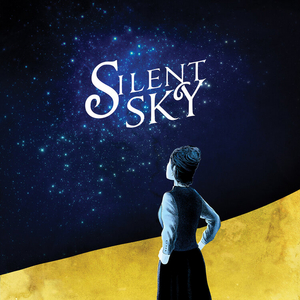 Blackfriars Theatre continues its 2021-2022 season (doing alternating repertory performances with Charlayne Woodard's "Pretty Fire") with "Silent Sky", an original play by Lauren Gunderson, who holds the unique accolade of being America's most produced living playwright. It's an inspiring show that touches on themes of gender and patriarchy on the surface, but if you dig a little deeper you'll also uncover explorations of space, time, human connection, and one's legacy.
Silent Sky tells the true story of Henrietta Leavitt (Jill Rittinger). It is 1900, and Henrietta has the opportunity to work at Harvard University as a human computer, one of Dr. Edward Pickering's "harem," mapping the stars but receiving no scientific credit. When Henrietta arrives, she is eager to use Harvard's telescope - the Great Refractor - but is told that she will not be able to do any sort of astronomical discovery as she will only log the stars photographed by the men of the department. However, Henrietta will not be dissuaded, and begins the process of recording the changes in Cepheid stars - a scientific discovery that has profound and lasting impact on the field of astronomy. During her inquiry, Henrietta's relationships strain under her obsessive work ethic; her sister Margaret (Mary Tiballi Hoffman), her love interest Peter Shaw (Colin Pazek), and her colleagues Annie Cannon (Erin Kate Howard) and Williamina Fleming (Kerry Young) all find themselves pushed aside in favor of a great cosmic mystery.
To say "I enjoyed BF's production of 'Silent Sky'" would be inaccurate. A more accurate statement would be "it was one of my most Moving Theatre experiences of late, and easily in the top two-or-three shows I've ever seen at Blackfriars" (and I've seen many). From a writing perspective, "Silent Sky" is a literary marvel. Gunderson crafted a play that is deeply emotional and affecting while also snappy and interesting, rife with humor, and featuring characters that are layered and complex. A lesser playwright would have written Henrietta Leavitt as a pioneering female scientist (which she certainly was) and left it at that. Gunderson wrote her as a brilliant but flawed researcher who often bungles her priorities, neglects her loved ones, gets lost in her work, and is interpersonally awkward and aloof. Rittinger harnesses these complexities and manifests them into an utterly authentic character who takes turns inspiring and infuriating the audience, someone who refuses to bow to male-dominated scientific elitism but also can't be bothered to respond to her sister's many letters from home. She's a marvel to watch.
Equally impressive and perfectly cast is Mary Tiballi Hoffman as Margaret, whose sarcasm, cutting humor, homespun simplicity, and brook-no-bullshit personality acts as a perfect counterweight to her sister's alternating detachment and intellect. Tiballi Hoffman and Rittinger have a seamless onstage chemistry-as does the whole cast, for the matter-which is critical to a play that is so dependent on the minutia of human beings and their complexities. Much of the success of BF's "Silent Sky" is also due to the excellent direction of Patricia Lewis Browne, as directors are always tasked with-among many other things-pulling the best possible performance out of their actors.
Blackfriars' "Silent Sky" is a flawlessly-executed production of a deeply moving and profound play, written by one of our greatest living playwrights; it's the perfect way to reintroduce yourself to live theatre after 18 months away. It's playing until November 14th, for tickets and more information click here.