BWW Review: Oh What a Night at JERSEY BOYS by Stage West Theatre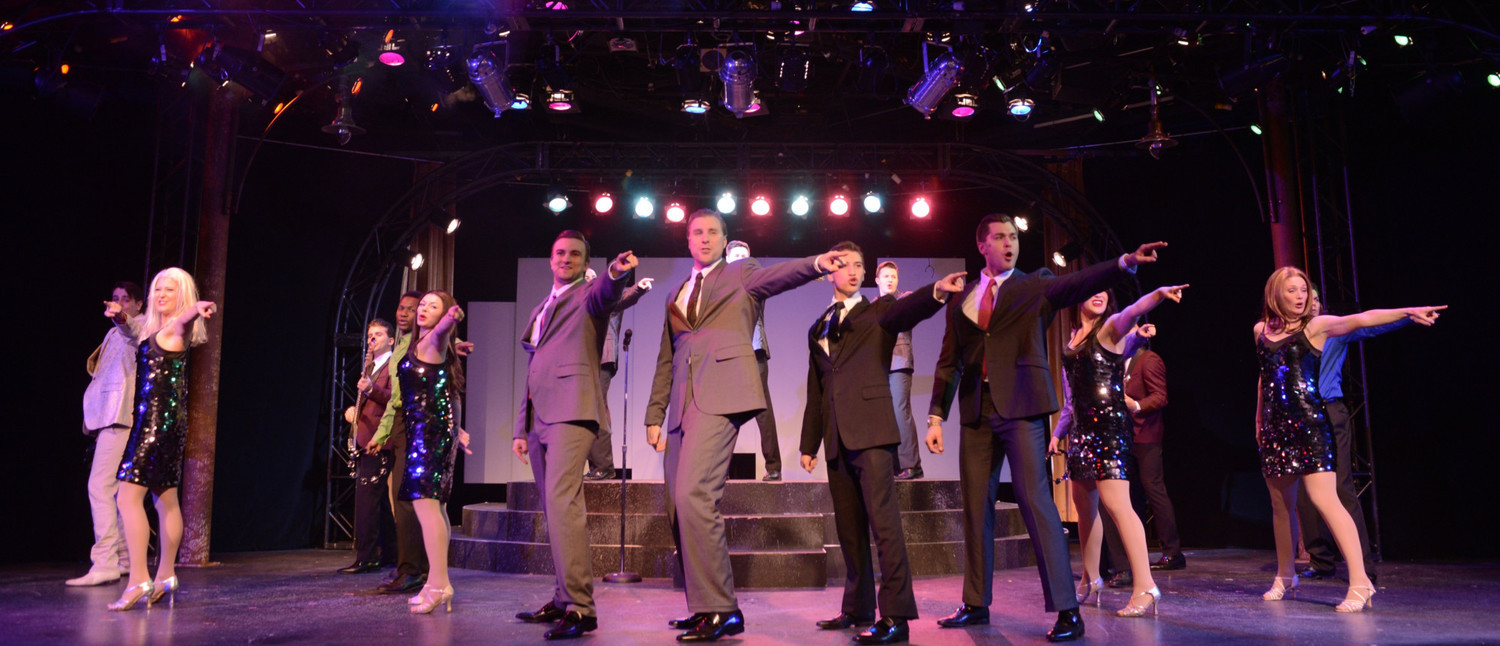 There are some shows in the contemporary mind of musical theatre that have become staples of the industry. Shows that are always performing somewhere in the world because audiences are practically guaranteed to love it and come back for more. These shows are filled with familiar music, a compelling story, and a demand for specific and engaging talent. No show embodies this more, in my mind, than Jersey Boys. Each production tells the same story of four men under a street light in New Jersey and yet each actor who takes on the iconic roles of the Four Seasons brings their own interpretation and flair to the role. No two performances are exactly alike and there is something so comforting in feeling that when the lights go down, you know exactly what you're in store for.
Given Stage West Theatre Restaurant's penchant for tributes and bio-musicals (ala Million Dollar Quartet, Rock of Ages, Red Rock Diner, and their continuously running Tribute Concert Series), Jersey Boys was a perfect fit for their 2018/2019 Season.
The show tells the story of Frankie Valli and the Four Seasons, their rise to fame and eventual break up. With a score by founding member Bob Gaudio, with famed producer and lyricist Bob Crewe, this two act musical is packed with all of the greatest hits from the 50s and beyond, including Sherry, Oh What a Night, My Boyfriend's Back, Big Girls Don't Cry, and Can't Take My Eyes Off Of You. One thing I love about the story is that it doesn't shy away from the bias of four men telling four different versions of the same story. You're left to decide who was in the right and whether any of them made the right decision, or if, in fact, there were simply humans with immense talent who got swept away by the magic of Rock and Roll.
This particular production did not start out on the best note for me. The first song we're introduced to is Ces Soiress-La, the French version of Oh What a Night performed by rapper Yannick in 2000. This is a rather jarring introduction to an audience expecting to hear a certain head voice, but what makes it work is the total commitment of the actors to each world their inhabiting - especially from whoever is rapping the song. I didn't feel that connection; it felt rushed and unclear and it took the booming voice of Josh Wiles (playing Tommy DeVito) to really bring the audience into the scene. Even then, I didn't find myself settled thoroughly into the world of 1950s New Jersey until Frankie Valli started to sing.
I will say this: Evan Taylor Benyacar looks like a young Frankie Valli. And he sings like him too. His smaller frame and young face made him perfect for the naïve singer just beginning his career, rising to fame at a young age. However, as Frankie grew older, Evan seemed to stay the same. I don't mean his appearance, but in the way he carried himself; the weight of all this character - this man - went through didn't seem to land. I never felt the pain of what Frankie was going through, I was merely observing it and hearing about it. The costumes didn't help his cause very much; as Frankie aged and grew more successful, his suits never quite fit him properly.
A rather large aspect of Jersey Boys is the men's suits. In almost every performance they're wearing something different and you can see the changes that time and money make on these men from the "mobbed up" streets of New Jersey, to the Rock and Roll Hall of Fame. With a few exceptions, I really enjoyed Leslie Robinson-Greene's costume design and the transitions marked by their seamless costume changes and distinct colours. With Evan's costumes, I would have liked to see something a little more fitted for the lead singer of the famous quartet because the way they sat on his body reminded me of a young man wearing his father's suit jacket all the way through the show. The shoulder pads and squared off hips were iconic but it didn't quite fit the one person it really needed to fit.
Evan was always very active in his role - more so than I remember seeing any other actor playing Frankie. I know he has a background in dance and normally I love seeing unscripted talents being highlighted but with this show, I think there needs to be a certain level of authenticity in the movement. Phil Nero's choreography is fantastic - co-owning Metro Movement in Toronto and choreographing recent Stage West hits such as Legally Blonde, Young Frankenstein and Spamalot - however, I don't know that it translated as well into Jersey Boys. The steps were perfect and on brand for both the Four Seasons and Phil, but what I saw on stage was four different men doing their own interpretation of the choreography and that made no sense to me. Normally, yes, that is exactly what I want to see because most musicals are about people expressing themselves through song and dance on a separate plain of existence from the one they're living on. With Jersey Boys: the songs and dances they are performing are things they are performing in their reality. The Four Seasons were always sharp and always perfectly in sync and I missed that from this production. When there was a little more freedom in their movement - such as Ces Soiree-La and Oh What a Night - I couldn't take my eyes off of the fabulous female ensemble.
I want to give a shout out to Sarah O'Brecht for being the female swing for the show and understudying the three distinct actors playing Mary, Lorraine, and Francine. The role of the female ensemble is not large but it is important and the four of them (Sarah Horsman, Kyla Musselman, and Amanda Struthmann playing Lorraine, Francine, and Mary respectively) did an excellent job of creating unique characters for every scene. I loved watching Kyla Musselman in all of her personas and I wish more of the actors had risen to her energy level.
That is a blanket comment I'll place on this production: the energy level was very stagnant, leaving one or two characters as exaggerated outliers rather than a consistent modem for entertainment while we're led through the story. Consistency in campiness is key. Instead of feeling like Matt Alfano's interpretation of Gyp De Carlo was over the top - especially during My Mother's Eyes - I would have felt comforted in the notion that the entire cast had the same storytelling intention.
The rest of the Four Seasons, Tommy DeVito (played by Josh Wiles), Nick Massi (played by Tristan Hernandez), and Bob Gaudio (played by Jonathan Gysbers) seemed well suited for their roles. Where Josh was loud and brassy, Tristan was quiet and brooding, and Jonathan had a boyish confidence that he carried with him - though he always seemed older than Frankie. I loved seeing four individual men with their own journeys coming together for their music. Each actor gave an incredibly unique performance separate of their partnerships. I was given insight and allowed to care about each one of them along with investing in their success as a group. It is not as easy thing to represent real people and events in the context of a fictional story but I feel like the four of them did it well.
For the most part, I enjoyed the overall look and design of the show. The set design by Anton de Groot was fairly minimalistic, which allowed for quick transitions and enough context for the audience to understand where we were. The use of the spotlight in David Smith's lighting design made sense - using it as an aside to the audience - but the amount of times we were pushed in and out of the scene was often very jarring, though I understand it is the nature of the show itself. What made it even more off-putting was the use of projections, designed by Technical Director Sean D. Ellis. Every scene included two screens on either side of the stage which flashed to give context to the scene even when it wasn't necessary. Without a dimmer on the projections, the audience was treated to a blinding light before the stage lights came up for the scene to start. The only time I found those screens of use was when the Four Seasons were being filmed and the audience was treated to a live feed of their "television performances". It is an interesting aspect of the show and I love how their on-screen lives were portrayed with that one action.
I really like Jersey Boys. It's one of those bio-musicals that has a lot of heart and is guaranteed to win over an audience. I left the theatre feeling as though I'd watched a good production of a well-known musical. There were incredibly talented actors on stage, and seasoned designers whose work was reflected by those actors for the audience to enjoy. If you are coming to the theatre to see a familiar yet still unique interpretation of the story and the characters, I believe you will find that at Stage West.
Jersey Boys will run until February 3rd at Stage West Theatre Restaurant. Tickets can be purchased at www.stagewestcalgary.com or by calling 403.243.6642.
Related Articles View More Calgary

Stories

Shows