Spotlight On Productions Presents JOYFUL NOISE!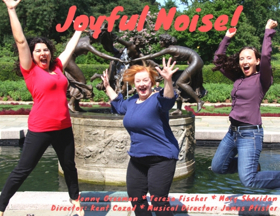 Three award winning singers interpret songs of love and belonging that reach into the rich history of Broadway and pop gems from yesterday and today. 2017's prestigious Tomatoes Got Talent winner Cabaret singer Teresa Fischer joins recent NY theatre award winners Jenny Greeman and Mary Sheridan for this unique and riveting evening of entertainment. This will be their first full show together having worked previously on the Spotlight On Cabaret show Through The Years. "A definite highlight and one of the best I've produced in years!" Festival producer Frank Calo says. Kent Cozad directed that special evening and along with Teresa spearheaded this collaboration.
Material ranges from Sondheim to Billy Joel to Katy Perry. "These terrific soloists can join together as a perfect ensemble." says Mr. Cozad "Audiences are going to really love this show," he adds.
Recent Planet Connections actress winner Mary Sheridan is thrilled to be part of the group and has performed parts as varied as Ophelia in Hamlet to Savage in Savage in Limbo and is a veteran of NY stages. Jenny Greeman is an award winning actress, director and singer [along with Teresa for their Three Broads collaborations several years ago]. Jenny has many performances under her belt in NY City as well as in touring groups. Teresa Fischer's cabaret career has many accolades bestowed upon it. Her last show "What's Next?", also directed by Kent, receiving many raves including:
The creative team of Director Kent Cozad and Musical Director James Pfister complete this perfect musical picture. Kent has been a theatre director for more than 30 years and has an impeccable ear for music. James is quite a NY City presence having musically directed and played piano for many plays and cabaret events for more than 25 years.
Two Night Only - November 12 and 14 - reserve your tickets now!
Where: The Duplex Cabaret Theatre - 61 Christopher Street/7th Ave
[1 to Christopher Street or A/B/C/D to West 4th Street]
When: SUNDAY, NOVEMBER 12TH @ 4:30PM; TUESDAY, NOVEMBER 14TH @ 7:00PM
$20* at the door [Save $5 and purchase your tickets now]
$15* in Advance with PurplePass:
Sun: www.purplepass.com/joyful1112
Tues: www.purplepass.com/joyful1114