Review: BRIDGE OVER MUDDIED WATERS Gives Cynthia Clarey Auspicious NYC Debut at The Laurie Beechman Theatre
Cynthia Clarey begins what is sure to be a fine career in New York Cabaret.
Chicago cabaret artist Cynthia Clarey recently made her New York City cabaret debut at the Laurie Beechman Theatre, playing to a room filled with respected industry proficients, which is not something every out-of-towner can easily boast - an impressive feat, indeed. Cynthia Clarey's reputation, clearly, precedes her - and it is a reputation quite well-earned, and well-deserved. Cynthia Clarey is a performer that the New York City cabaret industry is most certain to embrace and welcome, for the lady is wonderful. She is exciting, she is interesting, and she has something (well... some things) to say.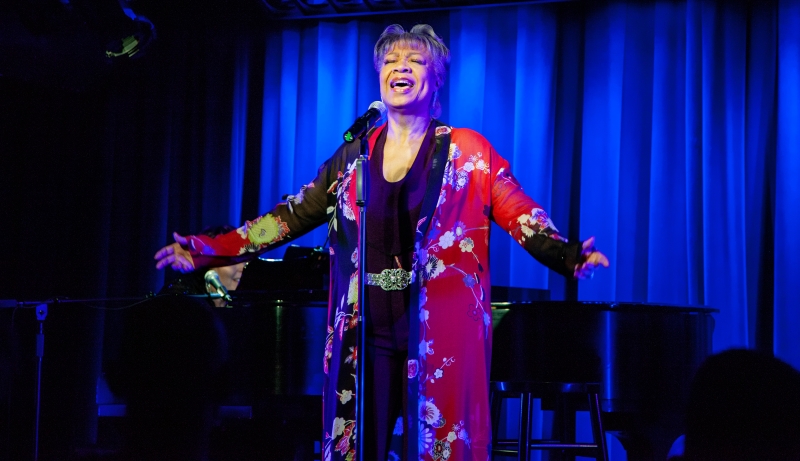 Cynthia Clarey's life story is an interesting one, documented in Michael Walters' interview for Broadway World Cabaret (read it HERE) - a one-time Juilliard student who, throughout her life, has traversed the corridors of the worlds of opera, musical theater, and cabaret, Ms. Clarey saw some changes in her voice and her trajectory, even hitting the pause button for a minute, until close friends and loved ones encouraged her to keep singing. The fact that Cynthia Clarey did not stop singing is a boon, a blessing, and a bright light in musical storytelling - that much was clear during her performance of BRIDGE OVER MUDDIED WATERS on February 5th.
Bridge Over Muddied Waters was awarded the Chicago Cabaret Performers Advocacy Award, and it is easy to see why. The musical cabaret details, through careful song selection and Ms. Clarey's own written words, Cynthia's reflections on political and societal unrest in this country, dating back a few years and a few decades. With this piece of cabaret theater, the singing actress comments on the black experience (never an easy discussion), on politics, presidents, and Washington D.C., on activism and activists, on legends and leaders, and on her own personal encounters with prejudice, micro-aggression, and just plain old garden variety ignorance. Indeed, Ms. Clarey's most powerful stories throughout her production are the personal ones in which she describes the experience of having to educate white people who simply had never been told the truth. These personal stories make Bridge Over Muddied Waters more than good theater - they make it important theater, theater that is particularly resonant during Black History Month. The fact that the framework of Ms. Clarey's script provides a perfect place upon which adorn quality musical entertainment makes it right and proper cabaret - although this writer does have notes.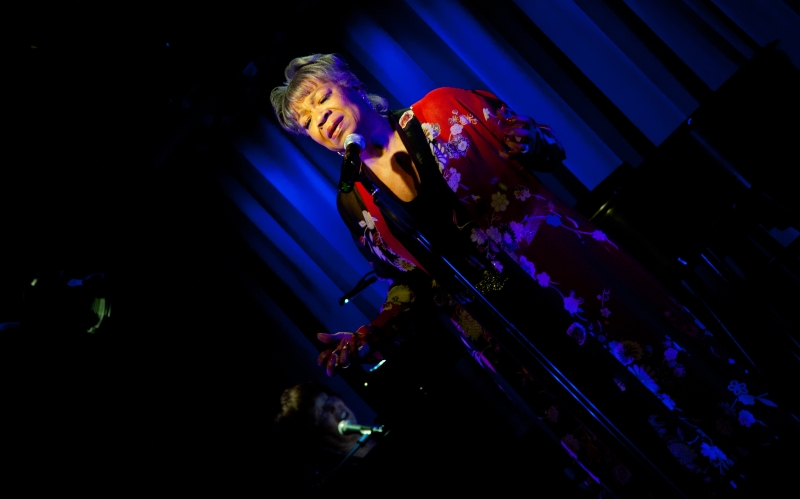 The cabaret artform differs from town to town, from city to city, from state to state. That which plays well in New York may not resonate with Dallas cabaret audiences, and what one sees in San Francisco cabaret clubs might need a buffing up for the St. Louis rooms. Cynthia Clarey is a renowned artist in the Chicago market, and we want her to achieve that same degree of success in the New York market. In order to, fully, accomplish this, one might offer that the script of Bridge Over Muddied Waters could use a revision for New York performances. The stories Ms. Clarey tells are very good - they are well written, and well performed, but there is a slightly chunky feel to the flow of the show. There seems to be a lack of organic flow to the program, something that could be adjusted during a staff meeting with her team, which would appear to be Beckie Menzie, the only creative with a directing credit for the production, albeit a Musical Director credit. If the iconic Chicago cabaret star, Menzie, is, indeed, the only director on the show, it could benefit the team to add another pair of eyes to the project. Throughout the performance on Sunday there occurred occasions when Ms. Clarey lost her way in her script, requiring prompts from the devotedly watchful Menzie, seated at the piano. This writer is certain that this was neither a question of nerves nor of age (Clarey is very openly a septuagenarian), but is, instead, something more along the lines of losing one's way in a script that lacks a throughline that leads, naturally, from one point to the next. Were Misses Clarey and Menzie to take another pass at the written portions of the play, finding a more natural way for Cynthia's sensational stories to lead her and her audience through the story arc, there would be no such reminders required during a program that is, musically, superlative.
As a singing storyteller, Cynthia Clarey is compelling and captivating. Whether singing musical theater ("Brand New Day" from The Wiz), pop music ("He Ain't Heavy") or The Great American Songbook ("Let's Face The Music And Dance"), Ms. Clarey's voice rings out into the nightclub air, resonant, rich, and replete. Her training is showing at every turn, and so is her investment in the lyrics, which is a pleasure to not only watch but to lose oneself in. There is no self-consciousness, no pretense, no disguise - just simple, honest exploration of the text riding on mesmerizing melodic waves. Highlights of the performance included a spectacularly arranged "We Are The World" that was so new that it took a moment for this writer to recognize the song, Clarey's self-penned "I Don't Know" (which she labeled her "Granny Rap"), a guest performance by Beckie Menzie of "I Was Here," and an a cappella "Lord, How Come Me Here/Steal Away" that left the entire room in total hushed silence, something that is virtually impossible in a food and drink establishment. There was a hilarious parody of a Cole Porter song titled "It's All White With Me" that everyone needs to hear, and the unquestionable triumphs of the show were a song written by Clarey's friend Harriet Reynolds titled "See Me As I Am," and Cynthia's encore, a prime example of saving the best for last, a breathtakingly great performance of "Ol' Man River."
Bridge Over Muddied Waters was a respectable way for Cynthia Clarey to introduce herself to the Manhattan cabaret scene and this writer predicts we will hear from her again, and soon. It won't take long for people throughout the industry to become aware of the lady and her gifts, until Cynthia Clarey is being booked into clubs and conventions all around the country.
The Bridge Over Muddied Waters was Musical Director Beckie Menzie on the piano and Irwin Berkowitz on percussion.
Visit the Laurie Beechman Theatre website HERE.
THIS is the Cynthia Clarey website.
Photos by Stephen Mosher; Visit the Stephen Mosher website HERE.