Interview: Cynthia Clarey of BRIDGE OVER MUDDIED WATERS at Laurie Beechman
The Opera star takes over the cabaret world with a show that speaks (and sings) to today's headlines.
Having a point of view in a cabaret show is a must. Artists can tell you so much about themselves in song. Those songs can also tell you about the world around you in ways that you never expect. Cynthia Clarey has something to say about the current political and racial turmoil in the United States in her debut New York Cabaret show: Bridge Over Muddied Waters. The show premieres at The Laurie Beechman Theatre on Sunday, February 5th at 4:00 PM.
Clarey spells out her perspective - as told through the songs of Cole Porter and Irving Berlin, as well as songs made famous by Luther Vandross, Lionel Richie, Billie Holiday, Sam Cooke, Marvin Gaye, Stephen Stills, and others. Bridge Over Muddied Waters was recently awarded the Chicago Cabaret Professionals Advocacy Award at its Annual Gala.
Now approaching her mid-seventies, Clarey is a fascinating lady with a distinguished career in Musical Theatre, Opera, and, now, Cabaret.
A former opera singer who, as a musical theater student at Juilliard, participated in and then walked out of master classes with Maria Callas, continued on to have a 35-year operatic career until, in her mid-sixties, her voice dropped an octave and she left the opera world to start over, building a new career in Chicago as a cabaret performer. She began collaborating with Chicago cabaret legend Beckie Menzie and became, in a few short years, a leading and popular member of the Chicago cabaret community. In the process, she fulfilled a lifelong dream to have a career singing popular music. During her operatic career as an acclaimed singing actress, Ms. Clarey sang all over the world in major opera houses and with major orchestras, and her appearances included productions by Trevor Nunn (Porgy and Bess, seen on PBS' Great Performances series), Peter Brook (La Tragedie de Carmen in a six-month run with alternating casts at Lincoln Center) and many others. Interestingly, Ms. Clarey, whose late ex-husband was an operatic baritone, has a son who has had a long career as lead singer for a heavy metal rock band in Portland and is now studying for an operatic career, thereby following the exact opposite of his mother's career trajectory from classical to pop.)
I sat down with Ms. Clarey to find out more about her show, and her fascinating career on all stages.
This interview has been edited for length and clarity.
Ms. Clarey, thanks for chatting with Broadway World! Before we go any further, I HAVE to know the story about you walking out on Maria Callas and her Master Class. I know our readers will be fascinated by your encounter with that legendary lady.
Callas. Oh my goodness. I was in grad school at Juilliard, and a lot of people auditioned for her, and I was one of the ones she took. She seemed to really like me. I did one master class with her and sang "Casta Diva" (from Norma). I didn't know that was HER thing, you know. It was the only Bel Canto aria I knew. I went to Howard University, which didn't have an opera department. So, I knew a lot about classical music, but I didn't know a lot about opera. Anyway, I'm sure she thought, "Well, this young woman certainly has a lot of balls if she's going to sing this for ME." She was very sweet and worked very nicely with me.
Then, we went away for Christmas, and I had just done my very first opera, which was "The Magic Flute." I came back from Christmas and she wanted everyone to sing for her again. She wanted another Bel Canto aria. You see, I never got the memo stating that she wanted us to sing for her again. I didn't get the memo stating that she wanted all of the women to be in long pants or long dresses. I also never got the memo saying that she didn't like Mozart. So I was scheduled on the same day I was singing for a funeral way uptown - in a little black dress - and I didn't have time to go home and change. Of course, I had no idea about the long pants or dresses. So, I fly back to Juilliard with just enough time to get there and sing. She said: " So what are you going to be singing for me today?" I said "Well, I just did 'The Magic Flute' I'm going to sing 'Ach, Ich Fuhl's.' She went, "Hmm. What else do you have?" I said: "Well...I don't really have another aria. I'm working on my recital (as I was graduating at the end of the year). So I have a lot of songs..." She said, "Songs??" You know, as if they were dirt... "Songs??" I said "Yes." And THEN she made mention of the fact that I was wearing a short dress. I said, "I just came downtown from singing for a funeral." (Of course, I had no idea about the dresses or pants.) Then she continued: "Well my dear, you have to decide: are you going to be an opera singer or a songster?"
I was so flustered because I had rushed to get there, and I had no idea about arias, dresses, and long pants. I had my head down, and when she said that, I looked up and said, "A songster." I walked over to the piano, took my music, and walked off the stage. I sent a letter to the Dean saying that I was sorry and that I was unaware of what was going on and that was how I dealt with it. My teacher was not at all nonplussed. She said to me: " My dear, if she knew more songs, she'd still be singing!"
Anyway, the Dean replied. He understood but told me that it wouldn't be a good idea for me to return to the class. So, I'd sneak in the back when one of my friends was singing and hide, as those classes were open to the public then. There were a lot of people there. It's unfortunate because I knew that she really liked my singing.
One day, I was on the 5th floor. And I got on the elevator. Just before the doors closed, they opened again, and there she was, with the Dean. There was no one else in the elevator. I stood in the corner as far away as possible. She said, " Ah, and here's the young lady who thinks she has the world at her feet." I said NOTHING. It was a long ride down to the first floor. So, that's the Callas story.
Let's talk about your show. You have a most eclectic repertoire in this cabaret, which is designed to talk about today's political and racial climate. What speaks about a song to you that reflects today's headlines?
Well, when I was putting this show together I felt like I had to say SOMETHING. Things were so bad and I thought, "How can this be in 2021? How can this be possible?"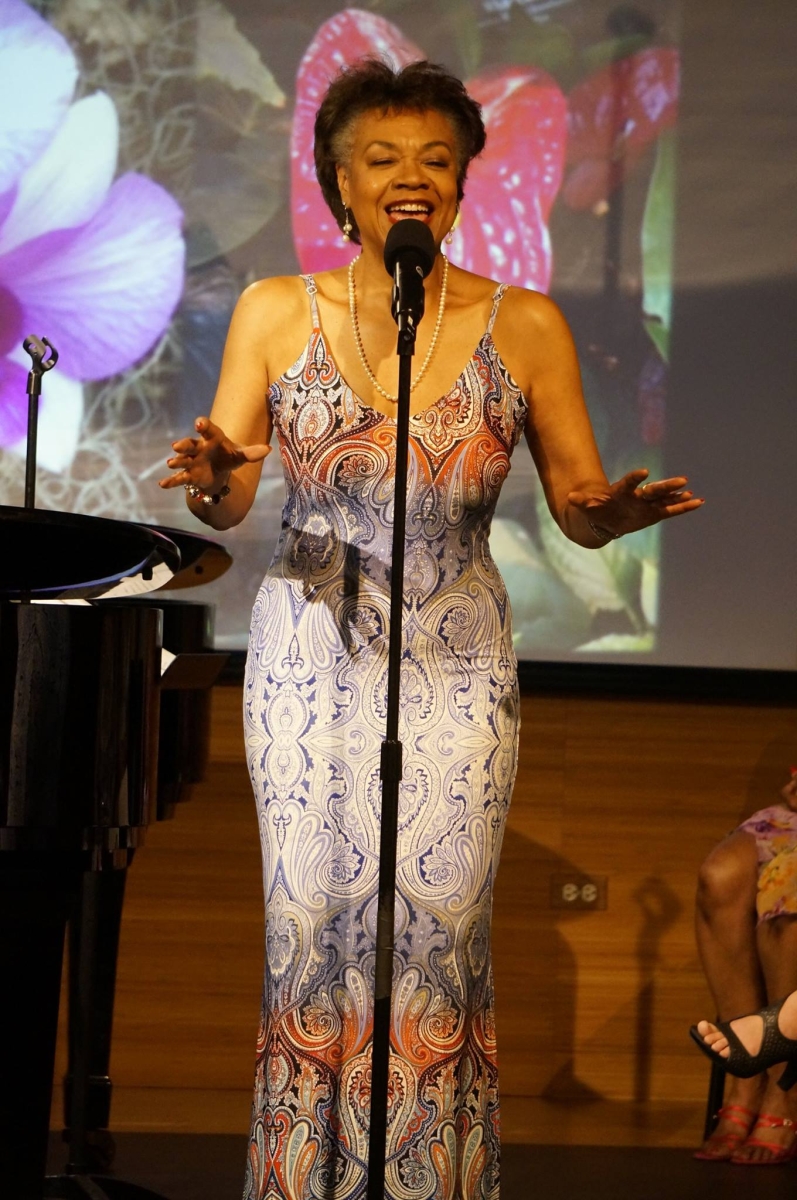 I grew up on Motown. I'm 73 years old. So I always wanted to be Diana Ross growing up, and I went to New York for graduate school because, Hey, it's New York, and maybe I'll get to do the Broadway stuff. I kept getting sidetracked into opera and kept getting work, so I figured that this was where I was supposed to be. Once I stopped singing, I hit menopause and my voice dropped like a rock. So, I just stopped. I'd just come back to the states, as I'd lived in Europe for 10 years. When I came to Chicago, my friend encouraged me to go to open mics with her. I was afraid to even try to sing, as it had been so long, and felt it was a voice I didn't know. I finally got a little more bravery and started singing. The woman who is going to play for me, Beckie Menzie, said, "Look, maybe you can't do what you used to do, but you can do this. And you can do it really well."
I started looking for material. I knew what I wanted to say, but I had to find the songs that would say it for me.
Every song has a specific point of view?
Yes. And I'm not even sure how some of them came to me; like "Let's Face the Music and Dance": it comes out of what I just sang before. It's not something that's lighthearted. It's saying that we have to make the best of what there is because this is what there is. Things would just pop into my mind when I was writing what I was going to say, and I'd discover that this song goes with this and that one with that. I put it all together and took it to Beckie and I said, "This is my show." We had done a couple of shows before - lighter stuff. She said, " You know, I think this show has legs." I've performed the show quite a few times now, and it has really become a solid piece.
You've broken your career down into chapters. You began with Musical Theatre, then Opera, and now Cabaret. Which do you find to be more fulfilling?
Cabaret. Without a doubt.
Each of these chapters (Cabaret, Musical Theatre, and Opera) requires different skill sets; were these skill sets already second nature to you when you dove into the cabaret world, or did you have to retrain yourself?
It was already there. Doing Six Flags for four summers was my first real time doing any musical theatre stuff. We did six shows a day from May through Labor Day. I was in college and I worked at Six Flags Over Georgia, Six Flags Over Texas, and Six Flags Mid America in St. Louis, as a singer. In 1968, I was the first black performer at Six Flags over Georgia. Six Flags gave me $10,000 to attend Juilliard. They've never done that again. I was flabbergasted. I wanted to know what they wanted in return. They said, "Nothing. You don't ever have to work for us again if you don't want to. You opened some doors for us in Georgia, and we like your talent."
The opera stuff came from that musical theatre experience. Initially, I thought I was being asked to sing in the chorus. I was surprised to be singing leading roles. I enjoyed opera. I sang in some wonderful places with a lot of wonderful people, but Cabaret is a whole different kind of thing. I've had some good friends here who have made me realize that it's not necessarily about the voice - it's about what you are saying. People are right there in front of you. Everything is close.
Which are your favorite roles?
Serena in Porgy and Bess, and Carmen. I did Bess once, but it just doesn't sit right in my voice, and I was asked to do it a few times, but I like the way Serena sits in my voice.
Going back to your cabaret, If you had to choose one song to tell someone about your show, which would it be?
One of the songs I sang for several years, and I kept telling myself that I was going to sing it until it was true, is Sam Cooke's "A Change is Gonna Come." It's a wonderful song. The other one is "He Ain't Heavy."
At what point did the inspiration for this show come to you?
When Trump came onto the scene. And it looked as if he was going to run, and then, when he won, I couldn't believe it. The way things were and nobody would own up to it, is the way he ripped off the band-aid. The image that I had was him ripping off a band-aid and maggots just came pouring out. He made it OK for these people to do and say whatever they wanted. I thought, on the other hand, maggots have been used to cleanse wounds. I thought maybe, now that the band-aid is off, and it's all out there for everyone to see, maybe this can be a healing thing. I felt I had to do something and say something.
Ms. Clarey, Thanks for chatting with me, and best wishes for a successful show!
See Cynthia Clarey in Bridge over Muddied Water on February 5th at 4 pm. at The Laurie Beechman Theatre 407 West 42nd St. New York, New York. Tickets can be purchased through www.westbankcafe.com