Composers Concordance to Present LUDWIG'S NIGHT OUT in March
The program will take place on March 16th at 8:30pm.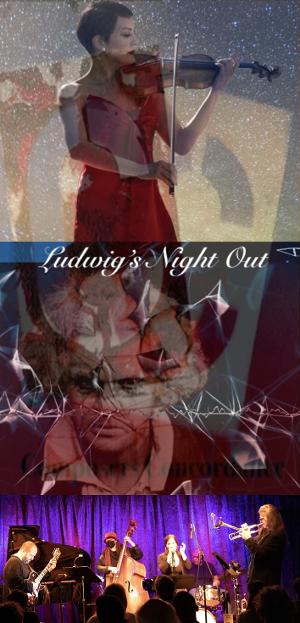 On March 16th at 8:30pm, Composers Concordance will present the program 'Ludwig's Night Out'. World-renowned violinist Anne Akiko Meyers will join the eclectic band Sound Liberation in a program inspired by Gene Pritsker's composition 'Ludwig's Night Out'. The idea of this composition is that Beethoven has a night out on the town while his Sonata No. 4 (for violin & piano) is echoing in his mind.
As he goes from club to club (jazz, rock, metal, techno, and reggae), the music reflects each of those styles. The event will also feature the premieres of Pritsker's 'So Very Expressive', based on the 2nd movement of the Spring Sonata, and 'Ludwiglied' inspired by a poem of Erik T. Johnson, as well as music by Dan Cooper, Jay Rodriguez Sierra, Yayoi Ikawa, David Gotay, and Laurence Goldman.
The all-star band includes Anne Akiko Meyers, violin; Wayne duMaine, trumpet; Jay Rodriguez Sierra, sax/flute; Gene Pritsker, guitar/rap; Yayoi Ikawa, piano; Laurence Goldman, bass; David Cossin, drums; and featuring Adriana Valdés, voice and Erik T. Johnson, recitation.
Composers Concordance Presents
'Ludwig's Night Out'
Anne Akiko Meyers - violin
& Gene Pritsker's Sound Liberation
Thursday, March 16th, 20238:30pm ET
Birdland Jazz Club (Theater)
315 West 44th StreetNYC
$35.99 (table seating)
$25.69 (bar seating)
above includes feesÔĽŅ
Anne Akiko Meyers is one of the world's most esteemed violinists and been described as "a musical wizard, with astonishing access to every kind of expressive color". She regularly performs around the world as soloist with leading orchestras, in recital and is a prolific recording artist with over 40 recordings. A muse and champion of living composers, she recently premiered and performed Fandango by Arturo M√°rquez with Gustavo Dudamel and the Los Angeles Philharmonic at The Hollywood Bowl, Carnegie Hall, Walt Disney Hall and the Auditorio Nacional in Mexico City and Blue Electra by Michael Daugherty at The Kennedy Center with Gianandrea Noseda and the National Symphony Orchestra to massive critical and audience acclaim. Her 2022-23 season includes appearances with the Los Angeles, National, Albany, Detroit, Nashville, Princeton, San Diego, San Jose, Tucson, and Wichita Symphony Orchestras. She released her latest recording, Mysterium, of newly imagined violin/choral music by J.S. Bach and Morten Lauridsen, with Grant Gershon and the Los Angeles Master Chorale, in addition to Shining Night , her 40th recording with pianist Fabio Bidini and guitarist Jason Vieaux, on Avie Records. Anne has premiered new music with the symphony orchestras of Chicago, Dallas, Detroit, Los Angeles, Nashville, Phoenix, Pittsburgh, San Diego, Seattle, Washington D.C., Helsinki, Hyogo, Leipzig, London, Lyon, and New Zealand, among others. She has worked closely with Arvo P√§rt (Estonian Lullaby), Einojuhani Rautavaara (Fantasia, his final complete work), John Corigliano (cadenzas for the Beethoven Violin Concerto; Lullaby for Natalie), Arturo M√°rquez (Fandango), Michael Daugherty (Blue Electra), Mason Bates and Adam Schoenberg (violin concertos), Jakub CiupiŇĄski, Jennifer Higdon, Samuel Jones, Morten Lauridsen, Wynton Marsalis, Akira Miyoshi, Gene Pritsker,Somei Satoh, and Joseph Schwantner. Meyers performs on the Ex-Vieuxtemps Guarneri del Ges√Ļ, dated 1741, considered by many to be the finest sounding violin in existence and endorses Larsen Strings.
Sound Liberation, an eclectic chamber ensemble/band, was formed in 1996. The band has gained exposure in the New York City area and has generated a loyal core following playing such notable venues as Joe's Pub, Wetlands, Knitting Factory, Birdland, The Blue Note, Downtime, New Music Cafe, Cutting Room, Le Poisson Rouge, and many other performing spaces. Sound Liberation's musical philosophy, developed by band founder Gene Pritsker, is based upon "ending the segregation of sound vibration (i.e. musical Genre)". The group incorporates its philosophy by performing compositions that encompass a diverse range of musical genres, heavily influenced by hip-hop and rock rhythms. This enables one to hear elements from classical music to jazz to music of various cultures at a Sound Liberation show.
Staying in rotation for 39 years in NYC is a rare feat. In the case of a new music presenting organization, it requires not only diligence and cognizance of achievements of the past but also an ethic of keeping one's ear to the ground for emerging stylistic and technological developments, as well as talented new composers on the scene. Composers Concordance, founded in 1984 by Joseph Pehrson and Patrick Hardish, advised by Otto Luening, strives to present contemporary music in innovative ways, with an emphasis on thematic programming. Directors Gene Pritsker and Dan Cooper co-curate the programs and lead the CompCord Ensemble, Chamber Orchestra, String Orchestra, and Big Band. Associate Directors are Milica Paranosic, Peter Jarvis, Debra Kaye, and Seth Boustead. Composers Concordance has also created a Naxos-distributed record label: Composers Concordance Records, co-directed by Peter Jarvis. Composers Concordance's overriding vision is to promote contemporary music, composers, and new works as a rightful and respected part of society. Good music performed and recorded well, pushing the boundaries of sound and composition.