Christina DeCicco to make Encore appearance at Green Room 42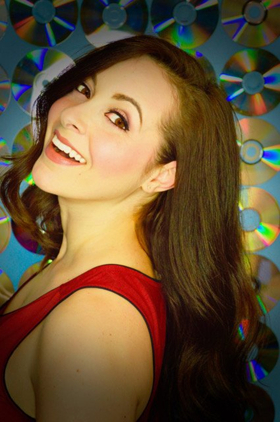 The GreenRoom 42, Broadway's Cabaret for a New Millennium, presents Christina DeCicco on May 10, 2018.
How does a girl go from Brooklyn to Broadway? Spend the evening with Christina DeCicco (Evita, Spiderman: Turn Off The Dark, Wicked) as she tried to figure that out!
Inspired by her family, go on a journey through several decades of the popular music that provided the soundtrack to her life, and may some answers as to how she ended up this way!!
Having sold out the debut performance of "My Parents' Music" on April 6th, 2018, Christina has been scheduled for an encore performance at The GreenRoom42! The evening includes music by The Ronettes,, Connie Francis, Billy Joel, Bon Jovi, The BeeGees and many many more.
Christina DeCicco in "My Parents' Music" at The GreenRoom 42 (570 Tenth Avenue) on May 19th, 2018, 7:00pm. There is a $20-$40 cover charge and a no food and beverage minimum. Tickets and information are available at www.thegreenroom42.com Tickets are $5 more at the door.
MORE ABOUT THE ARTISTS:
On Broadway, Christina has been seen starring as Eva Peron in the original cast of the 2012 Revival of Evita opposite Ricky Martin, as Arachne in U2's Spiderman: Turn Off the Dark, and as Sister Mary Robert (understudy) in the original cast of Sister Act, The Musical. She has toured the country portraying the role of Glinda in the Stephen Schwartz hit Wicked. Off Broadway, audiences have seen her as Cindy Lou Huffington in the juke box musical The Marvelous Wonderettes. Regionally, Christina has played such roles as Billie Dawn in Born Yesterday (Asolo Repertory Theatre), Maggie in Cat on a Hot Tin Roof (Triad Stage), Gabriella in Boeing Boeing (Gulfshore Playhouse), Barbara Rose in War of the Roses (Delaware Theatre Company), Mary Poppins in Mary Poppins (Theatre Under The Stars), Betty Schafer in Sunset Boulevard (Ogunquit Playhouse), and Eponine in Les Miserables (Walnut Street Theatre - Barrymore Award Winner), among others. She received her Bachelor of Arts from Wagner College. For more information, please visit her online at www.christinadecicco.com.
Drew Wutke, MUSICAL DIRECTOR, ARRANGER
Drew Wutke collaborated alongside Christina previously with Denis Lambert in concert, and LaChuisa's LITTLE FISH (B-Sides). He fears they laugh too much at rehearsals to be considered truly productive.
Other Selected Credits: MISCAST, arranger/concert work: Lea Salonga, Joey Arias, Molly Pope, Martha Graham Cracker; Ellyn Marie Marsh.
Upcoming: OffBway: CLASSIC WHITNEY: ALIVE (Joe's Pub) starring Kevin Smith Kirkwood; solo performances at The O'Neill and at Geffen Hall at Lincoln Center; TURNING THE TABLES webseries; Bebe Winan's BORN FOR THIS (Arts Emerson, Arena Stage). In development: MOMMIE DEAREST (MD); FOR TONIGHT; Todd Graff's BUCHARESTI.
B'way/OffBway: keys/reh: AMAZING GRACE, KINKY BOOTS; Fiasco/McCarter's INTO THE WOODS (wkshp MD, McCarter reh); B-Sides Production (NYC): COSTS OF LIVING, LaChuisa's LITTLE FISH, SEE ROCK CITY; FOR TONIGHT (Goodspeed/UK); Rosie's Theatre Kids. Resident MD: Jen Waldman STUDIO.
You can sing along with him every Wednesday night at MARIE'S CRISIS in the Village, as featured in The New Yorker. For favorite HB, family, and by the grace of God. (MM in vocal coaching, OKCU) drewwutke.com.
MORE ABOUT THE GREENROOM 42
Located in the heart of the theatre district, The Green Room 42 is Broadway's newest, most spacious, and funkiest entertainment hall. Featuring a wide variety of performances by your favorite Broadway stars, and a delicious menu of food and drink, our club opens the doors of hospitality to the small stage while providing you value. Plus, there's no F&B minimums -- so, stick around, relax; Your evening is already planned. No Food or Beverage Minimum -- Full Food & Beverage Service. For general information: 646.449.7792 or tickets@thegreenroom42.com