BWW Review: Susie Mosher's THE LINEUP Is Right On The Mark at Birdland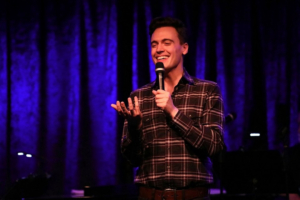 The Variety Show, as a genre of entertainment, is a thing most remembered by people who were living in the 60s, 70s and 80s, when shows like Ed Sullivan, Laugh-In, The Sonny and Cher Show, The Dean Martin Show and many others existed. On these Variety Shows a viewer could count on musical numbers, comedy sketches and monologues to the audience, not to mention starry guests with mind-boggling talents. The closest thing to the original Variety Show format in today's television viewing platforms is late night chat shows, and, try though they may, they can't match the magic of a good old fashioned viewing of The Carol Burnett Show - and while anyone will be content with that, there is another option in New York City.
The Lineup with Susie Mosher is a real live, honest-to-goodness Variety Show, in person and in perfection, every Tuesday night at The Birdland Theater. The Lineup has been a part of the Birdland calendar for almost a year, strange because this writer never caught wind of it or its reputation until recently, and once made aware of the show and the host with a very familiar sounding name (no, Susie and I are not related) The Lineup was securely placed on my calendar.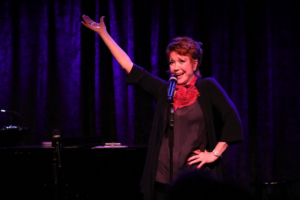 Mosher created The Lineup at the request of Jim Caruso for The Birdland Theater and, every week, personally curates an eclectic and interesting group of entertainers to keep audiences captivated for 90 or more minutes of exceptional entertainment. Really tapping into the word 'Variety', Mosher believes that having fluctuating types of performers throughout the evening will benefit audiences entertainment palates and make for a more interesting night out. Any given Tuesday might find a young person just starting in the business or an old pro sharing memories of their show biz life - and Ms. Mosher's ambition to provide a unique program is what keeps the show fresh, fun and oh-so-popular.
This week's Lineup featured a heart-stopping array of artists, both onstage and in the house: looking around the room a person might light their eyes on Kathy Najimy and Dan Finnerty, KT Sullivan, Richard Hillman, and Lorna Dallas, and right in the front row was the legendary Chita Rivera. It was like being in an MGM musical where everyone shows up to watch Ann Miller dance a big number - and while there was no dancing last night, there was talk of Ann Miller.
A splendid hostess, Mosher opens the show with her own number and it becomes apparent, throughout the evening, that her superpower is the creation of improvisational songs that are like a musical stream of conscious comedy number in which every subject under the sun is fair game. For Susie Mosher, nothing is off-limits, and it is one of the things that endears audiences to her: she will say and do anything to make you laugh, to make you feel, to make you get out of your head and be alive. This Empress of Improv is like that friend each of us has, the one that is afraid of nothing, will say and do anything, is embarrassed by nothing, and when we watch them take the world willing hostage with their hilarious antics, all we can think is "I wish I were that funny, that fearless, that fabulous". It would be easy to see how people watching Susie Mosher might compare her to other famous comedic women like Andrea Martin, or Tracy Ullman, even Carol Burnett and Lily Tomlin. This writer sees Susie Mosher as a completely unique individual, though her energy and abandon are reminiscent of another famous comic, Robin Williams because Ms. Mosher's approach to comedy and performing is just like his was: take no prisoners. Simply put, Susie Mosher is a hilarious, authentic, titanic tidal wave of talent, and she alone would be worth going out at 9:30 on a school night...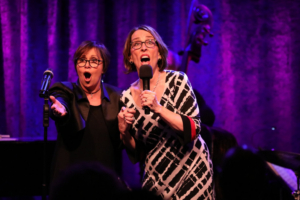 But her lineup, her lineup, her lineup.
Last night's guests featured a life-threateningly chic Carla Bordonada, who took center stage with the kind of voice you lay awake nights and dream about having, and delivered an intoxicating "I'd Rather Go Blind", followed by bona fide up-and-comer Mark William who used "Home" to show everyone that he was born to sing. Following these two fashion plates, newcomer (and Mosher's niece) Noa Zimmerman hit the stage with a wry sense of humor, her guitar and her own composition, one that showed off a voice that was so gloriously gorgeous in all its' classic folk-rock glory that it sounded like sunshine on a wheat field. Dierdre O'Neill, who has a show coming up at Birdland, brought home the sweetest, most authentic, heartfelt "The House That Built Me" before Ms. Mosher, with appropriate gushing-ness, welcomed to the stage of The Birdland Theater the legendary and luminous Donna McKechnie. Ms. McKechnie shared personal stories about the time she played in Follies, and the backstage antics of Ann Miller, before hypnotizing all with a mash-up of "Don't Look at Me" and "In Buddy's Eyes" - it was the kind of moment that cabaret aficionados hope will land in their memory's path when they reserve their seats. With this Broadway superstar on the stage with her, Susie Mosher dropped into the sincerity pocket, where there is no comedy, and bid her a grateful and starry-eyed farewell before returning to her hosting duties for an audience who was also grateful and starry-eyed.
Ms. Mosher shares the stage at Birdland with only the best musicians and, on this night she had Shannon Ford on drums, John Miller on bass, and Michael Orland on the piano and musical directing. Just for a bit of fun, Mosher brought Mr. Orland's niece up to the stage for a bit of fun, only to find that the youngster was funny enough to serve back whatever the seasoned pro threw her way, much to the delight of Mr. Orland. And since it was a family night, Susie brought up her longtime friend, daughter of Chita Rivera, Lisa Mordente, who rocked the joint with a little "You Don't Have to Say You Love Me", all fierceness and light, before having the son of Beau and Debbie Gravitte, Sam Gravitte, wow the crowd singing "At the Fountain" with a voice best described as "scary good". The evening drawing to its close, Susie invited The Colo Sisters to sing a duet on Narls Barkley's "Crazy", one of the ladies on electric guitar, with tight harmonies and TV show singing competition voices, and they left the audience howling. The Colo Sisters, by the way, are the daughters of Dierdre O'Neill. It truly was family night at The Lineup -- but that is probably the way it always feels there because the people at Birdland are a family, something that is palpable every time you walk in.
The closing act of the night was devastatingly handsome and deliriously funny Erich Bergen, who brought it all home with an epic medley of Hollywood Musical tunes, ending in a little Jersey Boys and, turning the stage over to Susie for her final number, the Madame Secretary star told her that she was a bright light in a dark week, causing the room to burst into appreciative applause for the honest to goodness hostess with the mostest, who turned tender with the song "My Life" before sending fans old and new into the summer night, sated and smiling, until the next Lineup.
Photos by Stewart Green
The Lineup with Susie Mosher plays Birdland every Tuesday at 9:30 (Except for August 13 - The Lineup returns August 20).