ABANDON ALL HOPE: A MUSICAL COMEDY Announced At Chelsea Stage, March 26
Abandon All Hope is an uproariously funny adaptation of Dante's Inferno.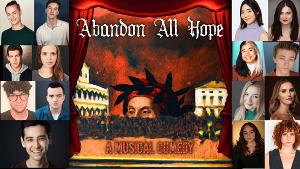 After the release of its original cast recording in October 2022, Abandon All Hope: A Musical Comedy returns to the stage on Sunday, March 26th with a concert performance at Chelsea Table + Stage!
With music and lyrics by Samuel Perlman and Mitchell Huntley, book by Mitchell Huntley, and early development in collaboration with Libby Hatton, Abandon All Hope is an uproariously funny adaptation of Dante's Inferno, turning the 700-year-old Italian classic into an irreverent and humorous love letter to the musical theatre genre. The show follows bewildered Florentine poet Dante Alighieri as he finds himself on a quest through Hell - which is, itself, one big musical theatre production. After he strikes a deal with the devil and takes the reins of Hell in Satan's stead, things quickly take a turn for the worse, and chaos ensues.
Buy tickets here: https://cloud.broadwayworld.com/rec/ticketclick.cfm?fromlink=2229423®id=13&articlelink=https%3A%2F%2Fchelseatableandstage.venuetix.com%2Fshow%2Fdetails%2FU4ORBdpE4AVXi528AEXa%2F1679871600000?utm_source=BWW2022&utm_medium=referral&utm_campaign=article&utm_content=bottombuybutton1
Featuring
Kyle Dalsimer as Dante
Ellis Gage as Poet
Andy Hartman as Satan/Cassius
Chelsea Williams as Lucy
Sunnie Eraso as Minos
Annabel Forman as Virgil
Joe Blanchard as Judas
Dalton Joseph as Brutus
Lauren Gunn as Mrs. Lovett
Andy Johnston as Javert
Aidan Klinges as Claudius
Rachel Arianna as Damned
Kelly Killorin as Damned
Nicole Kolitsas as Damned
Claire Kwon as Damned
Chelsea Table + Stage is New York's newest hotspot for intimate dining and music. Offering a wide variety of American-fare menu items, with curated wine + cocktails, audiences can experience some of the best touring performers in the world featured alongside local emerging artists. Chelsea Table + Stage opens the doors to hospitality, entertainment, and enjoyment every night, featuring state-of-the-art sound and lighting, a 10-seat in-theatre bar, lofted VIP mezzanine for private groups, and table seating for the perfect date night. The ever-changing menu and entertainment schedule means guests never have the same night twice. Chelsea Table + Stage is located at 152 West 26th Street, inside the Hilton New York Fashion District. Purchase tickets at chelseatableandstage.com.