54 SINGS LADY GAGA And More Taking The Stage Next Week At 54 Below
This week's offerings include 54 Sings Frank Sinatra, Josephine Beavers, Nicole Henry, James Monroe Iglehart and more!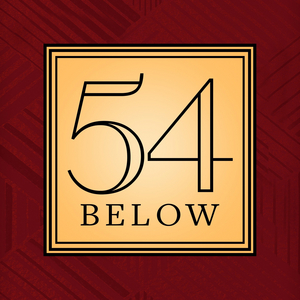 Next week, 54 BELOW, Broadway's Supper Club & Private Event Destination, presents some of the brightest stars from Broadway, cabaret, jazz, and beyond.
A recipient of the 2022 Tony Awards Honor for Excellence in the Theatre, 54 Below celebrates Broadway musicals and writers of the past and present, promoting an ongoing engagement with their work. To purchase tickets or for more information, visit www.54Below.com or call (646) 476-3551.
WHAT IF? BELOVED MUSICAL THEATRE CHARACTERS SWITCH SONGS- PART 2, FEAT. Jonalyn Saxer, Katy Geraghty, & MORE! - DECEMBER 5 AT 7:00 PM
What if Regina George sang "I'm the Greatest Star" from Funny Girl? What if the groundbreaking "Dead Mom" from Beetlejuice was given to Little Red from Into The Woods? Join us for an exciting evening of What Ifs as we give your favorite musical theater songs to characters that normally have no relation to them. Come see familiar and new faces sing unexpected combinations from the most beloved musicals, while you ponder the question, What If...
Featuring Joe Bliss, Helora Danna, Erin Engleman, Katy Geraghty, Mia Cherise Hall, Callie Henrysen, Gryphyn Karimloo, Abi Monterey, Carolina Rial, Jonalyn Saxer, and David Wright.
Produced by Jorden Amir and Cara Weglarz, with music direction by Jorden Amir.
$40 cover charge ($45.50 with fees). $65 premium seating ($73 with fees). $25 food & beverage minimum.
Lady Gaga will not appear at this performance.
Hey, Little Monsters! You're invited to the Monster Ball! Join us at 54 Below for a night filled with camp, drama, and a whole lot of GAGA. Featuring songs from Grammy-winning albums The Fame, Born This Way, and A Star Is Born, New York's freshest performers belt out Lady Gaga's best hits!
Featuring Jaelyn Alexander, Kiki Burns, Kali Clougherty, Noelle Cornelius, Hannah Ellowitz, Haile Ferrier, Madeline Hudelson, Dean Tyler K, Nicholas Kraft, Weston LeCrone, Eric May Liu, Adrian Machado, Cara McNiff, Darianna Mullen, Braden Phillips, and Jae Weit.
Directed and produced by Kali Clougherty.
Music direction and piano by Canaan Harris, with Zachary Prall on drums, and Hera Andre-Bergmann on guitar.
$40 cover charge ($45.50 with fees). $65 premium seating ($73 with fees). $25 food & beverage minimum.
Encore by popular demand! Join us for Frank Sinatra - The Second Century - A Celebration of Sinatra's Timeless Hit Songs!
SINATRA RETURNS! An all-star cast of Broadway and nightclub stars will perform the songs that propelled Ol' Blue Eyes into the stratosphere of superstars. Hear the hits that turned Sinatra into an icon for the ages, making him one of the rare show business beacons who continues to shine even in his second century. You'll hear songs like "One For My Baby," "Chicago," "My Way," "It Was a Very Good Year," and so many more.
This show comes courtesy of impresario Scott Siegel, who has created this enormously popular and enduring Sinatra series for 54 Below.
The show will be produced, written, directed and hosted by Scott Siegel, the creator of Town Hall's signature series, Broadway by the Year. He has written/directed/produced concerts for Michael Feinstein at Jazz at Lincoln Center and has, over the course of the last 21 years, created more than 400 major concerts all over the world. Music direction by Ross Patterson.
Produced, written, directed, and hosted by Scott Siegel.
Featuring Stella Katherine Cole, Tony Award nominee Willy Falk, Kendrick Jones, Benjamin T. Swanson, and Haley Swindal.
$50 cover charge ($56.50 with fees). $80 premium seating ($89.50 with fees). $25 food & beverage minimum.
JOSEPHINE BEAVERS - DECEMBER 6 & 29 AT 9:30 PM
Vocalist Josephine Beavers triumphantly returns to 54 Below, bringing the music of her new December 2022 PBS special The Musician's Green Book to live audiences. Accompanied by her Manhattan All-Star Quintet under the direction of pianist/arranger Ed Vodicka, Josephine's return to 54 Below includes not only gems from the Great American Songbook but seasonal and holiday favorites as well, including her new holiday single "I Wish It Could Be Christmas Forever."
$40 cover charge ($45.50 with fees). $65 premium seating ($73 with fees). $25 food & beverage minimum.
James Monroe Iglehart: FAMILY HOLIDAY PLAYLIST!, FEAT. JAVIER MUÑOZ & MORE! - DECEMBER 8 & 9 AT 7:00 PM
The performance on December 8 will also be livestreamed. For tickets and more information, click here.
The holidays have always been a musical time in the Iglehart House! So come on down to 54 Below and share in the festivities as James Monroe Iglehart shares classic holiday tunes and fun family stories through his Family Holiday Playlist!
Featuring Javier Muñoz (Hamilton) and Saint Aubyn (December 8 only).
James Monroe Iglehart has been seen on Broadway as Genie in Disney's Aladdin (Tony Award, Drama Desk Award), Bobby in Memphis, and Mitch in The 25th Annual Putnam County Spelling Bee. TV: Coriolanus Burt on Netflix's "Unbreakable Kimmy Schmidt," Fox's "Gotham," Lance Strongbow on Disney's "Tangled." Film: Upcoming Three Christs opposite Richard Gere, and Peter Dinklage. Solo show: How the Heck Did I Get Here? Multiple sold-out engagements at 54 Below. Member of hip-hop group Freestyle Love Supreme.
$55-$75 cover charge ($62-$84 with fees). $90-$110 premium seating ($100.50-$122.50 with fees). $25 food & beverage minimum.
54 SINGS BROADWAY'S GREATEST HITS! FEAT. Danny Gardner, Ben Jones, & MORE! - DECEMBER 8, 27, & 30 AT 9:30 PM
Previous volumes of this Scott Siegel concert event hit 54 Below like lightning! This was the show that every musical theater-lover had been waiting for... and now we're going to do it again, with a brand new line-up of 54 Sings Broadway's Greatest Hits!
If you skip through cast albums just to hear the very best songs in each show, this is the nightclub concert event for you. If you love the classics of the Great White Way, come and hear the songs that made Broadway great, that made your heart soar, that you used to sing (maybe still do) in the shower! But at 54 Below, you will hear the greatest Broadway songs of all time performed by today's greatest stars, singing them straight up, the way you want to hear them!
And who better to produce/direct/host this show than the creator of Town Hall's critically acclaimed Broadway by the Year series, Scott Siegel, creator of more than 200 major concert events centered on Broadway music! 54 Sings Broadway's Greatest Hits! will be a thrilling night that you won't forget... Music direction by Ron Abel on December 8th.
The performance on December 8 will feature Rose Chamblee, Ava Nicole Frances, Danny Gardner, Kylie Heyman, Ben Jones, Michael Winther, and more stars to be announced!
$50-$55 cover charge ($56.50-$62 with fees). $80-$90 premium seating ($89.50-$100.50 with fees). $25 food & beverage minimum.
THE CHRISTMAS CAROLS: HOW THESE GHOSTS GOT SCROOGED - DECEMBER 9 AT 9:30 PM
A new holiday tradition is born unto us with The Christmas Carols! Join us at 54 Below for the world premiere of songs from the new musical comedy by Bryan Blaskie (Assistants the Musical), Manny Hagopian (APEX Legends), and Emmy nominee Kat Radley ("The Daily Show"). Featuring an all star Broadway cast, this concert will finally reveal the story of how the Ghosts of Christmas Past, Present, and Future came to be-before they ever met Scrooge.
Featuring Jordan Kai Burnett, Elijah Caldwell, Tari Kelly, Travis Leland, Brandi Chavonne Massey, Lucie Pohl, Taylor Simon, Asa Somers, and Anita Welch.
Written by Bryan Blaskie, Manny Hagopian, and Kat Radley with music direction by Bryan Blaskie.
The band will include Andrew Jackson Lynch, Brian Shaw, and Danny Ursetti.
$40 cover charge ($45.50 with fees). $70 premium seating ($78.50 with fees). $25 food & beverage minimum.
A Nicole Henry HOLIDAY: WHEN I THINK OF HOME - DECEMBER 10 & 11 AT 7:00 PM
Home often brings us back for the holidays... home is where joy, love and so much more is cultivated and learned. In When I Think of Home, award-winning vocalist Nicole Henry looks back on memories of growing up in Bucks County, PA as well as spending the holidays with her family and the songs her uncle would DJ throughout Christmas Day! From holiday standards to soul to gospel to disco, enjoy songs that celebrate the miracle of the season, love and joy.
Since her first release in 2004, Henry has headlined in 20 countries and earned a Soul Train Award for "Best Traditional Jazz Performance" as well as four TOP 10 albums on Billboard, JazzWeek and HMV Japan charts. Her soulful interpretations have become a favorite with world-wide audiences and critics alike. Stephen Holden of The New York Times raved, "Every gesture and inflection conveyed confidence and mastery... time and again she invested familiar songs with an extra fillip of conviction and made you reconsider the words." BroadwayWorld says, "So powerful is her charisma, so unique is her personality, so rich is her music, so abandoned is her joy..."
$75 cover charge ($84 with fees). $125-$130 premium seating ($139-$144.50 with fees). $25 food & beverage minimum.
54 DOES 54: THE 54 BELOW STAFF SHOW- HOLIDAY EDITION! - DECEMBER 10 AT 9:30 PM
They've served you food. They've put on your shows. They've helped you purchase tickets. They've put together your events and answered all of your emails. Now, they're starring in a show for you!
Come join the staff of 54 Below as they put their talent on display in a variety show for the ages. Servers, managers, programmers, marketers, cooks, and more - there's a whole staff of talent waiting to be shared!
December's Staff Show will be a special holiday edition!
Featuring Juan Giordano Aranguren, Tara Bull, Michelle Cabot, Maddie Carney, Grace Flavien, Javier Garcia, Gabriel Generally, Matt Hohmann, Coulby Jenkins, Alex Martins, Claire O'Neill, Luis Palomino, Izabella Perez, Hannah Rose Pickle, Pier Lamia Porter, Macon Prickett, Gretchen Schneider, and Daniel Wilde.
Hosted by Kevin Ferguson and produced by Brooke Beatty.
$35 cover charge ($40 with fees). $65 premium seating ($73 with fees). $25 food & beverage minimum.
Nicole Vanessa Ortiz: THE DISCO ODYSSEY - DECEMBER 11 AT 9:30 PM
Coming back to New York City is 54 Below's very own Nicole Vanessa Ortiz! After a highly acclaimed Paper Mill Playhouse debut as Disco Diva Deloris Van Cartier in Sister Act The Musical, Nicole Vanessa Ortiz is back onstage for the holidays! Known for her BroadwayWorld Award-nominated one-woman concert Becoming Her: A Diva's Tribute and show-stealing turns in Off-Broadway productions like Spamilton and Smokey Joe's Cafe, Nicole is back in town with a whole new live experience: The Disco Odyssey!
Leave your cares at the door and bring the love to the dance floor as this show celebrates a musical voyage through 70s Disco, 80s Funk, 90s Dance, and the roads it paved to the world of dance music today!
Featuring special guests Juwan Crawley (Aladdin, Spamilton) John Edwards (MJ the Musical, Smokey Joe's Cafe), Ashanti J'aria (The Prom), and Jarran Muse (Sister Act, Ain't Too Proud, Motown the Musical).
With Miki Abraham (Once On This Island, Beautiful: The Carole King Musical), and Raquel Reigns on background vocals.
The band features Douglas Derryberry on electric guitar, Frank Perri on electric keys, Joshua Roberts on drums, and Yuka Tadano on electric bass.
Hosted by Kevin Ferguson with music direction by Darnell White.
$35 cover charge ($40 with fees). $60 premium seating ($67.50 with fees). $25 food & beverage minimum.
LIVE FROM 54 BELOW
54 Below's new series is designed to make more shows accessible to fans all over the world. "Live from 54 Below" will feature LIVE performances of current shows on the calendar, streamed directly from Broadway's Living Room. Seven cameras will capture the excitement of being at the venue - all paired with the club's dramatic lighting and award-winning sound design. To recreate the live experience, all shows will be presented exclusively at the time of performance with an in-house audience and will not be available on demand afterwards.
The following performances will be streamed live. For tickets, visit www.54Below.com/LIVE
James Monroe Iglehart: FAMILY HOLIDAY PLAYLIST! December 8 at 7:00 ET / Tickets $25
SAFETY INFORMATION:
54 Below is committed to providing an unforgettable experience for all guests, staff, and artists in a safe and healthy environment. We are following the most current guidelines of the Center for Disease Control and Prevention (CDC), the New York State Department of Health and Federal Occupational Safety and Health Administration (OSHA) related to COVID-19. Additional information on our safety protocols can be found here.
Please note that all guidelines and policies are subject to change in accordance with government mandates and recommendations.
Tickets and information are available at www.54Below.com.
54 Below was founded as a place for the Broadway community to celebrate Broadway performers, both established and new, who sing not only the music of Broadway and the Great American Songbook, but also new material intended for Broadway and off-Broadway stages. The club features fine dining and superb scenic, lighting, and sound designs entirely imagined by Broadway designers. For performers, writers, musicians, and more, 54 Below gives opportunities to advance their craft, expand their repertoires, and develop their voices in a way that is more personal, making them stronger as artists. It gives Broadway fans an opportunity to see their favorite artists in a different way, deepening their relationship and understanding of their talent.
A recipient of the 2022 Tony Awards Honor for Excellence in the Theatre, 54 Below celebrates Broadway musicals and writers of the past and present, promoting an ongoing engagement with their work. It is also a place for innovation in musical songwriting and performance. Collaborations born at 54 Below give rise to and help develop new theatrical projects and new musicals. In addition, its popular streaming video activities and audio recordings support these activities, helping to build a new Broadway audience worldwide, both in age and geography.
54 Below is one of the most in-demand performance venues in the city, presenting over 700 shows each year. Unique in its mission, it has become an indispensable member of the Broadway ecosystem, providing a place for seasoned and emerging artists to hone their craft, try out new work, grow their fanbases, and gather as a community. The management team includes Proprietors and nine-time Tony Award winning Broadway producers Steve Baruch, Richard Frankel, and Tom Viertel, Creative and Programming Director Jennifer Ashley Tepper, and restaurant General Manager Mandisa Boxill.
Located at 254 West 54th Street, the club presents live shows at 7pm and 9:30pm. Tickets and information at 54below.com.