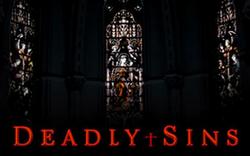 "What are you wearing?" the sultry voice purred into the phone.
I was a bit taken aback; after all, this was one of the senior producers of Entertainment Tonight calling my cell phone, as I was hurrying down to their set to deliver expert commentary about Mel Gibson's arrest for drunk driving (and making some unkind and unflattering remarks). Sadly, I quickly discerned that this was to determine whether I was camera-ready, and had nothing to do with any "casting couch" that I hoped for. But I must credit Mel Gibson's arrest with starting a ball rolling that ultimately led to my career as a legal analyst, and to the show that I co-created and now host, Deadly Sins.
My day job then (and now) was (and is) working as a criminal defense lawyer. However, as much as I enjoy striding confidently in front of a jury box, passionately arguing about why the government hasn't met its legal burdens and why my client deserves an acquittal, I found that working as a television legal analyst left me with a sense of being able to contribute on a larger scale, to a much larger audience.
This sense of contribution was very important to me. As a criminal defense attorney, my firm concentrates on cases involving alcohol and drugs. In addition to working to help them resolve their court cases, we also put a lot of folks in treatment. In fact, in order to better serve my client population, many of whom struggle with addiction issues, I became a certified interventionist. My Firm's mission is around empowering and enabling people to appreciate that the seemingly worst events in their lives, like getting arrested or confronting their addictions, can actually be the best thing that ever happened to them, since these events can be the a pivotal wake-up call that inspires them to action.
This experience, and my own background of triumph over adversity, opened up entirely new observations, and ways for me to further the discussion that was taking place on the various TV shows that were requesting my insight.
That first gig on Entertainment Tonight led me to more and more TV work. In fact, for a time I worked as a field correspondent and legal analyst for The Insider (the companion show to Entertainment Tonight), flying around the country to cover celebrity misbehavior that included Jon Gosselin's divorce, the infamous Balloon Boy case that grabbed the attention of the world for 15 minutes, Tiger Woods and his infidelities, and many more.
In fact, it was this celebrity misbehavior that is the genesis for the Deadly Sins, how our natural, human instincts got out of whack and led to trouble, especially in the areas of lust, greed, gluttony, envy, pride, anger and sloth. In proper amounts, each of these things actually serves a useful purpose. Human population would nosedive without some measure of lust. A dash of greed greases the wheels of commerce. But when these desires get out of balance, the results can be crazy, wild, and unpredictable. In fact, while human beings are complex, and often their behavior can't be so neatly compartmentalized, using the Deadly Sins as an analytical framework became a simple way to understand and address the stories I was asked to comment on.
Deadly Sins, the show, has exceeded my expectations. The team of people who are committed to delivering a great TV show are outstanding, the stories are compelling, and the way they are told is fascinating. I hope the viewers are as excited as I am to explore the full scope and ramifications of depravity by seeing what happens when human instincts go awry.
Latest Tweets from DiscoveryID
3/7 @ 11:32 AM

DiscoveryID - Can you help find any of these missing persons? Watch In Pursuit: The Missing now on #discoveryplus:… https://t.co/ka5u78swXX

Retweet | Reply | Original Link
3/7 @ 9:00 AM

DiscoveryID - For In Pursuit: The Missing, @CallahanWalsh investigates two missing persons cases out of Florida: 29-year-old sing… https://t.co/TGWoxjppp7

Retweet | Reply | Original Link
3/7 @ 8:30 AM

DiscoveryID - For In Pursuit: The Missing, @CallahanWalsh investigates two missing persons cases out of Florida: 29-year-old sing… https://t.co/qghGUblzdm

Retweet | Reply | Original Link
3/6 @ 2:02 PM

DiscoveryID - Music superstar Elvis Presley was haunted by a tragic secret that may have lead him to his untimely death. Watch t… https://t.co/G9woiy9UGs

Retweet | Reply | Original Link
3/6 @ 11:30 AM

DiscoveryID - Your friend has never seen Web of Lies. Which episode do you start with?

Retweet | Reply | Original Link
Latest Articles About Deadly Sins on ID: Investigation Discovery