Sundance TV Premieres True Crime Docu-Series COLD BLOODED: THE CLUTTER FAMILY MURDERS, Today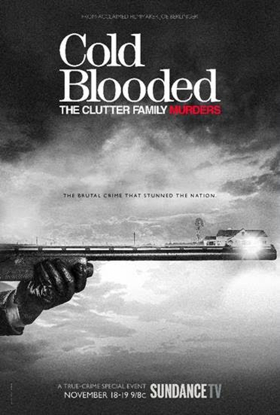 SundanceTV today released the first full-length trailer for their true crime documentary series COLD BLOODED: THE CLUTTER FAMILY MURDERS, which will premiere as a two-night event on Saturday, November 18th at 9/8c. The docu-series - produced and directed by Joe Berlinger - focuses on the brutal murder of the Clutter family in a small Kansas town in 1959, the resulting investigation, convictions and executions of Perry Smith and Richard Hickock, chronicled in Truman Capote's landmark book, In Cold Blood.
SundanceTV's "True Crime Weekend" marathon will feature the film version of Capote's book, In Cold Blood, starring Robert Blake and Scott Wilson. The film, directed by Richard Brooks, garnered four Academy Award nominations and is celebrating its 50th anniversary this year. Other movies that will air during this marathon include Murder in the First, Infamous, Summer of Sam, Bonnie and Clyde, Zodiac and more. Berlinger is a pioneer in the true crime documentary genre, beginning with the Sundance-winning landmark "Brother's Keeper" in 1992 which has influenced a generation of filmmakers, followed by the "Paradise Lost Trilogy" that resulted in the release of the wrongfully convicted West Memphis Three and more recently his "Whitey: United States of America vs. James J. Bulger," which explored the dark underbelly of the criminal justice system. He has also been a veteran contributor to the
Sundance
family, with six of his feature documentaries premiering at the prestigious annual festival and executive-producing six seasons and directing 22 episodes of RadicalMedia's award-winning Iconoclasts series that ran on
SUNDANCE TV
from 2005 to 2012. "Cold Blooded: The Clutter Family Murders," is an
AMC
Studios, RadicalMedia and Third Eye Motion Picture Company production, executive produced and directed by Joe Berlinger. Kahane Cooperman serves as executive producer, Allison Berg as series producer and Keven McAlester as producer. Jon Kamen, Justin Wilkes, and Jon Doran are executive producers for RadicalMedia. Allison Berg and Kahane Cooperman also serve as episode directors along with Joe Berlinger About SundanceTV Since its launch in 1996, SundanceTV has remained true to founder Robert Redford's mission to celebrate creativity and distinctive storytelling through unique voices and narratives found in the best independent films. From delivering critically acclaimed Emmy®, Golden Globe® and Peabody Award-winning television featuring some of the world's most talented creators and performers, to showcasing some of the most compelling and iconic films across genres and generations, SundanceTV is a smart and thought-provoking entertainment destination. SundanceTV is owned and operated by
AMC
Networks Inc.; its sister networks include AMC, IFC,
BBC America
and WE tv. SundanceTV is available across all platforms, including on-air, online at www.sundance.tv, on demand and mobile.
Related Articles View More TV

Stories