Netflix's First-Ever Unscripted Music Series, WESTSIDE, is Streaming Now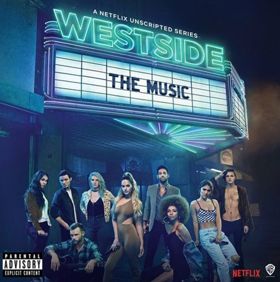 Warner Bros. Records collaborated with Netflix for the exclusive music soundtrack of Westside, Netflix's first-ever unscripted music series. The series follows the lives of nine young artists struggling for success in today's high-pressure music industry. Today, the unscripted eight-episode series launches globally on Netflix and the soundtrack WESTSIDE: THE MUSIC is available on Warner Bros. Records.
Cast members include: Sean Patrick Murray, Pia Toscano, James Byous, Arika Gluck, Austin Kolbe, Caitlyn Ary, Leo Gallo, Alexandra Krekorian and Taz Zavala.
Westside: The Music Tracklisting:
1. We Are the Ones- Westside Cast
Produced by Johan Carlsson
Written by Johan Carlsson & Ross Golan
2. Be-You-Tiful - Erica Gluck
Produced by Tony Nilsson
Executive Producer: Robert John "Mutt" Lange
3. Vibe - Taz Zavala, Leo Gallo & Erica Gluck
Produced by James Alan, Jesse Shatkin, Sean Douglas and Ian Meltzer
Written by James Alan, Sean Douglas, Jesse Shatkin, Ian Meltzer and Leo Gallo
4. 2 Grams - James Byous
Produced by James Alan and Ian Meltzer
Written by James Alan, Ian Meltzer and James Byous
5. Sure as Hell Hope- Caitlin Ary & Alexandra Kay
Produced by busbee
Written by Caitlyn Smith and Roland Gaalswyk
6. All I Wanna Be - Sean Murray
Produced by Gregg Wattenberg
Written by Pat Monahan, Gregg Wattenberg, Derek Furhmann and Jesse Finkelstein
7. Can't Find the Words -Caitlin Ary
Produced by Steve Solomon
Written by Lindy Robbins, Steve Solomon and Caitlin Ary
8. Back at the Bottom - Taz Zavala
Produced by Jesse Shatkin and Sean Douglas
Written by Sean Douglas and Jesse Shatkin
9. Lights of the City - Westside Cast
Produced by Jon Levine
Written by Diane Warren
10. Everybody Loves the Winner - Austin Kolbe
Produced by Sam Hollander and Grant Michaels
Written by Sam Hollander, Grant Michaels and Austin Kolbe
11. Future Is in My Hands - Leo Gallo
Produced by Jon Levine
Written by Priscilla Renea, Jon Levine and Leo Gallo
12. Candle in a Hurricane - Pia Toscano
Produced by Danja
Written by Danja, Keri Hilson, Talay Riley, Marcella Araica, Jared Lee and Pia Toscano
13. Champagne High - Alexandra Kay, Taz Zavala & Pia Toscano
Produced by busbee
Written by Aimee Mayo, Chris Lindsey, Troy Verges and Caitlyn Smith
14. Feed That Flame- James Byous & Caitlin Ary
Produced by Ryan Tedder and Brent Kutzle
Written by Ryan Tedder, Casey Smith and James Byous
15. Beauty & the Struggle- Taz Zavala & Erica Gluck
Produced and Written by Jason "Poo Bear" Boyd & Jared Gutstadt
16. You Think You Know Someone - Performed by Alexandra Kay
Produced by Shane McAnally
Written by Shane McAnally, Josh Osbourne, and Alexandra Krekorian
17. For the Love - Leo Gallo & Pia Toscano
Produced by Jon Levine and Lauren Christy
Written by Lauren Christy and Jon Levine
18. Believe in Dreams - Pia Toscano & Westside Cast
Produced by Robert John "Mutt" Lange and Tony Nilsson
Written by Robert John "Mutt" Lange
19. Westside Finale - Westside Cast
Produced and Arranged by Jon Levine