Director Jerry Sibal Revisits Old Binondo, Manila in 'Noli Me Tangere, The Opera'
Manila, Philippines--For better or worse, Filipino identity is shaped by a legacy of mixed heritage. For Jerry Sibal--a Filipino of Chinese descent living in Manhattan--returning to his native Manila is a source of pride and creative renewal.
Sibal is a consummate artist of international renown. A sought-after event designer in New York City, he published an innovative coffee table book titled An Event to Remember: Designing Spectacular Special Occasions (Stewart, Tabori & Chang, 2009). His network packs an impressive punch, featuring a who's who of contemporary pooh-bahs: Sir Richard Branson, Steve Wynn, Oprah Winfrey, Celine Dion, and Sheik Faisal Bin Qassim Al Thani of Qatar, to name a few.
With an elite world at his disposal, Sibal might appear immutably removed from his humble roots of Binondo, Manila. On the contrary, he'll gladly indulge anyone who raises his favorite topic. Binondo is not only his cherished place of birth, it's also the setting of Dr. Jose Rizal's 1887 novel, Noli Me Tangere ("Touch Me Not").
The latter feature is the reason why Sibal beams at the mere mention of his hometown. He has an affinity for the national hero's opus, whose description of Old Manila ignites a romantic idealism for this enterprising man of many art forms (he is a graduate of Architecture, a former interpreter of indigenous Filipino dance, and a successful floral and set designer).
To Sibal's imaginative eye, Old Binondo is a vivid and vital environment, reflecting the words and sentiments of Rizal. His scenic rendering of Rizal's Binondo, with its presumed accuracy, would certainly do the author proud.
Rizal's seminal narrative about Philippine Society in the Spanish Colonial era (which is obligatory reading for Filipino high school students), was adapted into opera by National Artist for Music Felipe de Leon and National Artist for Sculpture Guillermo Tolentino. It premiered in 1957 and was re-staged in 1987 at the Cultural Center of the Philippines (CCP) as a centennial commemoration of the book's publishing.
In 2014, Sibal produced Noli Me Tangere, The Opera, at Resorts World, Manila, under J & S Productions, Inc., a company he founded with partner and fellow art enthusiast Edwin Josue. It came on the heels of a highly acclaimed run of the same show that J & S Productions had mounted at Kaye Playhouse at Hunter College in New York City and at Washington DC's John F. Kennedy Center for the Performing Arts.
In honor of the upcoming 60th anniversary of the opera's original premiere, Sibal returns to Manila with renewed elan and a more ambitious vision for his production. Not only is he launching a spectacular new set design, he is also at the helm as a first-time director.
Sibal is effusive in his description of the play's scenic elements. "The show's sets--which, according to the CCP are the largest it has ever had for an opera--and my overall directorial concept are very faithful to Rizal's book. Nature-inspired and rustic textures envelop the floor-to-ceiling, multi-functional set pieces on stage. It's like you've found yourself wandering inside the Metropolitan Opera House or a century-old Broadway Theatre in the middle of a busy day in Old Manila."
Noli Me Tangere, The Opera, will once again adorn CCP's main stage, Tanghalang Nicanor Abelardo, on January 28 through February 3, 2017. The production will coincide with ASEAN's 50th founding anniversary and will feature a diverse group of local talents from different arts organizations.
With over 200 cast and crew members, the opera will feature world-class singers and a 52-piece symphony orchestra conducted by Maestro Hermie Ranera of the University of Santo Tomas Conservatory of Music.
Sibal is committed to attracting a vast community of participants. "We wanted to entice everybody, especially all the artists here in Manila, so we did open auditions. We have different artists from UP, UST, St. Paul, Iglesia ni Cristo School of Music--different schools."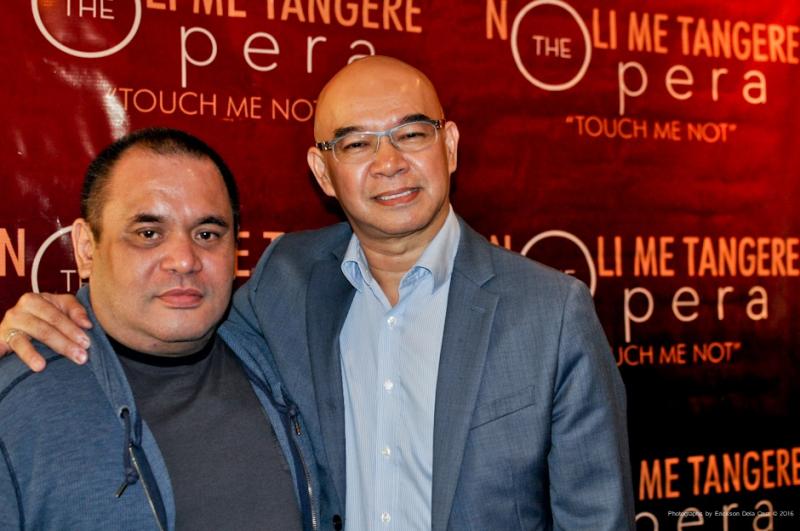 True to its mission, J & S Productions, Inc. has plumbed the talent pool in Manila as a way to promote nationalism in a globalized society. It aims to continue its advocacy in the advancement of opera and theater arts for community enrichment.
Meanwhile, the country's divisive politics remains the unspoken backdrop of Sibal's mission. While he is clearly attuned to the mounting political tension in the Philippines, Sibal can't help but appreciate the serendipity of a "Noli revival." In fact, he is adamant about the role of the arts in the healing of national wounds.
"The more we embrace different sectors and different groups, the better we are. And that's all we're trying to do here. We're trying to say, 'Hey, we all have to be together. We love our art. We love our culture. We love our heritage. We're trying to promote nationalism. We're trying to promote unity and true peace. We don't want to play politics. Politics is outside our comfort zone. We're all artists here and we have to think as real artists.'"
For tickets to the 60th-anniversary production of Noli Me Tangere, The Opera, call J&S Productions Inc. (63926) 038 0548, (63921) 890 3816, (632) 998 2356, or the CCP Box Office (632) 832 3704/06, or visit www.ticketworld.com.ph.
For more information, visit NoliMeTangereTheOpera.com or Facebook.com/NoliOperaManila.
Date and Time: January 28 and February 1-3, 2017 at 8 p.m; January 29 and February 3, 2017 at 2 p.m. lVenue: Tanghalang Nicanor Abelardo (CCP Main Theater) lTickets: P3,500 l P2,500 l P1,500 l P1,200 l P1,000
Photos: Erickson Dela Cruz (1) Jerry Sibal, (2) Sibal with cast members Nerissa de Juan, Mari Yapjoco, Renz Nathaniel Cruz, and Bianca Camille Lopez, (3) Sibal with Eric Cruz, chief of production design at CCP
Related Articles
View More Opera

Stories
Born and raised in Cebu, Philippines, Robert Encila is a professional singer, actor, and certified teacher. An alumnus of the University of Arizona, he taught (read more...)