BWW Review: LA CENERENTOLA at Opera De Montreal
L'Opéra de Montréal mounted their delightful production of Rossini's La Cenerentola, in Salle Wilfrid-Pelletier, at Place des Arts last week. The two-act opera, originally composed by Giochino Rossini with Libretto by Jacopo Ferretti, is sung in Italian, but offers French and English subtitles. Following the success of The Barber of Seville, a 25-year-old Rossini composed La Cenerentola in a mere three weeks. It originally opened in 1817 at the famous Teatro Valle in Rome, Italy and remains known for its intricate arias, lively ensemble numbers and playful energy.
La Cenerentola is a Cinderella-esque tale focused on the experience of young Angelina, also referred to as Cenerentola. Act I establishes her as the downtrodden stepdaughter of Don Magnifico and stepsister to Clorinda and Tisbe, all of whom remain unwilling to acknowledge her as anything other than the family maid. One day, Alidoro, the Prince's tutor, arrives in her home. Mocked by the stepsisters as a pesky beggar, Cenerentola takes pity on him, providing food and kind attention. Shortly after her stepsisters shoo Alidoro away, messengers from the kingdom arrive, announcing a royal ball, where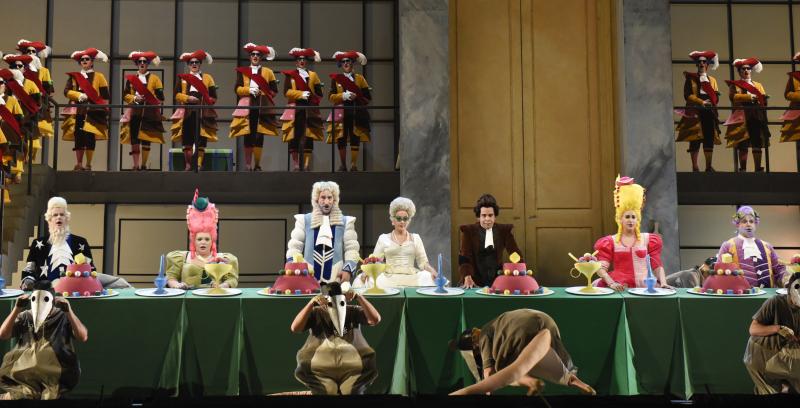 Prince Ramiro will select his future bride. Prince Ramiro, dressed in disguise as his valet Dandini, also arrives at Cenerentola's home, immediately falling in love when he sets his sights on her. What ensues is a windy, witty, whimsical tale of disguise, trickery and love.
This production team has delivered a highly entertaining, visually striking and musically stunning performance. Most notable were the orchestra, led by José Miguel Pèrez-Sierra, Joan Guillén's beautifully haunting set and colourful costumes, Joan Font's playfully directed ensemble numbers and a standout performance by Prince Ramiro played by Juan José De León.
Joan Guillén's breathtaking set depicts a larger than life, stone fireplace. A striking structure, spanning the entire height of the stage, the fireplace later converts into a mystical portal, leading Cenerentola into a fog laden, enigmatic world, where she is takes on her princess- like disguise. José Miguel Pèrez-Sierra leads his musicians in an emotionally charged and powerful rendition of The Orchestral Storm in Act II, while Director Joan Font navigates his lead singers, the 24-man chorus of princely envoys and highly entertaining mice with ease and grace. The lead singers wowed in the Act II sextet, when Cenerentola reveals her true identity. Juan José De León, stole the show with his charismatic, genuine and vocally stunning performance of Prince Ramiro.
The Opera de Montreal's La Cenerentola runs at the Salle Wilfrid-Peletier at Place Des Arts on November 11, 14, 16 and 18 at 7:30. Tickets can be purchased online at: http://www.operademontreal.com/en/tickets/tickets. Future Patrons are strongly encouraged to see this show before it closes on the coming weekend.
Photo Credits: Yves Renaud
Related Articles
View More Opera

Stories
Maggie Owen is a writer, educator, and performer residing in Montreal, Quebec. Although born in Maine, Maggie spent most of her childhood and adolescence in (read more...)