Interview: Ted Rosenthal Composer of DEAR ERICH, NYCO at the Museum Of Jewish Heritage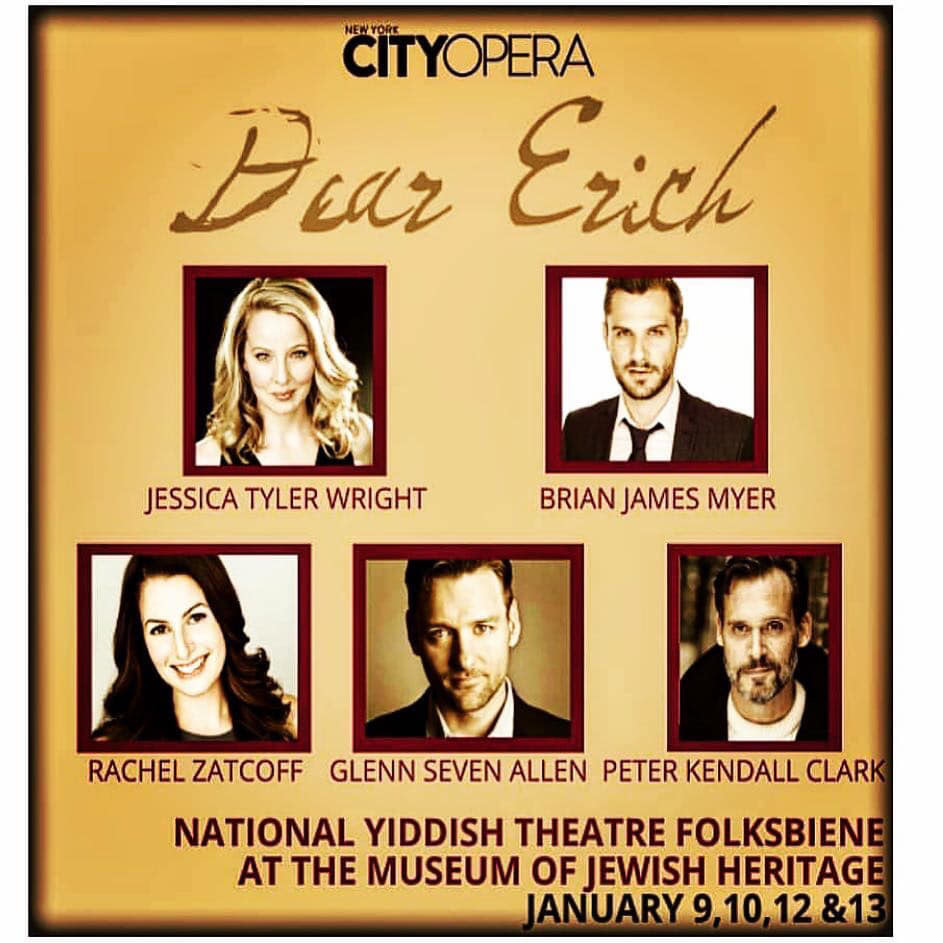 Since its re-birth a few seasons ago, New York City Opera has done a really extraordinary job of programming a broadly diverse slate of fresh titles - several little known operas, several formerly popular operas that have fallen off the modern circuit, several NY premieres and even some world premieres. The latest world premiere is one that everyone at BWW.com is excited about. It will be particularly thrilling for jazz fans, as Ted Rosenthal's jazz opera "Dear Erich" will receive its world premiere on January 9th. BWW recently sat down for an interview with Ted as he was in the middle of finalizing the orchestrations for the opera.
What's your favorite opera?
I'd say Gershwin's Porgy and Bess. It is a dramatic opera, but with many memorable songs. This is how I modeled "Dear Erich."
The subject of Dear Erich appears somewhat somber. But on your web site you say the story really has elements of mystery to it. Can you explain?
"Dear Erich" is inspired by rediscovered letters sent by Grandmother in Nazi Germany, to my father, who was able to escape to the US. One of the mysteries is that Erich (my father) never learned the fate of his mother who perished in Germany. But the opera contains a "lost letter." Certainly the backdrop of the Holocaust is somber. But the opera ends on a hopeful note.
Do you feel the story is not just for Jews? And do you need any prior knowledge of Jewish history to follow the story?
I believe the story is for everyone. One of the main themes of "Dear Erich" is the immigrant experience. The conflicts of the immigrant looking forward and living a new life while still being tied to the family you left behind. These themes are not just for Jewish immigrants, we are a country of immigrants.
I've done some presentations of "Dear Erich" for diverse young people and it has been very gratifying. Some who have been quite moved did not know much about the Holocaust and the history around it. No prior knowledge is needed to appreciate and enjoy the opera.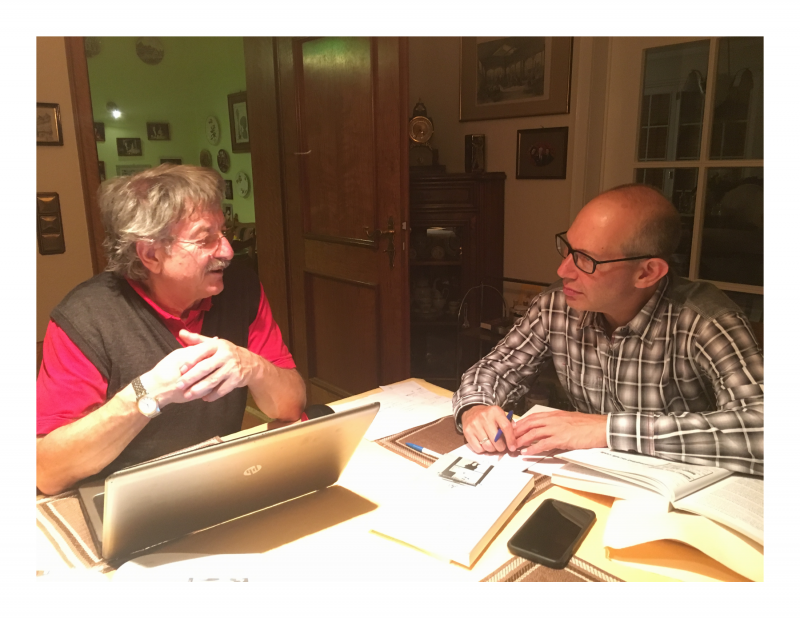 One of the reasons so many "modern operas" have failed - at least in a popular sense - is that they lack arias or songs that the audience can connect with. Is Dear Erich purely through-composed or are there set numbers?
As mentioned, "Dear Erich" is through composed but also has many songs that I hope (and believe) the audience will connect with and even go out humming.
What's been the biggest challenge adapting such personal material to such a collaborative art form?
I've now had countless discussions with collaborators about every aspect of the drama. Over time, as the piece has developed, I've really gained a lot of distance between the opera story and family history. The opera has a lot of dramatic embellishments. And the characters have become their own beings, not my family members (and even me!)
You have always "dabbled" (is that a good word?" ~ maybe "crossed over" is better) in the classical world. Full disclosure, your "Improvisation On Beethoven's Pathetique Sonata, 3rd Movement' is on of my all time favorite recordings. How has composing an opera been different for you than composing classical music? Aside from the obvious, that you are writing for voice. Do you have a different approach?
Thank you! I have written extended pieces that combine jazz and classical elements (2 jazz piano concertos, and more), but I would still say I'm a jazz composer. The biggest change - and it's huge - for opera is that the music must serve the drama. And the drama is a large form (different from a jazz tune), so musical elements both contrast and return. It's both overwhelming and exhilarating!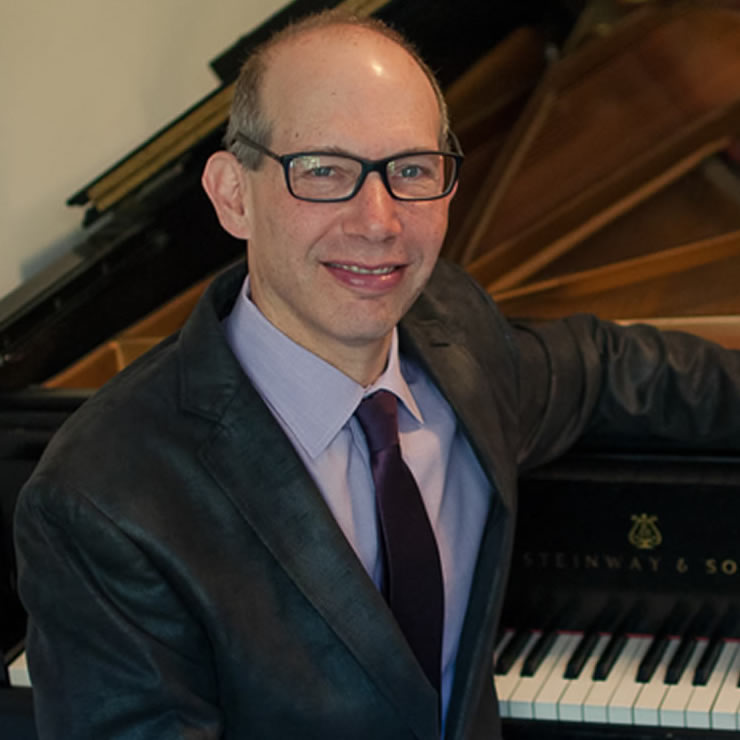 Porgy and Bess has been called the quintessential Jazz Opera but recently had an enormously successful run on Broadway and a national tour - do you feel Dear Erich can have that kind of cross-over appeal?
I certainly hope so! The music already has cross-over appeal in that I've performed many of the songs with my jazz trio all over the world.
In terms of topicality, why is Dear Erich so timely in 2018/19?
Many reasons, but one of the biggest is its themes of immigration. One of the reasons so many Jews perished in Europe is that they were unable to emigrate to the US. US immigration laws were quite restrictive, and it grew harder and harder for anyone to enter. In Dear Erich, there is a piece where the US immigration officer keeps coming up with more reasons why my grandmother can't emigrate. Sound familiar to today?
I recently interviewed Jordan Rudess the marvelous progressive rock keyboard player and he is also from Great Neck. Did you know that over 700 musicians from Great Neck have performed at Carnegie hall in the last 50 years? Is there something in the water?
There might be! There was actually a thriving arts scene in Great Neck when I was growing up. In high school we did operas and musicals. We took it very seriously. There was even a local semi-professional orchestra, the Great Neck Symphony.
_________________
BWW.COM would like to thank Ted Rosenthal for taking time out of his busy schedule to chat with us about "Dear Erich."
Editor's personal note: I recently had the pleasure of hearing several of the pieces from "Dear Erich" during a performance by Ted's trio, and they were simply magical. Lyrical, deeply personal and accessible. I think his production will be one of the big events of the New York Arts season; one which folks will be discussing for a very long time after.
DEAR ERICH
Co-produced by The New York City Opera and the National Yiddish Theatre Folksbiene
at the Museum of Jewish Heritage
JAN. 9th, 7:30PM
JAN. 10th, 7:30PM
JAN. 12th, 7:30PM
JAN. 13th, 1:00PM
To Purchase Tickets by phone: 646.981.1888 or online at: