Latest Articles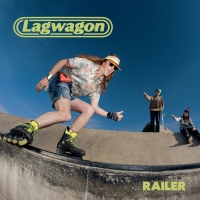 Influential Punk Band Lagwagon Announce Brand New Album
by BWW News Desk - July 29, 2019
Fat Wreck Chords and longstanding California punk band Lagwagon are excited to announceRAILER, the band's ninth full-length album due out on Friday, October 4 (pre-order). As frontman Joey Cape explains, 'railer' is "a funny word from childhood that means 'silly bad', like lame" and it captures the ... (
more...
)

Mannequin Pussy Share 'Who You Are' Lyric Video
by TV News Desk - May 20, 2019
Indie punk band Mannequin Pussy have shared a new song "Who You Are" from their forthcoming album Patience, due June 21 on Epitaph. Marisa Dabice trades her signature scream for a softer vocal performance and a call for self-empowerment on "Who You Are."... (
more...
)

Experimental Punk Duo Cinema Cinema Releases Previously Unrecorded Clash Song, Plus Tour Dates
by BWW News Desk - April 20, 2018
Cinema Cinema, the full-throttle, experimentally-inclined rock duo from Brooklyn, has been keeping very busy since the release of their Martin Bisi (Swans, Dresden Dolls, Sonic Youth, etc.) produced fourth full length album MAN BITES DOG one year ago.... (
more...
)