U2: Broken Fingaz Crew Create Ominous Animated Video for 'Get Out Of Your Own Way'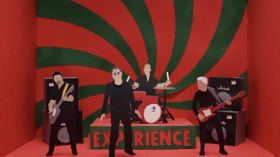 Broken Fingaz Crew, the fearless Israeli graffiti collective whose provocative, groundbreaking and often disturbing fluorescent sketches were among the first street art in their native Haifa, have directed U2's new video for "Get Out Of Your Own Way." Broken Fingaz Crew's animated realization of the song can be viewed here.
Known only by the pseudonyms that preserve their anonymity with local authorities--Unga, Tant, Kip and Desco-the enigmatic Broken Fingaz Crew approached U2 with the concept of an animated visualization of the second single from the band's new Songs of Experience. After a successful collaboration on U2's video for "American Soul," the band were inspired to give Broken Fingaz Crew full creative control based on their impassioned interpretation of "Get Out Of Your Own Way." The result reaffirms Broken Fingaz Crew's standing as artistic and social pioneers emerging from an underground of their own creation. Broken Fingaz Crew described the mission statement of their "Get Out Of Your Own Way" video as follows:
"The video addresses the current political situation: 2017 for us was the year fascists worldwide felt confident enough to raise their heads again, encouraged by Trump and other world leaders, who use people's fear to build more walls and segregation. The song is both a personal letter and a clarion cry to the global situation, and in the same way, we've combined our psychedelic pop style with political imagery; shot entirely analogue, using paper cut and stop motion animation techniques in collaboration with Adam Albo, who edited the video."
In other U2 news, the band have announced the UK/Europe leg of the eXPERIENCE + iNNOCENCE Tour 2018, with new dates to go on sale January 26th. For a full confirmed routing and further information, go to U2.com or see below: U2
eXPERIENCE + iNNOCENCE Tour 2018 May 2 - Tulsa, OK - BOK Center
May 4 - St. Louis, MO - Scottrade Center
May 7 - San Jose, CA - SAP Center
May 8 - San Jose, CA - SAP Center
May 11 - Las Vegas, NV - T-Mobile Arena
May 12 - Las Vegas, NV - T-Mobile Arena
May 15 - Los Angeles, CA - The Forum
May 16 - Los Angeles, CA - The Forum
May 22 - Chicago, IL - United Center
May 23 - Chicago, IL - United Center
May 26 - Nashville, TN - Bridgestone Arena
May 28 - Atlanta, GA -
Infinite
Energy Arena
June 5 - Montreal, QC - Bell Centre
June 6 - Montreal, QC - Bell Centre
June 9 - Uniondale, NY - NYCB Live, Home of the Nassau Veterans Memorial Coliseum
June 13 - Philadelphia, PA - Wells Fargo Center
June 14 - Philadelphia, PA - Wells Fargo Center
June 17 - Washington, DC - Capital One Arena
June 18 - Washington, DC - Capital One Arena
June 21 - Boston, MA - TD Garden
June 22 - Boston, MA - TD Garden
June 25 - New York, NY - Madison Square Garden
June 26 - New York, NY - Madison Square Garden
June 29 - Newark, NJ - Prudential Center
August 31 - Berlin, DE - Mercedes-Benz Arena
September 4 - Cologne, DE - Lanxess Arena
September 8 - Paris, FR - AccorHotels Arena
September 9 - Paris, FR - AccorHotels Arena
September 16 - Lisbon, PT - Altice Arena
September 20 - Madrid, ES - WiZink Arena
September 29 - Copenhagen, DK - Royal Arena
October 3 - Hamburg, DE - Barclaycard Arena
October 7 - Amsterdam, NL - Ziggo Dome
October 11 - Milan, IT - Mediolanum Forum
October 12 - Milan, IT - Mediolanum Forum
October 19 - Manchester, UK - Manchester Arena
October 23 - London, UK - The O2