The Devon Allman Project With Duane Betts Announce Extensive North American and International Tour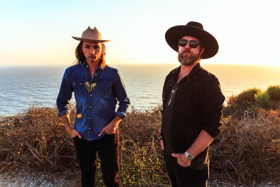 The Devon Allman Project has announced an extensive North American and international tour. Devon Allman is the former leader of Honeytribe and Royal Southern Brotherhood, and son of the late Gregg Allman. This massive tour will make its way across North America before heading to select dates in the UK, Netherlands, and Australia.
The Devon Allman Project is a six piece band featuring two percussionists, John Lum & R. Scott Bryan (Sheryl Crow), bassist Justin Corgan, guitarist Jackson Stokes and a Hammond B3 player, Nicholas David.
The club/theater shows feature a 30 minute opening set with Duane Betts using his go to guitar player, John Satchela Jr., and Devon's rhythm section. After a 15 minute break the Devon Allman Project plays a one hour set which will includes songs from Honeytribe, Royal Southern Brotherhood, The Devon Allman Band and a few covers. The night culminates with a 30 minute plus encore featuring all eight musicians playing Allman Brothers tunes and other classics. Festival dates are a straight 90 minute set.
The Devon Allman Project Tour Dates
March 15 @ Jackson Hole Mountain Resort | Teton Village, WY
April 6 @ Rhythm & Ribs Festival | St Augustine, FL
April 7 @ Peace River Revival | Punta Gorda, FL
April 17 @ Katherine Hepburn Cultural Arts Center | Old Saybrook, CT
April 18 @ Wilbur | Boston, MA
April 19 @ Penns Peak | Jim Thorpe, PA
April 20 @ WB PAC | Westhampton Beach, NY
April 21 @ Flying Monkey Performance Center | Plymouth, NH
April 22 @ Center for the Arts | Homer, NY
April 24 @ B.B. Kings Blues Club | New York, NY
April 25 @ State Theatre | State College, PA
April 27 @ Neighborhood Theatre | Charlotte, NC
April 28 @ Phenix City Amphitheatre | Phenix City, AL
April 29 @ The Masquerade | Atlanta, GA
April 30 @ Tybee Poste Theater | Tybee Island, GA
May 1 @ The Pour House | Charleston, SC
May 2 @ Salvage Station | Asheville, NC
May 4 @ Tiptinas | New Orleans, LA
May 5 @ Tennessee Amphitheater | Knoxville, TN
May 6 @ City Winery | Nashville, TN
May 17 @ Macon City Auditorium | Macon, GA
May 19 @ Florida Music Jam @ Sunset Cove | Boca Raton, FL
May 25 @ Fox Theater | Tucson, AZ
May 26 @ Simi Valley Cajun & Blues Festival | Simi Valley, CA
May 28 @ Brooklyn Bowl - Las Vegas | Las Vegas, NV
June 9 @ Greeley Blues Jam | Greeley, CO
July 3 @ Gerald Ford Amphitheater | Vail, CO
July 4 @ Red Rocks | Morrison, CO
July 15 @ Great South Bay Music Festival | Patchogue, NY
July 21 @ The Peach Music Festival | Scranton, PA
August 8 @ The Kent Stage | Kent, OH
August 11 @ Riverside Park | Rushville, IN
August 12 @ Prairie Magic Music Festival | Valparaiso, IN
August 24 @ Gevarenwinkel Blues Roots & Rock Festival | Herselt, Belgium
August 25 @ Culemborg Blues Festival | Culemborg, Netherlands
August 26 @ Bosuil | Weert, Netherlands
September 2 @ The Fleece | Bristol, UK
September 3 @ Robin 2 | Bilston, UK
September 4 @ Islington Assembly Hall | London, UK
September 6 @ Riverside | Newcastle, Australia
September 7 @ Brudenell | Leeds, UK
September 8 @ Academy | Manchester, UK
September 9 @ HRH C.R.O.W.S Festival | Sheffield, UK
When you're part of a musical dynasty, it's only natural that the personal and professional aspects of your life should intersect. It was no different for Devon Allman, whose late father Gregg Allman helped helm one of the most important and influential American bands of the past 50 years. It's also little wonder that the younger Allman, an accomplished singer, songwriter and guitarist in his own right, should feel the tug of family responsibility and the desire to honor his father's fabled legacy.
It was also only natural that following his father's passing on May 27, 2017, Devon would take time to grieve his loss, be with his family and consider his own plans going forward. After all, he had been on the road continuously for twelve years, playing an average of 250 dates a year. Consequently he took six months off to rally around his loved ones and "rack up more time with my kid," as he put it. That included monthly visits to see relatives on the West Coast and taking the time to heal and rearm himself with the impetus and inspiration needed to embark upon the next phase of his career.
"It felt good to take that time off," Devon says in retrospect. "I needed to step back and make up for lost time with the people that are close to me."
Even so, he didn't neglect music entirely. On December 8, 2017, on what would have been Gregg Allman's 70th birthday, Devon and a group of special friends celebrated the elder Allman's life and music with a special concert at the iconic Fillmore in San Francisco. An incredible array of artists took part -- Robert Randolph, brothers Luther and Cody Dickinson, G Love, members of Phish, Samantha Fish, and Jimmy Hall, among them.
Devon Allman is a staunch proponent of authentic Southern Blues. It's a legacy that's always weighed heavy on his musical mantra. He's chalked up a lengthy list of accomplishments that have entitled him to take his own place in the Southern Rock pantheon. His remarkable resume spans two decades, from his post-millennial breakout with Devon Allman's Honeytribe through to chart-topping collaborations with Jack Bruce, Javier Vargas, and the widely revered super group, Royal Southern Brotherhood. Nevertheless, the stature he's achieved on his own via his three highly regarded solo albums -- 2013's Turquoise, 2014's Ragged & Dirty (praised by the UK's Blues Magazine as "reminding you why the blues can be, quite simply, the best thing in the world") and his most recent effort, the critically acclaimed Ride Or Die-- have proven his prowess as a singer, guitarist and provocateur worthy of being reckoned with based on his talent and tenacity alone.
devonallmanproject.com
Related Articles
View More Music

Stories