Rueben And The Dark To Release New Album ARMS OF A DREAM May 4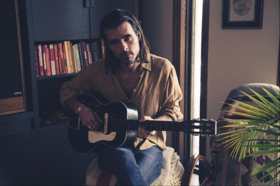 Reuben and the Dark is the spirited folk-rock outfit led by songwriter/vocalist Reuben Bullock. Contemplative, passionate, and expansive, Bullock's songwriting has earned comparisons to contemporaries like Vance Joy, Bright Eyes and Matt Corby. On the heels of emotive single "Hurricane," released last month, Reuben and the Dark has announced the new albumArms of a Dream due out May 4 on Arts & Crafts. The album will be available on LP, CD and digital formats, plus a limited edition of 100 white vinyl available by pre-order only.
Arms of a Dream finds Reuben and the Dark working outside its comfort zone, both musically and lyrically. The result is Bullock's most vivid and transformative music to date: an intimate exploration of the inversion of imagination and reality in dreams. Reuben says: "This album is about love and the inner war that can exist when the heart and mind are torn. It is about family and intergenerational trauma. It is about holding your darkest secrets and truth from the people you love the most - and it is about dreams. Making this album was a journey to find a place where I can live my own truth, where there is a congruency of body and spirit. Lead single "All or Nothing" is an anthem that careens on the boundary of "confidence and complete desperation," as Reuben describes it. With uncharacteristically personal and intimate storytelling, over chiming guitars and rolling drums, Reuben confronts the entanglement of love & family at the heart of the track. He says: "'All or Nothing' was locked in my head for a long time. When it was finally written, I was left with a feeling of freedom, of letting go. But I am careful not to corner it into a room that is too small. It is simple and universal. It isn't a love song. It isn't a protest song. It is an anthem of mine."

Reuben and the Dark has performed at many festivals, including Sasquatch, Austin City Limits, Osheaga, Field Trip, and more. The band has also shared stages with Vance Joy, The Strumbellas, Boy & Bear, and The Paper Kites, to name a few. Having recently finished a support tour with Serena Ryder, the band will give special intimate performances in New York and Toronto, bookending a slew of Ontario dates in March.
The band's recent single "Heart In Two" peaked at #16 on Commercial Alternative radio, and has had cross-Canada adds from CBC Radio2, SiriusXM, Indie88, The Edge, and more. A few of the band's tracks have also recently been featured in a HBO promo, Glass Castle (Lionsgate),The Originals (CW), and Ray Donovan. Stay tuned for more exciting news from Reuben and the Dark soon! Upcoming Tour Dates
3/6: New York, NY @
Rockwood Music Hall
- Communion
3/15: Peterborough, ON @ Market Hall
3/16: Orillia, ON @ Mariposa Concert Series
3/20: London, ON @ Rum Runners
3/21: St. Catharines, ON @
Warehouse
Concert Hall
3/22: Windsor, ON @ The Phog Lounge
3/23: Burnstown, ON @ Neat Cafe
3/24: Kingston, ON @ The Grad Club
3/28: Toronto, ON @ The Drake Underground
Photo Credit: Kaelen Ohm