Pierce Pettis Releases His First New Album In Nearly A Decade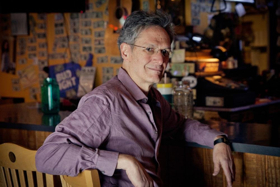 A songwriter's songwriter, Pierce Pettis is back with his first new studio album in nearly a decade with FATHER'S SON, out January 18 on Compass Records. NPR Folk Alley is premiering the entire album online as part of their "Hear It First" seires; listen to it here:
Stream FATHER'S SON at NPR Folk Alley
Folk Alley's Kim Ruehl writes: "Well beyond its crack lyricism and intuitive arrangements, 'Father's Son' is populated by some truly great players. Among them, guitarist Doug Lancio (Patty Griffin), fiddler Andrea Zonn (James Taylor), and vocals from Ruth Moody (The Wailin' Jennys). Together, the band backs Pettis's songs in a way that is artfully subtle and supportive, always in service to the song rather than showing off their own chops. This is in part thanks to producer Garry West, but is also a testament to how well Pettis writes a song."
Featuring 10 tracks, including a cover of Jesse Winchester's "A Showman's Life," the Alabama songwriter writes about friends he's lost, childhood memories, and the relationships he's experienced both as a son and a father on these deeply moving, literate songs. FATHER'S SON, reuniting Pettis with producer Garry West, was recorded "live on the floor, with the band, with minimal overdubs, to capture the energy and authenticity of Pierce's performances."
Pettis was joined in the studio by a cast of old friends and veterans from his previous albums: Reece Wynans, widely known for his work with Stevie Ray Vaughan and Joe Bonamassa, contributed piano and Hammond B-3 tracks. Longtime collaborator Stuart Duncan contributes his multiple Grammy-winning fiddle skills along with some beautiful mandolin parts. Also back is violinist Andrea Zonn (James Taylor Band), who contributed the string arrangement for "Mr. Ziedman."
"Adding backing vocals for the second time is my daughter, Grace, who last recorded with me on EVERYTHING MATTERS when she was 9 years old! " Pettis says. And of course, my long-time producer and friend, Garry West, joins us on bass and produced for the fourth time.
Some newcomers to Pierce's world are guitarist Doug Lancio, known for his work with John Hiatt and Patty Griffin, drummer/percussionists Josh Day (Sara Bareilles, John Oates) and Jordan Perlson (Adrian Belew, Alison Brown, Blue Man Group), and vocalist Ruth Moody from renowned vocal trio, the Wailin' Jennys
At this point in his life, as a career touring artist and father of four, Pettis has reached a period of reflection and peace with his life as well as a comfort zone as an artist.
"The biggest change," he says, "has been getting over myself and realizing this is a job and a craft. And the purpose is not fame and fortune but simply doing good work."
TOUR DATES
Sat, JAN 12 Ponte Vedra Beach, FL - Ponte Vedra Concert Hall (Marica Ball opener)
Sun, JAN 20 Durham, NC - Birdland NC
Fri, FEB 1 Santa Rosa Beach, FL - St. Rita's Catholic Church
Sat, FEB 2 Panama City Beach, FL - St. Helen State Park
Sun, FEB 3 Youngstown, FL - Americana Cafe Sundays at Maggie's Musical Farm
Fri, FEB 8 Waco, TX - Partnership for Psychological and Spiritual Care Fundraiser
Sat, FEB 9 Houston, TX - 2nd Saturday Concerts
Wed, FEB 13 Baton Rouge, LA - Dyson House (Danny Burns opener)
Fri, FEB 15 Dallas, TX - Poor David's --w/keyboardist, David Webb
Sat, FEB 16 Fayetteville, AR - Cove Concerts
Thurs, Mar 7 Nashville, TN - Bluebird Cafe w/Rayvon Pettis & the Big Dumb
Fri, May 10 Mentone, AL - Mentone House Concerts
Thu, May 16 Buffalo, NY - Nickel City Sessions
Fri, May 24 Rochester, NY - Lake Effect House Concerts
Sat, Nov 16 Austin, TX - Acoustical Cafe --w/keyboardist, David Webb
Sat, Nov 23 Edom, TX - The Old Firehouse
Sun, Nov 24 Bonham, TX - Harmony House Concerts

Check https://www.piercepettis.com/shows for tour updates.