Mark Newman Opening for Grammy Winning Blues Rocker Delbert McClinton at Highline Ballroom 10/27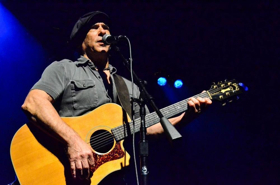 Following an outstanding performance at the reopened "My Father's Place" at the Roslyn Hotel opening for Midge Ure, singer/songwriter and guitarist Mark Newman will once again perform before another music legend when he takes the stage at Highline Ballroom (431 W. 16th Street, New York, NY 10011) on Saturday, October 27th with Blues Rock legend Delbert McClinton!
McClinton has earned three Grammy awards; 1992 Rock Performance by a Duo with Bonnie Raitt for "Good Man, Good Woman"; 2002 Contemporary Blues Album for "Nothing Personal"; and 2006 Contemporary Blues Album for "Cost of Living." He has been nominated for seven Grammy Awards as of 2018.
A New York native, Mark Newman's musical prowess has taken him around the world several times over, playing with an eclectic mix of noted musical talents from Sting to Elvis Costello, and Travis Tritt as well as his own solo work. A multi stringsman, Mark has mastered electric/acoustic/lap steel guitar as well as the mandolin and dobro, and with a voice reminiscent of many rock and blues men before him- it has the familiarity of an old friend yet the power and soul of many of today's rock, soul, folk and R&B icons. For over five years, Newman and fellow songwriter Naomi Margolin have run the "Music From the Hive" Singer/Songwriter Series, and for the past three years- "The Original Music Series" for bands, in an attempt to keep original music alive on Long Island. Newman also records and produces local artists in the Long Island/NYC area.
Although Newman has played a ton of exciting solo and full-band showcases--notably NYC's B.B. King's for the Delbert McClinton Birthday Show, The Paramount in Huntington opening for The Doobie Brothers, The Space at Westbury opening for the one and only Don Felder and David Bromberg on separate occasions, The Blue Note in Tokyo, Japan, and NYC's Legendary Bitter End--he has also worked as sideman to so many soul, blues, and rock greats of our time like John Oates (Hall and Oates), Jim McCarty (The Yardbirds), Willy DeVille (Mink DeVille), Sam The Sham, Bobby Whitlock (Derek and the Dominos) and Sam Moore (Sam & Dave)!
Past releases include 2010's "Walls of Jericho" filled with intricate guitar work and mixed with a plethora of sounds from hard rock to a lighter more Dylanesque folk tinge, and 2015's "Brussels" - a live acoustic-driven EP that packs a bluesy punch reminiscent of Clapton's "Unplugged" album through both the guitar work and raw vocal power.
With his upcoming show at Highline Ballroom on Saturday, October 27th opening for Delbert McClinton ahead of his latest album release, fans can catch TWO amazing acts in the heat of downtown NYC!
For More on Mark Newman, VISIT: www.MarkNewman.us