Kate Ceberano and Paul Grabowsky Release Album 'Tryst'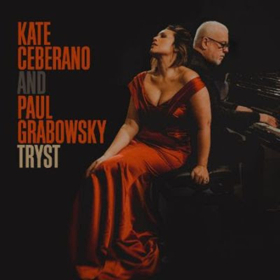 Kate Ceberano and Paul Grabowsky have taken their longstanding friendship to the next level with the release of their debut album, Tryst, to be released on ABC/Universal Music Australia on Friday, 3 May 2019.

The seed for this musical dalliance was planted over 20 years ago with a one-off St Valentine's Day show at the legendary Melbourne venue 'The Continental'. Little did they know from that performance would grow a close and enduring friendship.

Revisiting the theme decades later brings with it the impact of love and loss we all endure - experiences that form who we are and how we express ourselves. Paul and Kate lay bare their own emotions on this warm, heartfelt ode to love lost, found and unrequited.

Tryst is a very personal journey into words and music by two of Australia's most respected musicians reinterpreting of some of the great love songs of our time. Kate and Paul deliver achingly, soulful renditions of songs that connect on a deep emotional level and have influenced both of them at some point in their lives.

The repertoire is as diverse as love itself. One moment diving into 60s pop with Cilla Black then 80s Aussie rock with the Divinyls, then flirtation with jazz and chanson.
Kate Ceberano's vocals are raw and heartfelt and Grabowsky provides inspired spontaneous arrangements so rich in colour you could swear there is a band working behind him. Their musical connection is such that they respond instantaneously to what the other offers, enjoying the interaction that only the bond of so many years brings. Their honesty and connection is palpable. Their tryst is no longer a secret.

As the high priestess of pop and an award-winning jazz singer, Kate Ceberano has lived the rock-star life jazz vocalists dream of. In the wake of her 24 albums, countless awards, TV appearances, festival highlight performances and generally prolific creative output, she stands as the icon emerging artists appeal to for hope, integrity and pride in their work. She is more than a National Treasure, she is a cultural diplomat and carries with her the torch to light a thousand paths for the future of live jazz vocalists everywhere.

Paul Grabowsky's contribution to the Australian musical landscape is vast and deep, though it is difficult to describe his career easily. He has been a director of some of Australia's most prominent arts festivals, the composer of nearly thirty feature film scores, and several works of music theatre, the founder and leader for nineteen years of the Australian Art Orchestra, an executive at the ABC, and is currently at Monash University, where he heads up the Academy of Performing Arts. Whether as composer, teacher, television personality, mentor or advocate for the role of artistic expression as a defining attribute of contemporary life, for him this is all informed by his work as a pianist, and composer, particularly in the field of jazz, where, according to him, 'the piano never lies'.

Kate and Paul will be taking their Tryst on the road later this year with full details to be announced shortly.

The first single from Tryst is Leon Russell's A Song for You and is available immediately when you pre-order the album here.
Related Articles
View More Music

Stories