Jesse Dayton Releases New Protest Song + New Album THE OUTSIDER Out 6/8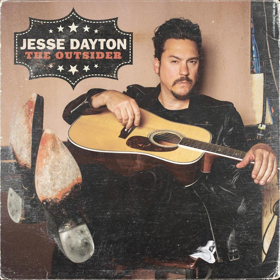 Guitar slinger Jesse Dayton has released his new protest song "Charlottesville" via Rolling Stone Country today. The track was written in the wake of the "Unite the Right" rally in Charlottesville, VA in August 2017 that tragically saw counter-protestors injured and killed. The track appears on his forthcoming album The Outsider, out June 8, 2018 on Blue Élan Records. Listen and share "Charlottesville" here. Preorder The Outsider here.
Dayton says of the track: "My new protest song "Charlottesville" is about the Unite The Right Rally that was televised. It's dedicated to mine & all of the grandaddy's out there who fought the Nazis & successfully liberated the Jewish people in WW2. I named dropped the courageous protestor Heather Heyer in the song, who was tragically killed that day. We need protest songs now more than ever. Hearing Neil Young's "Ohio" or Joe Strummer from the Clash sing "Know Your Rights" as a kid played a big part in my political consciousness." Jesse Dayton's career reads like a who's who of American music, having recorded guitars on records and film with Waylon Jennings, Johnny Cash, Ray Price, Willie Nelson, Johnny Bush,
Glen Campbell
and more. He has toured the world with punk legends X, filling for guitarist
Billy Zoom
on a 40-city U.S. tour.
Rob Zombie
asked him to write and record a soundtrack for his film 'The Devils Rejects,' which then lead to co-writing songs for Rob's follow up franchise film, 'Halloween 2' (which Dayton appears in playing the part of character 'Captain Clegg'). Jesse Dayton has been on tour non-stop for four years all over the US and Europe. His new record "The Outsider" was literally recorded while on tour in Atlanta, Denver, Nashville and Austin and mixed by Grammy Award winning engineer/producer Vance Powell (who has worked with the likes of Sturgill Simpson, Chris Stapleton,
Jason Isbell
and Jack White). About "The Outsider" Dayton says, "It's a lot like 'The Revealer', but even more stripped down with some sweet acoustic guitar songs and some raw electric guitar work."All the influences are there; the George Jones-inspired singing on "Changin' My Ways," the Outlaw country twang of Waylon and Jerry Reed on "Belly of the Beast," the angst and energy of The Clash and X on hillbilly protest song "Charlottesville," and the deep east Texas blues and Cajun rockabilly of "May Have To Do It" and "Hurtin Behind The Pine Curtain." While there are many different sides to him musically, this all rolls into one big hybrid that
Jesse Dayton
has been honing for over 20 years. Be sure to catch
Jesse Dayton
on tour in a city near you performing material from The Outsider. Tour Dates: 5/24 - Joe's Great American Bar & Grill - Burbank, CA
5/25 - Casbah - San Diego, CA
5/26 - Pappy and Harriet's - Pioneertown, CA
5/27 - Broken Drum Bar - Long Beach, CA
6/1 - Chickie Wah Wah- New Orleans, LA
6/2 - Flint Riverquarium - Albany, GA
6/5 - The Grey Eagle - Asheville, NC
6/6 - Lexington, KY - Willie's Locally Known
6/7 - City Winery - Nashville, TN supporting
Reckless
Kelly
6/9 - Two Doors Down - Maryville, TN
6/10 - The Pour Music Hall - Raleigh, NC
6/12 - City Winery - New York, NY supporting
Reckless
Kelly
6/13 -
Narrows
Center for the Arts - Fall River, MA supporting
Reckless
Kelly
6/14 - Mauch Chunk
Opera House
- Jim Thorpe, PA supporting
Reckless
Kelly
6/15 -
The State
Theatre - Falls Church, VA supporting
Reckless
Kelly
6/16 - Roxy and Dukes
Roadhouse
- Dunellen, NJ supporting Legendary Shack Shakers, Chuck Mead
6/17 - Askew - Providence, RI
6/19 - Once Lounge - Somerville, MA
6/20 - The Cove Music Hall - Worcester, MA
6/22 -
Southgate
House
Revival
- Newport, KY
6/23 - Cleveland, OH - Rock Hall Plaza Stage
7/14 - Port Aransas, TX - The Back Porch Bar
7/20 - Old Quarter
Acoustic Cafe
- Galveston, TX
7/21 - McGonigel's Mucky Duck - Houston, TX
7/27 - The
Broken Spoke
- Austin, TX
8/11 -
Knuckleheads
Saloon - Kansas City, MO
8/12 - Bourbon Theatre's Rye Room - Lincoln, NE
8/14 - Bigs Sports Bar and Billiards - Sioux Falls, SD
8/15 - Uptown Vfw - Minneapolis, MN
8/16 - sty Barn Sessions - Spring Green, WI
8/17 - Door County Brewing Company and Music Hall - Baileys Harbor, WI
8/18 - The
Live Wire
- Chicago, IL
Related Articles View More Music

Stories