Ike Reilly and Johnny Hickman to Head Out on Tour Together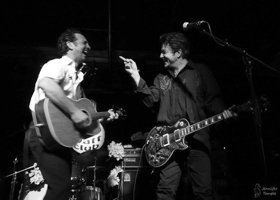 Rebel rocker Ike Reilly and guitar slinger Johnny Hickman (from the band Cracker) plan to trade songs and stories of love, lust, patriotism, and dissidence when they hit the road on tour together this fall. The friends will be playing on the West Coast in November, in the Midwest the first week of December, and in Colorado the second week of December. (Confirmed tour dates are listed below; other dates will be announced soon.)
This politically charged collaboration is heartbreaking and hilarious. Hickman and Reilly's musical friendship goes back light years, and the rock 'n' roll camaraderie they share will be on full display. "I was a fan of Cracker and Johnny before I even considered trying to make a living writing and singing songs," says Reilly. "Johnny is a master of the killer riff, songs of anthemic defiance, and of the road itself. We've become friends, comrades. Our love of real songs and the romantic lies we tell each other about being on the road as troubadours is what helps bind us together. We've killed time in bars, clubs, studios, airports, bus stations, green rooms, and motels. Now we're gonna kill time and audiences from stages together as we set off in search of the slimy, noble America we believe is out there." Hickman is equally excited about this road outing: "I've been an ardent Ike fan for years and consider him one of the best songwriters of his generation, as well as one of my very best friends. We've had a few great times performing, hanging, and recording together thus far and have often discussed hitting the road, just the two of us. I'm thrilled and mildly terrified of what might happen!"
About Ike Reilly:
Chicago, IL-based indie rock singer-songwriter Ike Reilly released his seventh studio album, Crooked Love, earlier this year via Rock Ridge Music. The New York Times has praised Reilly, writing: "Ike Reilly is a kind of natural resource, mined from the bedrock of music. All the values that make rock important to people-storytelling, melody, rage, laughter-are part and parcel of every Ike Reilly show I have ever seen. One of the best touring acts in the country, Reilly's band takes it as a personal challenge to upend and amaze every room they play in."
Since his major label debut, the groundbreaking Salesmen and Racists, Reilly has been making punk/folk/blues influenced rock 'n' roll records that lean heavily on stories of outsiders with keen details and broad strokes that insinuate a crack in the American dream. Press praise for Reilly's music has been extensive over the years. Chicago Magazine lauded Reilly's "outlandish storytelling, underdog combativeness, and slapstick humor." Minneapolis City Pages said, "Equal parts punk rocker, poet, and blue-collar barfly, Reilly's stories are as bizarre and filthy and honest and pure as the people who come out to his shows. His songs reach out and grab people, shake them by the collars, make them jump up and down." Chicago Tribune admired that Ike "merges his affinity for folk-punk narrative and anthemic guitar chords with hip-hop's vocal cadences and rhythmic drive." PopMatters.com called him "the best songwriter in America... Hilarious, unsettling, raw... but mostly just rocking." USA Today hailed Reilly as "never less than original... ferociously intelligent... always worth listening to." And Los Angeles Times described Reilly's music as "...barroom rock narrated by a wiseguy who's as comfortable regaling PhDs and poets as he is pimps and porn stars."
About Johnny Hickman:
Johnny Hickman is best known for co-founding the band Cracker in 1990 with David Lowery, his childhood friend from Redlands, CA, but his talents and musical styles run far deeper. His spirited co-writing and fiery lead guitar sound achieved platinum status with Cracker's alternative radio hits "Teen Angst," "Low," "Get Off This," and "Eurotrash Girl." Cracker released ten albums, and Lowery and Hickman together are seen as godfathers of the alternative music scene, who turned gently away from plaid-clad grunge in the 1990s with more countrified and bluesy stylings.
Hickman is also a successful and critically acclaimed solo artist with two releases to date: Palmhenge (recipient of NYC's The Village Voice's "Voices Choice" accolades) and the more recent critically acclaimed and successful Tilting. No Depression magazine called Palmhenge "wildly diverse - from the arena rock of 'Harvest Queen' to the Bakersfield country of 'Friends' to the splendid folk rock of 'Little Tom' and 'The San Bernardino Boy' - it blends those genres with a dash of alt-rock to create a surprisingly coherent whole."
Occasionally, Hickman ventured away from solo work and Cracker to spearhead side projects, including his Colorado-based outlaw country band The Hickman-Dalton Gang. Retired side projects include All Thumbs Trio (with moe. guitarist Chuck Garvey, and East Coast guitarist Gibb Droll), and Crazysloth, an Arizona-based band he formed while recording Palmhenge. Film and TV work to date include one full film score for the independent "River Red," placement of "Lucky" from Palmhenge in the FX series "Sons of Anarchy," as well as the placement of Cracker songs in several popular movies and TV shows.
www.facebook.com/johnny.hickman.7
Ike Reilly & Johnny Hickman Tour Schedule
November 10 - Redlands, CA - house concert (tickets)
November 11 - San Juan Capistrano, CA - house concert (tickets)
November 12 - Los Angeles, CA - Hotel Café, Second Stage (tickets)
November 13 - Los Angeles, CA - Hotel Café, Second Stage (tickets)
November 14 - San Francisco, CA - The Lost Church (tickets)
November 16 - Boulder Creek, CA - Skyhouse Music Series (tickets)
November 29 - Youngstown, OH - West Side Bowl
November 30 - Pittsburgh, PA - Kollar Club
December 1 - Ft. Wayne, IN - B-Side
December 5 - Milwaukee, WI - Shank Hall
December 6 - Madison, WI - The Condon's Folk Punk House
December 7 - Libertyville, IL - Diamond City Studio
Photo Credit: Jennifer Temple