Drummer/Composer Bobby Previte Releases Second Album In Terminals Trilogy RHAPSODY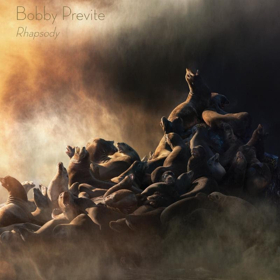 Highly respected drummer and prolific composer Bobby Previte continues his Terminals trilogy with Rhapsody, an acoustic song cycle on the subject of transit and migration. Subtitled Terminals Part II: In Transit, Previte's newest work is scored for acoustic sextet and features fellow composer-improvisers guitarist Nels Cline, harpist Zeena Parkins, pianist John Medeski, alto saxophonist Fabian Rucker, and vocalist/er hu player Jen Shyu. This latest major work, released on RareNoiseRecords in February 2018, comes on the heels of Previte's powerful November 2016 RareNoise release, Mass, a nine-part work scored for choir, pipe organ and heavy metal trio.
In 2015, Previte was awarded the Greenfield Prize for Music at the Hermitage Artist Retreat to create a new work. Rhapsody is the result. Rhapsody had its world premiere on April 21, 2017 at New College in Sarasota, Florida. "The Greenfield Foundation not only commissioned the work, but gave me a residency at the Hermitage to write it, 20 paces from the Gulf of Mexico," says the composer. "It was a rapturous place to write, and to be.
Beginning from the point of view of a passenger sitting comfortably in an airplane, Rhapsody twists, turns, and migrates until the passenger arrives in the dead of night at an unfamiliar shore. As Previte proposed in his artist's statement for Rhapsody: "What is the experience of being in transit? Separated from your home but not yet at your destination, you are neither here nor there, confined with strangers in an intimate environment for a predetermined amount of time, uncomfortable, yet somehow free. To travel is to be bound with these strangers by faith-faith in the vessel which carries you, faith in the people who operate it, and ultimately, faith in the strangers waiting at your destination."
"I began thinking about the fact that I come from a family of immigrants. My mother was born in Sicily because my grandmother, pregnant with my mother, was denied entry into the United States and sent back; and how there are people today, trying to escape far worse situations, being denied asylum."
Rhapsody is perhaps Previte's most ambitious work to date in that it marks his debut as a lyricist. "The lyrics are really at the center of this piece. Having composed only instrumental music my entire life, writing words was quite terrifying. There is no hiding behind abstract sounds, no equivocating. The words are there and have an obvious meaning to everyone. They are tangible, and very real. You cannot walk back from them. You have to own them, fully.
Rhapsody is the second in a three-part series exploring the experience of travel. Terminals Part I: Departures, was a set of five concertos written for the visionary percussion group SO Percussion and five master improviser soloists. Terminals Part I: Departures premiered at Merkin Hall in New York City in 2011, and the recording was released on Cantaloupe Music in 2014.
Rhapsody is a compelling, thought-provoking work that places vocalist Shyu in the role of narrator and showcases brilliant solos by each member of the sextet. Says Previte, "This ensemble of found objects, of musicians thrown together and forging new relationships in this instrumentation of chance, mirrors the experience of movement, of migration, of whom you may find yourself next to, of venturing into the unknown because you cannot stay where you are."
And while three of the musicians in the ensemble have had a wealth of experience in electric settings - Nels Cline with Wilco, The Ring Nebula Project, The Nels Cline 4, and his longstanding Nels Cline Singers; John Medeski with Hudson, MadSkillet and the longstanding trio Medeski, Martin & Wood; Zeena Parkins with Gangster Band, Phantom Orchard, and Zeena and the Adorables - Previte chose to focus strictly on the acoustic side of their playing. "In a way, it's easier to write electric music when you have geniuses like that in the band," says Previte. "You can just write 'Nels Cline solo, 15 minutes' and you get a brilliant 15 minute electronic piece that you 'wrote.' But each acoustic guitar note dies away in seconds. Then what? As for John Medeski, of course he's a master organist, but he's such a beautiful piano player that I thought it would be cool to just let him play the piano for a change. Ditto for Zeena. I wanted to hear her on acoustic harp, no electronics. She's awesome on acoustic harp."