'All Can Work' -- Third Album From John Hollenbeck Large Ensemble Now Available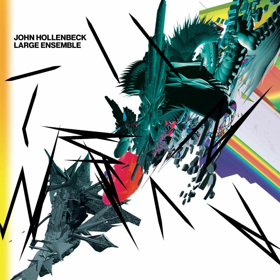 New Amsterdam Records is excited to celebrate the release of All Can Work, the third album from drummer/composer John Hollenbeck and his 20-piece Large Ensemble. The album has received much praise in anticipation for its release, including from Downbeat Magazine, which called it "an album of awe-inspiring majesty." In additional, National Sawdust Logis featuring an exclusive stream of "The Model," Hollenbeck's take on the Kraftwerk song, and the album was also included in New Sounds' recent episode on Music for Big Bands.
The album follows the band's Grammy-nominated releases A Blessing (2005) and eternal interlude (2009), and pays tribute to the Large Ensemble's late trumpet player Laurie Frink, a key force in the group and the jazz community. The album title is from an email exchange between Frink and Hollenbeck; the phrase epitomizes the flexible, optimistic resolve that is needed by everyone involved to create a record such as this one. The John Hollenbeck Large Ensemble will celebrate the release with a performance at NYC's (Le) Poisson Rouge on January 30, with
Theo Bleckmann
and
Ben Monder
Duo opening. This concert is the first in a series of events that will be co-presented by New
Amsterdam
and (Le) Poisson Rouge throughout 2018, marking the 10th anniversary of the two organizations, both born with the mission to elevate the new music community.
More information and tickets here.
After Laurie Frink's passing, Hollenbeck read all of her emails and compiled them in chronological order, finding poetry and inspiration in her words. Acclaimed vocalist Theo Bleckmann brings Frink's words to life in the lyrics of the title track "All Can Work." The composition of the piece is based on one of Frink's teaching exercises.
All Can Work represents the John Hollenbeck Large Ensemble's accumulation of years rehearsing, recording and performing together since its founding in 1998 - the definitive evolution of an exceptional ensemble that has developed a relationship akin to family (some members of which Hollenbeck has been playing with since high school and college). The album also pays tribute to artists who have influenced Hollenbeck most throughout the years: Bob Brookmeyer, Kenny Wheeler, Billy Strayhorn, John Taylor, William Shakespeare, and Piet Mondrian.
The album opens with "lud" - an alluring, hypnotic blend of triumphant horns and angular keys. After the title track comes "Elf", inspired by composer Billy Strayhorn's piece of the same name that was retitled and repurposed by Duke Ellington as "Isfahan" for the Far East Suite. Hollenbeck's version is a near-inverse of the original, featuring soprano saxophonist
Tony Malaby
playing in an impressively high register. Pulsing horns open on "Heyoke", Hollenbeck's tribute to composer/trumpeter and flugelhorn player
Kenny Wheeler
and jazz pianist John Taylor, featuring Hollenbeck's arrangements of Wheeler's original. "This kiss" follows, capturing the spirit of Shakespeare's "Romeo and Juliet" by creating a mood of sweet romance in the present with a foreboding dissonance that foreshadows the future. "From trees" shows Hollenbeck exploring Piet Mondrian's study of trees in his early works, in particular his unfinished painting "Broadway Boogie-Woogie." Hollenbeck fittingly incorporates a boogie-woogie feel into the piece while trying to evoke the evolution of the lines of a tree in Mondrian's earlier paintings to the bold straight black lines in his last. "Long Swing Dream" embodies the first and (so far) only time a piece came to Hollenbeck in an actual dream. Horns pass around a continuous bass line, while
Theo Bleckmann
voices musings from Cary Grant about Grant's transformative experiences with LSD (the acronym of the song title) deepen the dream-like effect. The album finishes with "The Model" - Hollenbeck's spirited arrangement of the
Kraftwerk
original. All Can Work was recorded by James Farber at Avatar Studios in NYC in June 2017 with assistance from Nate Odden. It was mixed by Brian Montgomery, and mastered by Brent Lambert at Kitchen Mastering. It was produced by John Hollenbeck. This project was supported in part by the Doris Duke Performing Artists Awards and fiscally sponsored by Arete Living Arts Foundation with funding provided by The Aaron Copland Fund for Music. Additional large ensemble releases by John Hollenbeck include: Joys and Desires (Jazz
Big Band
Graz, 2005), Shut Up and Dance (Orchestre National de Jazz, 2010, Grammy-nominated), Songs I Like A Lot (Frankfurt Radio Big Band, 2013, Grammy-nominated) and Songs We Like A Lot (Frankfurt Radio Big Band, 2015).
All Can Work Tracklisting:
1. lud
2. All Can Work STREAM EXCERPT
3. Elf
4. Heyoke
5. this kiss
6. from trees
7. Long Swing Dream
8. The Model STREAM TRACK
John Hollenbeck Large Ensemble personnel:
Ben Kono soprano/alto/tenor sax, flute
Jeremy Viner clarinet, tenor sax
Tony Malaby tenor/soprano sax on 3, 6
Dan Willis tenor sax, clarinet
Anna Webber flute, tenor sax on 1, 2, 4, 5, 7, 8
Bohdan Hilash clarinet, bass clarinet, bass sax, tubax
Mark Patterson trombone
Mike Christianson trombone
Jacob Garchik trombone, euphonium on 8
Alan Ferber trombone on 2, 3, 4, 5, 6
Jeff Nelson trombone on 1, 7, 8
Tony Kadleck trumpet, flugelhorn
Jon Owens trumpet, flugelhorn
Dave Ballou trumpet, flugelhorn
Matt Holman trumpet, flugelhorn
Chris Tordini acoustic, electric bass
Matt Mitchell piano, organ, keyboard
Patricia Brennan vibraphone, marimba, glockenspiel
John Hollenbeck drums, composition
Theo Bleckmann voice
JC Sanford conductor
Related Articles
View More Music

Stories
More Hot Stories For You