The Midnight Hour Releases Live Album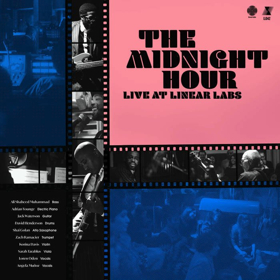 Today, The Midnight Hour--thetight rhythm section and full orchestra lead by Ali Shaheed Muhammad (A Tribe Called Quest) and Adrian Younge--released a new live recording of their celebrated 2018 self-titled debut album. The Midnight Hour: Live at Linear Labs features 15-tracks recorded live in front of an intimate audience at Younge's Highland Park, CA studio, Linear Labs. They will kick off their European tour this Sunday, April 21 in the U.K.
The Midnight Hour debuted to great reviews and Ali & Adrian toured the U.S. extensively. "It was during that tour last year that we decided to record a live album, capturing this new experience," notes Younge. "The music you hear in our studio album is how we mean it to sound. But it's something totally different when we have an audience in front of us. This recording is us wanting to give people a chance to hear what they can expect when they see us live." On February 22nd, 2019, The Midnight Hour performed in front of a live studio audience at Linear Labs. This was a direct-to-analog tape recording that 200 very lucky fans were a part of.
The Midnight Hour is Black excellence: an ode to the cultural sophistication that the Harlem Renaissance established for its people. Adrian and Ali began working on the debut Midnight Hour album in 2013, but put the project aside as they would score the hit Netflix series Marvel's Luke Cage. The Midnight Hour is a soul/jazz/hip hop album which continues the conversations started by yesterday's jazz and funk pioneers; those that created the bedrock of samples for hip hop producers in the 80s/90s. The Midnight Hour is sophisticated hip hop that fans will enjoy, capturing their jazz rhythm section, and a full orchestra reminiscent of the maestros such as David Axelrod and Quincy Jones.
The live musicians featured on The Midnight Hour: Live at Linear Labs are: Ali Shaheed Muhammad (Bass), Adrian Younge Electric (Piano), Loren Odon and Angela Muñoz (Vocals), Jack Waterson (Guitar), David Henderson (Drums), Shai Golan (Alto Saxophone), Zach Ramacier (Trumpet), Korina Davis (Violin) and Sarah Tarablus (Viola).
For more information, visit www.linearlabsmusic.com.