Click Here for More Articles on FOOD & WINE
WINE RIOT Heads to Brooklyn on 11/2 and 11/3 for an All-Access Pass to Hundreds of New Wines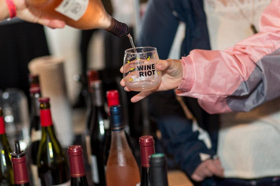 On Friday 11/2 and Saturday, 11/3 "Wine Riot" presented by Delta Amex Perks, the all-access pass to hundreds of new wines, is coming to Brooklyn. Two parts education and one part revolution, Wine Riot is reinventing wine tasting for the thirsty and curious. Travel the world of wine all under one roof with a team of die-hard experts that are bringing interactive booths, crash courses, tips and tricks and of course, tons of wine. Fueling the night is a temporary tattoo booth, photo booth, Wine Riot's famous Bubbly Bar and a few thousand fellow winos.
For $65, guests will receive access to unlimited wine tastings and crash courses from various sponsored brands including Hennessy who will be showing the rich world of cognac and the art of cocktails. As part of this exclusive class, Hennessy will guide rioters through the most revered blends including Hennessy V.S.O.P Privilège and Hennessy X.O Cognac, where they'll become experts in making classic cocktails with the world's finest ingredients. Wine 101 classes will explore the differences between old world and new world, young and mature, and oaked versus unoaked, just to name a few. Wine Riot's famed Bubbly Bar presented by Prestige Beverage Group is their most popular station and showcases the many styles of bubbly wine including Cava, Prosecco, Sparkling, Rosé, Champagne, Crémant and Sekt. Some of the hundreds of wines available for tastings are from producers such as Provence Rosé Group, Contour Pinot Noir, O'Neil Vintners & Distillers, Riboli Family Wines, Roscato, Emmi Roth, Fincas Las Moras, The Seeker, Languedoc Wines, and Beaujolais Villages.
"Through Wine Riot, we want to create a new wine language and adventure for Millennials. At the same time, we want to be a catalyst for brands to connect with this important consumer segment through education, one-on-one engagement and a lot of fun," says Richard Stoppard, CEO of Wine Riot. Wine Riot is changing the environment of a typical wine event to make a comfortable atmosphere in order to promote the education, discovery and exploration of the wine world for a younger audience.
Wine Riot will hold three different sessions at the Brooklyn Expo Center; Friday, November 2nd from 7:30-10PM, Saturday, November 3rd from 2:30-5PM and Saturday, November 3rd from 7:30-10PM. Tickets are available for purchase by visiting https://www.bigtickets.com/e/wine-riot/wine-riot-brooklyn/.
As the presenting sponsors, American Express and Delta Air Lines will host a wine garden lounge available exclusively to Delta SkyMiles® American Express Card Members. Card Members can also enjoy early access to Wine Riot events and 15 percent off of their ticket when they purchase using the Card Member Promo code. To continue the #DeltaAmexPerks philanthropy efforts, Delta and American Express will make a joint donation to disaster relief equal to the total amount paid for tickets purchased using the Card Member Promo code, up to $20,000.
ABOUT WINE RIOT
Wine Riot is changing the environment of a typical wine event to make people feel comfortable learning, discovering and exploring wines and the wine world. Since 2009, there have been 48 Wine Riot events, each drawing approximately 3,000 guests. In 2016, Wine Riot joined the IWSC Group's portfolio of events in North America. The IWSC Group is a global events company focused on delighting, inspiring and connecting people and brands through great experiences. The company boasts an international portfolio of food, beverage and arts events, including the prestigious International Wine & Spirit Competition. The North American portfolio includes Atlanta Food & Wine Festival, Spirits of Mexico, Sugar Land Wine & Food Affair, The Whiskey Extravaganza and Wine Riot.
Photo Credit: Courtesy of Wine Riot
Featured This Week on Stage Door
Shoutouts, Classes, and More from Your Favorite Broadway Stars
Related Articles
More Hot Stories For You