NEW AND NOTEWORTHY Restaurants this Season in NYC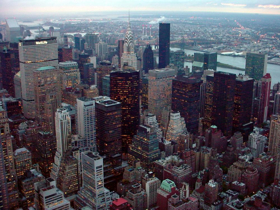 Broadwayworld.com Food and Wine regularly features the newest and trendiest restaurants appearing on the New York City food scene. Uptown, downtown and all around the town, discover the latest and greatest that the city has to offer in September.
Mr. Cannon (South Street Seaport) This is one of NYC's secret hideaways tucked into historic Seaport digs. It encapsulates the enticing nature of authentic speakeasies of yore with an appealing, curated polish. Guests enter through the hidden door down an alleyway and are immediately transported to a dark, sexy lounge. This bespoke social club unites the past and present with old-school sensibilities and aesthetics, like the floral forward 1817 Martini with Grapefruit-infused Bombay Dry Gin, Dolin Dry Vermouth, Luxardo Maraschino Liqueur created by mixologist Chris Kearns. Visit: https://www.southstreetseaport.com/EVENTS/mrcanon.html
Gaijin (Queens) The under-the-radar Japanese-inspired restaurant offering a highly unique sushi omakase experience in Astoria, recently renovated its serene outdoor garden dining area. At the communal tables or two-tops surrounded by elegant floral arrangements, guests may choose to order the six-course chef's tasting menu from Executive Chef Mark (Sushi Samba, Kaze Sushi in Chicago) or select from the a la carte menu. The tasting menu offers a mix of hot and cold dishes including luxurious nigiri creations like Kasugo Dai (baby red snapper) brushed in the chef's special soy and topped with shiso leaf, monkfish liver, spicy daikon and crushed sesame, and Aburi Toro (seared fatty tuna) stacked with chives, buttery aomuri uni and beluga caviar, in addition to a donburi (rice bowl) course like the Uni & Ikura with maitake, tempura shiso, ponzu, quail egg, Santa Barbara uni and briny pearls of salmon roe. Visit: https://www.gaijinny.com/.
&pizza (East Village) The beloved Washington, D.C.-based pie shop, opens its second New York City location at 740 Broadway, at Astor Place in September of 2017. Known for its critically-acclaimed oblong pizzas, unlimited toppings, and commitment to supporting local purveyors and charities, &pizza is a new kind of pizza shop that celebrates oneness and unity. Each of &pizza's 23 outposts in D.C., Baltimore, Philadelphia, and New York City is a reflection of the culture and people that inhabit the surrounding neighborhood. &pizza Tribe members (employees) are encouraged to express their individuality, whether that's through dyeing their hair, breaking into dance on the line, or rapping along to the playlist pumping through the space. &pizza's commitment to building community is also evidenced by their embrace of tattoo culture - to date, over 100 people, a mix of Tribe members and &pizza fans, have gotten a tattoo of their ampersand symbol. As has become tradition, &pizza will bankroll opening day ampersand tattoos for the first 23 customers in line when they open at Astor Place in September. As &pizza expands within New York City, its value system will remain rooted in the same community-first mentality. Visit: https://andpizza.com/.
Oka (Kips Bay) Located at 439 3rd Avenue, Oka is Chef John McCarthy's interpretation of a Japanese izakaya viewed through a New York lens. The restaurant merges authentic elements of the izakaya dining experience with a familiar approach for diners, inspired by Chef McCarthy's time spent traveling, working and cooking in Japan. The accessible, innovative menu showcases the complex yet simple flavors that Chef McCarthy believes are the essence of izakaya cooking. Dishes include crudos of fresh fish, seasonal grilled vegetables and meats, bowls of ramen noodles, and fried chicken (kara-age). These smaller, shareable portions are designed to pair well with the wide variety of drinks on offer. As a certified sake sommelier, he has also curated the sake and shochu offerings, in addition to cocktails, Japanese beers and whiskeys alongside local craft beers and spirits. Izakayas are some of Chef McCarthy's favorite things about Japan. He loves the casual, energetic, conviviality of the spaces, and the style of service, food, and drinks. He was inspired to open Oka by his extensive experience with and passion for Japanese cuisine, and his goal is to serve straightforward, delicious food in a welcoming atmosphere for the neighborhood. The vibrant, high-energy, 60-seat space will be decorated with some of Chef McCarthy's own contemporary paintings and drawing artwork. The pieces will be switched out seasonally, just like the food and drink. Visit: https://www.oka.nyc/.
Young Street Poke (Penn Station/Madison Square Garden) In September, Street Poke opens its first Manhattan location at 1 Penn Plaza. The shop will offer fresh poke, the increasingly popular traditional Hawaiian dish consisting of cubes of raw fish, seaweed, and sauce. Served over rice with toppings, Young Street's poke is a healthy, fresh and fast meal. The recipes were perfected by acclaimed chef Takanori Akiyama (chef of Bar Moga, SakaMai), and the shop was designed by Natalie Graham, the architectural designer (and Hawaii native) who also built out SakaMai and Bar Moga. The menu consists of several versions of poke combinations in composed bowls, in addition to the option for guests to customize their orders. The bowls are elevated with Chef Akiyama's use of high quality ingredients and uncommon toppings (such as chili bamboo shoots, slow-cooked eggs, and wasabi octopus) that require more skill to prepare. Visit: https://www.youngstreetpoke.com/.
Le Petit Parisien (Midtown) After opening their first location in the East Village in 2015, the eatery is thrilled to announce their second location at 251 East 53rd Street (between Second and Third Avenues). To truly bring a taste of Paris to New York, Le Petit Parisien sources only the best cheeses and meats directly from France. Their flaky pastries and crusty baguettes are baked in-house daily and the homemade taste is equivalent to visiting a Parisian's favorite neighborhood cafe. Choose from nine signature sandwiches, including the Marie-Antoinette (16 month cured ham, fresh goat cheese, extra virgin olive oil, honey) and the Napoléon (saucisson sec, cornichons, butter), available for an average of $11 or the truly indulgent Louis XIV (Foie gras, fig confit) for $29. Pair your sandwich with Black Truffle Chips, french yoghurt, cucumber-infused water, or a selection of wine and beer. Grab your favorite sandwich to go, stay and relax on one of 6 bar stools inside, or pair your meal with some Midtown East people watching at a table for two on the front patio. Visit: https://www.lepetitparisienusa.com/.
Tonchin (Midtown) This new 60-seat Japanese restaurant located at 13 West 36th Street serving elevated yet approachable dekitate fare. Everything on the menu is freshly prepared in-house with thoughtful attention to even the most subtle of details. The eatery specializes in Tokyo-style tonkotsu ramen, sake and shochu cocktails, and nambutekkiyakki, a unique style of Japanese cuisine named for the 17th century-style nambu tekki iron griddle in which it is prepared and served. Tonchin blends classic Japanese culinary traditions with an innovative, ingredient-driven menu, warm hospitality and clean design to deliver a contemporary izakaya dining experience. Tonchin makes its New York debut thanks to Toui and Anan Sugeno, the sons of Katsuhiro Sugeno, who cofounded the acclaimed, eponymous ramen-focused restaurant group in Tokyo in 1992. The New York outpost will maintain close ties to its Tokyo roots, as evidenced by its emphasis on Tokyo-style tonkotsu broth and house-made noodles, while also treading new ground with a wide assortment of sake, shochu and cocktails and an array of nambutekkiyakki dishes, from dumplings and karaage to kushiyaki. Tonchin's New York culinary program is being executed under the guidance of Chef Masaru Tada of Tokyo's Le Lien, and, in contrast to many modern ramen shops and izakayas, uses only house-made noodles of the highest quality. Visit: https://harri.com/Tonchin-New-York.
P.S. Kitchen (Midtown) From Chef Gary Barawidan (Union Square Cafe, Locanda Verde, and Avant Garden) and Craig Cochran and Jeffrey LaPadula (partners in Terri), P.S. Kitchen is the newly opened 100% plant-based restaurant which brings together modern cooking techniques, elegant plating and comfort food inspiration. Some menu highlights include: Buffalo Hen of the Woodmushrooms (in the style of buffalo wings) with German purple sweet potato salad and house dairy-free blue cheese; Ginger Rice Congee, a vegan version of a Filipino rice pudding dish called Lugaw with sautéed shiitake and pink oyster mushrooms, spinach and jasmine rice; and Orzo Alfredo - inspired by fettuccine Alfredo - with broccoli purée and sun-dried tomato-chili paste. The restaurant offers a respite from the busy Theater District/Hell's Kitchen with a chic modern room featuring washed brick walls, marble tabletops and antique mirrors. In addition, P.S. Kitchen is committed to breaking the cycle of poverty by connecting resources to vulnerable communities and is donating 100% of profits to charities including The Doe Fund, CEEDS, Share Hope, DEFY Ventures and Yunus Social Business. Visit: https://www.ps-kitchen.com/.
Chazz Palminteri Italian Restaurant (Midtown) Palminteri's namesake restaurant has a new location at the Cambria Hotel on 46th Street that allows Broadway theatergoers to pair a showing of A Bronx Tale with a 'taste of the story,' a great lunch, dinner and brunch spot with access to almost every subway line. The new and improved location is not only accessible for New Yorkers and better suited for Chazz's connection to the entertainment world, it also has outdoor spaces, a bar and lounge with seven tables and nine bar seats, and the main dining room for a total of 90 seats. Chazz's design team has created a dining room and lounge that capture the nostalgic feel associated with homestyle Italian cuisine. Menus remain largely the same, with classic Italian dishes such as Grilled Calamari, Pappardelle with Ragu, Linguini alla Vongole and Vitello Tre Funghi but the restaurant has a brand-new bar menu to fit the expanded lounge area along with two new dishes and drinks in the main dining room. The new dishes include a classic plate of Spaghetti and Meatballs and Tagliatelle con Quattro Formaggi. A 250-bottle wine list focuses on Italian selections and the beverage list offers local craft beers and cocktails made with Palminteri's own BIVI vodka, - the first Sicilian vodka. Newcomers to the cocktail list include a Broadway Martini and The West Side, Chazz's take on the classic Manhattan. The restaurant also offers a private party area for you to host your next social event with a dedicated staff by your side. Visit: http://www.chazzpalminterinyc.com/.
Photo Credit: Courtesy of Freeimages.com
Related Articles View More Food + Wine

Stories