Click Here for More Articles on FOOD & WINE
MADE BY TRUE Biltong Products are Delicious and Satisfying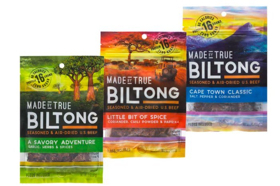 The past few years have seen a big rise in the sales of Jerky style products. According to the Specialty Food Association (SFA), it is one of the fastest growing specialty food categories. And the company, "Made by True" produces a line of products that are outstanding. We know that our readers will enjoy learning about them.
Their newest product, Biltong, is a traditional South African style of air-dried beef that is naturally higher in protein, extremely tender, and sugar-free. Despite a having an impressive history in South Africa, Biltong is just making its U.S. debut, and Made by True is pleased to introduce it. With only 80 calories, 16 grams of protein and zero sugar per ounce, the company's Biltong is the perfect meat for people who subscribe to keto, gluten-free, soy-free, paleo and Whole30 dietary philosophies. Biltong also offers 50% more protein than conventional jerky. It is perfect for nutritious snacking whenever you are on the go.
Jess Thomas, CEO of Made by True, co-founded the company in 2015 with college friends Kevin Hix, CFO, and James Evans who oversees sales for the company. The three men traveled to South Africa to learn about biltong from locals like ranchers, meatpackers, manufacturers, retailers, and consumers.
In his October 2018 interview with "Meat & Poultry" Jeff Thomas told the publication, "It was really important to us to share that story authentically because it's not like jerky. Jerky isn't critical to American food culture the way biltong is (in South Africa). Biltong is everywhere, and it's eaten always. It's a part of family celebrations; every family has their own recipe that's the best in the country. We want to be able to convey the importance the product plays in that country as well.
By adapting a 300-year-old recipe with five traditional ingredients that include beef, vinegar, salt, pepper and coriander, True Biltong is available in three exciting flavors: "Cape Town Classic," "A Savory Adventure," and "Little Bit of Spice." Each of these varieties provide an absolutely tantalizing taste.
With this new line, True continues to maintain its commitment to sourcing only 100% U.S. raised beef, a unique practice within the meat snacks space, owing to co-founder & Beef Executive Officer Jess Thomas' third-generation ranching heritage.
True adds Biltong to its impressive portfolio of creatively crafted meat snacks, including its award-winning beef and turkey jerky in six globally inspired flavors, and its 'Trail Re-Mix' line, which pairs tender strips of beef, bacon and turkey jerky with delicious fruit and nut medleys.
Currently, Made by True has distribution in over 2,500 locations, including Sprouts Farmers Market, Safeway-Albertsons, Cost Plus World Market and Peet's Coffee. Biltong is currently available on the company's website, Amazon and coming soon to retailers nationwide.
For more information on all Made By True products, including biltong, or to purchase products, visit: https://www.madebytrue.com/. You can find a retailer or start a subscription. Follow them on social media at @MadeByTrue.
Photo Credit: Courtesy of Made by True
Related Articles