Click Here for More Articles on FOOD & WINE
ICHIRAN-Premier Tonkotsu Ramen Restaurant Opens in Times Square 3/28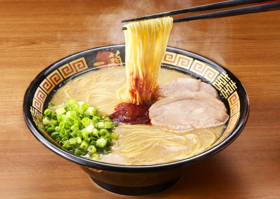 ICHIRAN, the world's leading expert in Tonkotsu ramen, is slated to open the door to their third and largest U.S. location on March 28, 2019 in Times Square. The new restaurant will feature bi-level seating with collapsible wooden dividers, so guests can now enjoy group dining as well as solo. Conceptualized by President & CEO Manabu Yosomi in Fukuoka, the epicenter of this ramen movement, ICHIRAN has 75 locations throughout Asia. The family-owned business started in Fukuoka as a simple ramen stall in 1960 and ultimately created the "Five Originals"for Tonkotsu ramen including Original Spicy Red Sauce, aromatic Tonkotsu broth, solo dining booths, order forms and the Kae-Dama ordering system. The team at ICHIRAN is committed to providing the most authentic and quality flavor Tonkotsu ramen experience using the finest ingredients, masterful techniques and family secret preparations by gifted artisans.
Unlike chain restaurants, ICHIRAN ensures that each location has its own signature identity. The design of the Times Square location will mirror the ICHIRANs in Japan and pay homage to the Showa Era in the 1960's. The space will feature stained wood paneling and windows meant to look like rice paper in a sleek bi-level restaurant. The downstairs level will open in April. ICHIRAN's signature colors of red, green and black are accented throughout and bright red paper lanterns are hung above to guide guests to their seats. Upon entering the seating area, guests will find two sets of solo flavor concentration booths on either level designed to ensure that the focus is on the ramen experience and flavors. Each booth features a red and black stool, foldable wooden dividers for couples to dine or to create a distraction-free atmosphere for solo diners, a bamboo screen, where only a set of hands will be seen when each dish is presented and a call button for the staff. To order Kae-Dama (noodle refill) without speaking, guests can simply place the Kae-Dama plate on the sensor at the corner of the table to play a melody signaling a staff member.
The one and only star of the show at ICHIRAN is the Tonkotsu ramen, whose ingredients are expertly crafted in their Brooklyn factory and then brought to each location to be prepped by the staff. The Hakata-style homemade thin noodles are prepared daily factoring in the humidity and temperature that day. They are made using ICHIRAN's unique blend of flour, producing the perfect texture to pair with the broth and spicy red sauce. The classic Tonkotsu broth is created with the purest filtered water and pork bones, which normally produce a stronger aroma, but using specific technology and extraction methods this scent has been eliminated. The broth is rich in natural collagen and ICHIRAN is the first ramen company to use Trans Fat free natural oil. The Original Spicy Red Sauce (Hiden no Tare) is ICHIRAN's greatest secret and only four people have access to the recipe. The togarashi pepper-based sauce is aged and cooked slowly with more than 30 different types of spices to create a complex blend of spicy and rich flavors. Each ramen bowl can be tailored with the diner's choice of dashi flavoring, richness levels, garlic, scallion, Chashu (sliced pork), Hiden no Tare and noodle textures.
Additional toppings and sides can also be ordered with selections includingmarinated pork loin, which is only available in the U.S, Kikurage mushrooms, soft-boiled egg, dried seaweed, white rice and Osukaran vinegar. Guests can also order extra toppings as well as noodle refills known as Kae-Dama.
For dessert ICHIRAN serves up a light and airy Matcha pudding with Kuromitsu (brown sugar), providing the perfect sweet finish to the meal.
ICHIRAN's beverage menu includes a selection of draft beers such asAsahi Super Dry and Matcha, as well as Matcha green tea, Ramune (a Japanese soda), and Calipico, a soft drink with hints of citrus and yogurt flavors.
ICHIRAN has created a simple and straightforward ordering process for its diners. Guests will wait in line for a vacant seat, which can be seen on a light up panel before walking into the seating area. An order sheet is then found at each booth where one can personally customize their ramen choosing different ingredients, the flavor levels, the noodle texture and Kae-Dama (noodle refill). After filling out the form and returning it to a staff member using the call button, a team prepares the individualized bowls of ramen and presents them to the diner in an original Jubako ramen bowl. To ensure that the quality of the ramen is seamless every time, a 15 second standard is applied, where each bowl is delivered in 15 seconds from kitchen to the table.
ICHIRAN Ramen Kit: An at-home ICHIRAN ramen kit is also available for guests to enjoy the experience in their own homes. The kit features three servings of individually packed noodles, a liquid soup concentrate and original spicy red seasoning.
U.S. LOCATIONS: Times Square: 152 West 49th Street, New York, NY 10019; Brooklyn: 374 Johnson Ave, Brooklyn, NY 11206; Midtown: 132 West 31st Street, New York, NY 10001
For more information, visit: www.ichiranusa.com. You can follow ICHIRAN on Instagram and Twitter@ichiranny
Photo Credit: Courtesy of Ichiran

Related Articles
More Hot Stories For You