Click Here for More Articles on FOOD & WINE
Chef Spotlight: Executive Chef Galen Zamarra of THE LAMBS CLUB at The Chatwal Hotel in Midtown
As Executive Chef at Manhattan's midtown gem, The Lambs Club at The Chatwal Hotel, Chef Galen Zamarra unites a passion for the highest quality product with a reverence for his craft. Closely collaborating with world-renowned chef & restaurateur Geoffrey Zakarian, he has reimagined the new Modern American menu at the restaurant.
Zamarra was born in Switzerland and raised in California. At age 18, he moved to New York to attend the Culinary Institute of America, and graduated with honors. Upon graduating, Zamarra worked for acclaimed Chef David Bouley for two years. Zamarra then left the United States to work under Michelin 3-Starred chefs Georges Blanc, Michel Bras and Alain Passard in France.
Zamarra returned to the United States and resumed his employment with Chef Bouley rapidly rising through the ranks, and becoming chef de cuisine of Bouley Bakery at age 24. Zamarra opened Mas (farmhouse) to immediate acclaim in April 2004. Building off his success at Mas (farmhouse), Chef Zamarra expanded his culinary endeavors to open a second restaurant, Mas (la grillade) "the Grill" in French, whose primary cooking source and overall concept is a wood burning grill. La Grillade was open from 2011 through 2014, at which point Zamarra re-launched the restaurant as Almanac, a micro-seasonal fine dining establishment based on his culinary journals.
Zamarra has received many accolades for his work that we want our readers to know about.
-In 2001, the James Beard Foundation awarded Zamarra with Rising Star Chef of the Year.
-Zamarra was awarded Rising Star Chef of the Year from StarChefs in 2006.
-In 2006, Slow Food named Mr. Zamarra a Chef Delegate at the Terra Madre World Congress in Torino, Italy.
-In 2007, Slow Food awarded Mas (farmhouse) with a snail of approval for its social consciousness.
-In addition to his press accolades, Zamarra starred in the Discovery Channel's television series "Go Ahead, Make My Dinner," Food Network's "Chopped" and has hosted numerous educational forums nationally. Zamarra has also published articles for Gastronomica and Edible Manhattan.
Broadwayworld.com had the pleasure of interviewing Chef Zamarra about his career and The Lambs Club.
What was your earliest interest in cooking?
Cooking with my family members when I was young sparked my interest in cooking. I remember making manicotti with my Italian Grandmother, or pizza with my father. My siblings and I mostly learned to cook out of necessity as my mother worked a lot, and we started to help her by cooking. At around 13 years old, I really wanted to work in professional kitchens but couldn't; so, I began taking culinary classes at a local community college after school. That really cemented my interest to pursue cooking professionally. I've been working full-time in kitchens since I was 14.
Who were some of your career mentors?
David Bouley was my most influential mentor. I began working for him at 18 and really loved his kitchen. But, in the kitchen, there were so many older cooks, sous chefs and chef de cuisines that mentored me along the way. I feel so fortunate because a lot of them took the time to teach me so much. They saw me working my hardest in there and that made it easy for them. I also consider Michel Bras a huge influence on me, even though I staged there for a short amount of time. Michel Bras was able to run one of the most progressive cuisines in the world, and still manage a personal and family life, something that was very interesting to me. A lot of chefs struggle balancing family and work life. Michel Bras and his whole family were very inspiring to me.
What culinary styles have influenced your career?
My cuisine is based in primarily in French technique. I also have a strong dedication to farm-to-table, which developed from growing up in a very progressive town, Santa Cruz, California. In the 80's we were already focused on small farms and sustainability. When I left to New York City, all of that was unheard of. Thankfully, Bouley was working with local farmers, more for quality than environmental issues, but it allowed me to see how the two could work together. My time in France reinforced that influence as Europe hadn't yet begun to use factory farm/ big agricultural practices.
What do you consider the most distinguishing features of your work as a chef?
Through working under Bouley, I developed a very strong ability to create dishes spontaneously. So I tend to have a menu that changes constantly, which creates a lot of work for the kitchen.
What is your favorite meal?
As my wife is from New Orleans, we love to cook a huge pot of crawfish, dump them out on the table, and spend all afternoon drinking beers while enjoy this classic dish.
Tell me a little bit about your restaurant for our readers.
Since joining The Lambs Club as Executive Chef, I've had the pleasure of collaborating with Geoffrey Zakarian, Chef/Partner of the restaurant. Geoffrey lets me put my dishes on the new menu, which is great. I have a lot of creative freedom. He tastes the dishes with me and we discuss how to make the dish shine. He challenges me, which is the part I really enjoy. I'm very excited about the Bone Marrow Gratin we serve with a Bavette Steak. It is so popular that we can hardly keep up with it. I also like the Dover Sole with Pineapple, Capers and Fennel Meuneire. We took the classic preparation from the old menu and changed it to a very popular item.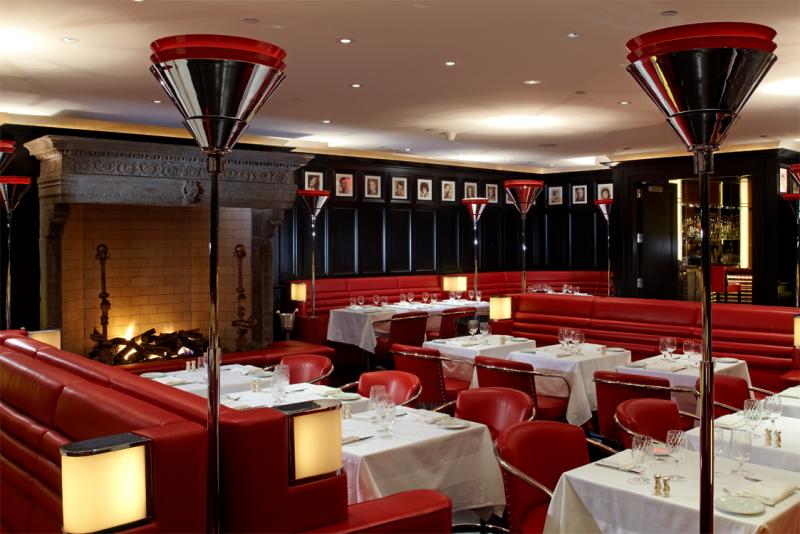 About The Lambs Club at The Chatwal
The Lambs Club offers Chef Geoffrey Zakarian's and Chef Galen Zamarra's modern approach to American cuisine with distinct ingredients, highly seasonal menus and a signature approach to hospitality.

Zakarian and Zamarra marry their passion for food with their classical training to deliver exceptional dining experiences, whether it is a premium burger in The Bar or the sought-after Delmonico Steak in The Dining Room. A team of skilled chefs put forth daily breakfast, lunch and dinner offering guests dishes composed with the most seasonal and highest quality ingredients. Wine Director A.J. Ojeda-Pons oversees a wine list with an incredible by the glass program and worldly depth in wine producing regions, no matter how far reaching or small the vineyard. Year after year, Ojeda-Pons has secured Wine Spectator's coveted "Two Glasses" distinction in their Restaurant Awards, where the restaurant and wine list is highlighted as one of the nation's best. On the cocktail menu, guests will find a true revival of the craft of cocktailing.

Inside The Lambs Club, guests are transported from the hustle and bustle of Midtown Manhattan and Broadway to the welcoming oases of the restaurant's many one-of-a-kind spaces. The distinguished history that connects the landmark building to the Great White Way is prominently displayed in the dining room, which boasts an enormous 18th century fireplace, a gift from Architect Stanford White to The Lambs, a turn of the century members-only thespian society, from whom the venue takes its name.
The Lambs Club is located at 132 West 44th Street (between 6th Avenue and Broadway), New York, NY 10036. It is in the heart of Midtown, very convenient to the theatre district. Call them at 212.997.5262 and visit: http://www.thelambsclub.com/. You can also contact reservations@thelambsclub. For special events, contact events@thelambsclub.
Photo Credit: Courtesy of Chef Galen Zamarra
Related Articles
Marina P. Kennedy writes articles and reviews for Broadwayworld.com on productions in New York City and New Jersey. She is the Editor in Chief of (read more about this author...)