Review: GREEN FIG - SOCIAL DRINK & FOOD - GREEN ROOM - Your Destinations in the Theatre District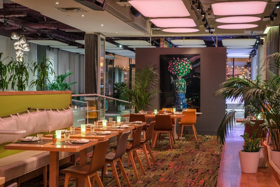 Experience New York City favorites. The venues at YOTEL offer exquisite drink, dining and entertainment all housed on the hotel's 4th Floor. It's the place where you can enjoy cocktails at the rooftop bar and lounge, Social Drink & Food; dinner at their stylish restaurant, Green Fig; and fantastic cabaret shows in the entertainment venue, Green Room 42. These three outstanding destinations are just steps away from the theatre district. New Yorkers and guests of the city are always welcome.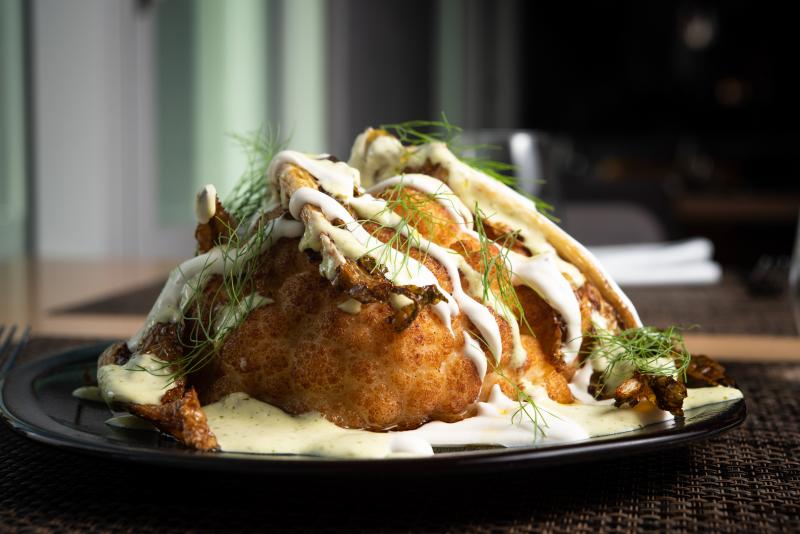 Chef Yuval has created the menu for all of the entities that features the finest locally sourced and seasonal ingredients. Selections feature modern Israeli cuisine with creative Mediterranean twists. Savory appetizers include Fried Cauliflower with labeneh tahini, preserved lemon, almond and mint aioli or their Grilled Shrimp Skewers with grilled jumbo shrimp, green tea rub and homemade polenta. And be sure to order a delicious flatbread for a table share like the Americana with mushrooms, bacon and basil.
Green Fig entrees include Chicken Marrakesh with homemade harissa, frikeh, arugula, red onion, golden raisins and labneh. Other tempting dishes include Filet Mignon and Eggplant Chateau. The menu has just the right variety to suit all tastes and dietary preferences. Save room for dessert. You'll want to try the Pina Colada Flan or the Raspberry Panna Cotta. It's great to know that Green Fig also serves a daily breakfast and weekend brunch.
Social Drink & Food, the spacious rooftop bar and lounge is a true retreat from the hustle and bustle of Broadway. With a fabulous view of midtown, it is also enclosed, making it accessible year-round. When the weather is nice, they've added a mini-golf course on the roof for an extra fun time. Their beverage program is a standout. Try a classic cocktail or some of the artisanal drinks such as The Fake News with mezcal, aperol and orange juice or The Big Apple with bourbon, apple brandy and maple cinnamon syrup. For those that prefer, there's a top selection of beer, wine and sparkling. Pair your drinks with their special Mezze platter and other small plates for a relaxing meal experience.
Entertainment options abound in sleek, comfortable The Green Room 42 with upcoming cabaret shows in November that include: Michael Friedman's The State of the Union Songbook; Gutenberg! The Musical; Neil Berg's The Beatles; and Rachel York, Thank You For The Music. Guests will like that while they can indulge in excellent food and drink with no minimums.
A visit to Green Fig, Social Drink & Food, and Green Room 42 can be a total evening out, but it's great to know that you can stop by anytime for drinks and light bites, pre-theatre dining or just a show. Spend a little time or a lot. Their location is 570 Tenth Avenue (at the corner of 42nd Street) on the 4th floor of YOTEL . For more information, call them at 646.449.7790 and visit https://www.onfournyc.com/. The venues are also available for parties and private events.
Photo Credit: Courtesy of Green Fig/Social Drink & Food/Green Room 42