BWW Review: A CHORUS LINE at The Gateway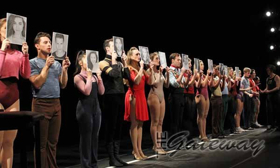 Though the classic musical A Chorus Line may be produced fairly consistently, it is always refreshing to see a good quality, professional, local production. And this is exactly what you'll get when you see the Tony winner running through May 26th at Long Island's historic Gateway Playhouse soon to be celebrating their 70th year. The large Broadway caliber cast is brilliantly directed and choreographed by Mitzi Hamilton who has had a long association with the show including the original Broadway production.
The tale, as we know, written by James Kirkwood and Nicholas Dante, follows several actors going through the audition process to be cast in an upcoming musical. This is set to the iconic Marvin Hamlisch/Edward Kleban score that includes favorites "One" and "Sing!" among others. What's beautiful about this piece is that each member of The Ensemble Company gets to shine. They truly make you feel their tension and the overall stress of the entertainment industry.
As the auditions for the fictional musical progress, Zach, the show's director portrayed by Victor Wisehart, proceeds to ask each person about themselves. The stories vary and some will bring you to tears. Among the highlights is an emotional story from Cassie, strongly portrayed by Sabrina Harper, who then interprets her passion for dance into a stunning and inspired performance ("The Music and the Mirror"). Truly, everyone in this cast is dazzling.
On the clever creative team, special kudos to Kim Hanson for the excellent lighting design bringing the bare stage alive. The "auditions" take place in an undecorated/unfurnished room with only ceiling-high mirrors upstage. It takes a top-notch cast to keep the audience's attention with minimal sets and props and the nearly sold out crowd responded well. And, naturally, it is always delightful to see stellar live orchestra this one superbly conducted by Music Director Hosun Moon.
And so, A Chorus Line is certainly another hit for the The Gateway Playhouse of Bellport. A marvelous cast, gripping story, and a top notch creative team make for a thrilling night of theatre.
---
A Chorus Line is presented by The Gateway Playhouse of Bellport, Long Island, through May 26th. For more information and to purchase tickets, please call (631) 286-1133 or visit www.thegateway.org.
Music by Marvin Hamlisch, Book by James Kirkwood & Nicholas Dante, Lyrics by Edward Kleban, Direction & Choreography by Mitzi Hamilton, Musical Direction by Hosun Moon, Lighting Design by Kim Hanson, Associate Choreographer is Jordan Fife Hunt, Costume Design by Jose Rivera, Stage Management by Nikki Lint
Starring Victor Wisehart as Zach, Sabrina Harper as Cassie, Matthew J. Kilgore as Larry, Kate Loprest as Sheila, Eddie Gutierrez as Paul, Nick Varricchio as Al, Michael Canada as Richie, Robb Gibbs as Greg, Alexandra Fassler as Diana, Tiffany Chalothorn as Connie, Amanda Miller as Val, Mike D'Amico as Mike, David Grindrod as Mark, Kyle White as Bobby, Jackie Raye as Maggie, Danielle Burdick as Judy, Julia Sammon as Kristine, Erika Conaway as Bebe, Lance E. Hayes as Don, Nick Raynor as Roy, Nicholas Steven King as Frank, Craig First as Tom, Monica Cioffi as Tricia, Cait Crowley as Victoria, and Diana Princi as Lois