The Cecilia Chorus Of New York, Mark Shapiro, Music Director, Presents Three Centuries Of French Sacred Music For Chorus And Organ, Featuring U.S. Premiere Of Thierry Esc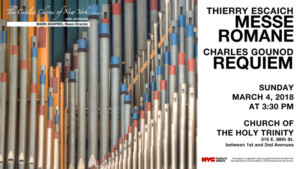 The Cecilia Chorus of New York, Mark Shapiro, Music Director, will present the U.S. Premiere of Thierry Escaich's Messe Romane plus works by Fauré, Gounod and Messiaen on Sunday, March 4 @ 3:30 PM at Church of the Holy Trinity, 316 E. 88th St. The concert, directed by Shapiro, will be performed by (double) chorus and organist Bàlint Karosi.
Messe Romane, which had its premiere in 2014 at Notre Dame Cathedral in Paris, is by the contemporary French composer Thierry Escaich, who will be the featured composer in Radio France's "Présences" Festival in February 2018. Escaich's Mass is a masterpiece of subtly complex antiphonal writing for double chorus. Gounod wrote his Requiem in 1893 after the death of his 4 year-old grandson; the composer died while completing it, and the Requiem, succinct and forceful, became his own. With this performance, the chorus pays homage to Gounod's 200th birthday. Opening the program is Cantique de Jean Racine (1865) by Gabriel Fauré, written when Fauré was still a student at the École Niedermeyer in Paris. Rounding out the concert is Dieu parmi nous (1935) by Olivier Messiaen, an exhilarating, deeply spiritual organ solo from La Nativité du Seigneur.
Composer, organist and improviser Escaich is one of today's most important French musicians. In the direct lineage of Ravel, Messiaen and Dutilleux, Escaich writes expertly crafted music imbued with elements of contemporary, folk and sacred music. His works are performed by leading orchestras in Europe and North America. Visit him at http://www.escaich.org/en/. An interview with him is available at http://ceciliachorusny.org/updates-contact/2018/1/22/thierry-escaich-organist-composer-in-the-french-tradition.
Single tickets for the March 4 concert are $30 in advance, $25 for students and seniors, available at https://thececiliachorusny.squarespace.com/products/the-cecilia-chorus-presents-messe-romane-by-thierry-escaich-requiem-by-charles-gounod. Season subscriptions are also available.
For more information about this concert, visit http://ceciliachorusny.org/#/messeromanerequiem/ or call 646-638-2535. For MTA transportation information, visit http://tripplanner.mta.info/MyTrip/ui_web/customplanner/TripPlanner.aspx.
Bálint Karosi, composer and organist won first prizes at the J. S. Bach Competition in Leipzig, the Dublin and Miami International Organ Competitions and is the recipient of the 2014 Charles Ives Scholarship from the American Academy of Arts and Letters. He his CD recordings include the Art of Fugue and the Clavier-übung III by Bach and an album of his own compositions, released by Hungaroton and Dulzian Records. Bálint currently serves as Cantor at Saint Peter's Lutheran Church in midtown Manhattan. Read an interview with him at https://thececiliachorusny.squarespace.com/updates-contact/2018/1/22/organist-balint-karosi-we-need-composers-like-escaich.
The Cecilia Chorus of New York is the 2015 winner of the ASCAP/Chorus America Alice Parker Award. New York City's Department of Cultural Affairs recently awarded a generous grant to The Cecilia Chorus of New York to support several consecutive seasons.
The chorus was founded in 1906 and has evolved into one of the finest avocational performing arts organizations in New York City, described as "reliably venturesome" (The New Yorker, 2017) and "admirable," (New York Times, 2017). Recent performance highlights have included the commission and premiere of Oedipus the King (2017) by the Brothers Balliett,, featuring two-time Tony Award-winning actor Stephen Spinella, the commission and premiere of Tom Cipullo's Credo for a Secular City at Carnegie Hall in 2014, the New York Premiere of the Mass in N*E*R*D (1892) by Dame Ethel Smyth in 2013 as well as the Chorus's first-ever commission/premiere for Carnegie Hall, Divis Cetera by Raphael Fusco in 2012. The Chorus's 2016-17 season included three newly commissioned works, while this season incudes two U.S. premieres: Messe Romane, by Thierry Escaich, and Dame Ethel Smyth's The Prison (co-premiered with The Johnstown Symphony Orchestra in Pennsylvania).
Mark Shapiro was appointed the seventh Music Director of The Cecilia Chorus of New York in 2011. He is one of a handful of artistic leaders in North America to have won a prestigious ASCAP Programming Award five times, achieving the unique distinction of winning such an award with three different ensembles. The New York Times has characterized his conducting as "insightful" and acknowledged its "virtuosity and assurance," and "uncommon polish." His artistic leadership was characterized by New Jersey's Star-Ledger as "erudite and far-reaching." His bio is at http://www.ceciliachorusny.org/music-director-mark-shapiro/.