Jason Tramm To Conduct Brahms' Ein Deutsches Requiem, Opus 45, 4/29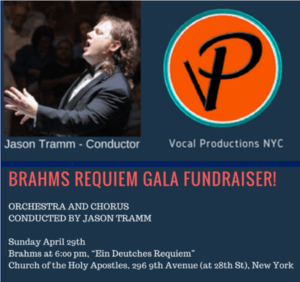 Noted American conductor Jason Tramm, whose work in the operatic, symphonic and choral repertoire has merited acclaim in both Europe and north America, will guest conduct Brahms' "Ein deutsches Requiem, Opus 45 in Vocal Productions New York City's Gala Concert. Brahms' masterwork for chorus, orchestra and soloists will take place Sunday April 29th at 6PM, at NYC's historic Church of the Holy Apostles. The collective ensemble of musicians and singers from the greater New York/New Jersey metro area, who will include Julianna Milin, soprano and baritone Hyung Joo Eom, have gathered to perform this concert as volunteers in support of Vocal Productions New York City's artistic mission and its founder, the critically acclaimed opera singer Valentin Peytchinov. Tickets range from $35 -$250 and can be secured online.
The exquisite music featured in Brahms' humanist masterwork - more oratorio than requiem - is a fitting showcase for the launch of the Vocal Productions NYC's inaugural annual gala concert. Proceeds raised by the concert will be directed to Vocal Productions NYC's upcoming productions of Gounod's Faust (Fall, 2018), Verdi's Macbeth (Spring, 2019) Massenet's Werther (Fall, 2019) and Verdi's Attila (Spring, 2020).
VPNYC's guest conductor Jason Tramm received degrees in music from the Crane School of Music, the Hartt School of Music as well as a DMA degree in Conducting from Rutgers University where he was the recipient of their prestigious Presidential Fellowship. Maestro Tramm has been hailed as a "Conductor to Watch" by Symphony Magazine and is currently the Artistic Advisor/Conductor of the Adelphi Chamber Orchestra and the Artistic Director/ Principal Conductor of the MidAtlantic Opera. He conducted the 2017 Prayer for Peace concert at the New Jersey Performing Arts Center, featuring Beethoven's Symphony No. 9 with Metropolitan Opera baritone Mark Delavan. Tramm's 2009 performance of "Verdi Requiem: Live from Ocean Grove" broadcast with PBS, garnered a regional Emmy nomination. He will be performing (for his 12th season) as Director in Music, in Residence, of the Ocean Grove Camp Meeting Association, where he leads choral, orchestral and oratorio performances in the historic 6,500 seat Great Auditorium. Jason Tramm is a member of the Seton Hall University faculty, where he serves as Assistant Professor and Director of Choral Activities, College of Communication and the Arts, where he leads the University Chorus, Chamber Choir, Orchestra, and teaches voice and conducting. In 2017 Seton Hall University Awarded him the University Faculty Teacher of the Year.
ABOUT VOCAL PRODUCTIONS NEW YORK CITY ((VPNYC)
Founded in 2011 by Valentin Peytchinov, Vocal Productions NYC (VPNYC) primary mission is to cultivate opportunities for emerging musical professionals to perform roles, conduct ensembles, and accompany major musical works within a positive nonjudgmental environment - without charge to the artist. VPNYC is committed to producing vocal stage experiences of the highest caliber giving artists exposure to the business of classical music and provide them a venue in which to display their talents and develop their repertoires. While emphasis may initially be placed on operatic performances, Vocal Productions NYC will ultimately encompass all vocal craft, allowing artists from other genres, such as Pop, Rock, Gospel, and Jazz to engage in equal opportunities to work toward enhancing their stagecraft, confidence, and stamina through various spectacles. Vocal Productions NYC (VPNYC) is a registered501 (c)(3) not-for-profit organization. Administrative staff members are completely volunteer. All funds generated through donations and ticket sales go towards the productions provided for artists and audiences of the Greater New York Area. To learn more visit http://www.vocalproductionsnyc.org/
Vocal Productions NYC (VPNYC) Artistic Director and founder is the Bulgarian-born bass Valentin Peytchinov who has sung extensively throughout the world in the most challenging bass roles. He has appeared all over his native Bulgaria and on the opera, concert and recital stages of Germany, Austria, Italy, Mexico, Canada, Ireland, Poland, and the United States.
In 2000 Mr. Peytchinov was named a principal artist for the Metropolitan Opera and has made regular appearances on the stages of New York City Opera and New York's Carnegie Hall.
Mr. Peytchinov has received critical acclaim for his performances in the roles of Attila, Banquo, Basilio, Enrico VIII, Fiesco, The Flying Dutchman, Mephistopheles, Mustafa, Pagano, Phillipe II, Procida, Ramfis, King Rene, Roger, and Zaccaria, among many others. Major U.S. appearances include performances with Columbus Symphony, The Juilliard Opera Orchestra, Nashville Opera, New European Strings, New York Grand Opera, Orchestra of St. Luke's, Pasadena Symphony, The Santa Fe Symphony and with numerous European and U.S. opera houses. He has also made appearances at the Spoleto Festival in Italy and the Fifth Edition Gala of L'Opera de Montreal.
He made his New York debut at Alice Tully Hall in Shostakovich's 14th Symphony in 1988, and his U.S. debut with the Santa Fe Symphony, in Beethoven's 9th Symphony. In 1990, Mr. Peytchinov was the winner in the America Opera Auditions, and in 1993 earned the achievement as a finalist in the Luciano Pavarotti Competition. He has earned additional recognition as the recipient of awards from both the Sullivan Foundation and Olga Forrai Foundation.
Formally trained as a pianist and composer, Mr. Peytchinov was awarded the Gold Medal for superior achievement in vocal performance. He was also awarded the Misha Popov Award for vocal excellence from the Bulgarian National Conservatory. Recommended by Gian Carlo Menotti, Mr. Peytchinov came to Juilliard Opera Center, where he studied with Enrico di Giuseppe.
Since immigrating to the U.S. in 1988, Mr. Peytchinov has maintained an international presence with performances in music festivals, recitals and concerts. He was featured in two all-Shostakovich concerts in Seattle as part of an International Music Festival (with the New European Strings) which was broadcast on National Public Radio, He performed as the bass soloist in a critically acclaimed world premiere of Shostakovich's two-piano version of the Thirteenth Symphony, "Babi Yar", in New York City. This performance featured pianists Misha and Cipa Dichter, and poet Yevgeny Yevtushenko reading his famous text. Reviewed by the New York Times as "an illuminating performance", the concert commemorated the 65th anniversary of Baby Yar massacre.
Mr. Peytchinov was Chair of the Arts and Culture Festival of Sophia 2010 and part of the International Headquarters Council. He is in the Advisory Committee of the Olga Forrai Foundation. As an educator and supporter of vocal talents Maestro Peytchinov established "The Valentin Peytchinov Vocal Studio" in New York City and contributes with his vocal expertise to "pierStudios" in Manhattan.
Vocal Productions New York City's Gala Concert Fundraiser PRESENTS
Brahms' Ein Deutsches Requiem, Opus 45.
featuring chorus, orchestra and soloists Julianna Milin, soprano and baritone Hyung Joo Eom under the baton of Jason Tramm
April 29 at 6PM
Church of the Holy Apostles
Tickets Range from $35 - $250
To learn more about benefits and to order tickets visit Eventbrite