Sparked by Award Success, Austin-Based Romance Writer Pens Debut Novel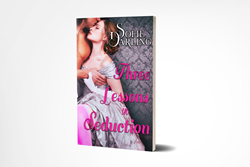 A passion for writing historical romance, along with critical success including winning the 2016 Writers' League of Texas' Manuscript Contest: Romance Category, inspired Austin author Sofie Darling to publish her first novel, "Three Lessons in Seduction."
The first in a series, "Three Lessons in Seduction" is a tale of intrigue, espionage, and steamy romance set in Paris in the early 19th century. The novel will be released for sale on Amazon on Wednesday, Sept. 27, in e-book format by Soul Mate Publishing - with audiobook and printed version coming soon.
Last year, Darling submitted her writing to various author contests, and said the success and recognition she received encouraged her to turn a love for historical romance into a career as a novelist. Along with the Writer's League of Texas award, she also earned the following in 2016: Put Your Heart in a Book Contest, 2nd Place; Molly Single Title Contest, Finalist; Molly Unsinkable Heroine Contest, Finalist.
"I love Jane Austen and Regency England, but I want to include the world outside England that it influenced and that influenced it. I'd like 'Three Lessons in Seduction' to add a fresh perspective to the genre of historical romance by incorporating England's growing empire," Darling said. "When I decided to enter the manuscript into these contests, I was thrilled by the reception.
"I knew it was time to 'take the plunge,' as they say, as an author," Sofie said. "I found a publisher that loves 'Three Lessons in Seduction' as much as I do, and here we are a year later and I'm realizing my dream of being a novelist."
Darling said she spent much of her twenties raising two boys "and reading every book I could get my hands on." When she was no longer satisfied with just reading, but wanted to write books, too, her husband and sons gave her their wholehearted blessing. She also runs a marathon in a different state every year, and loves to visit Europe and tour medieval castles.
"I also love tea," Sofie said. "The taste, the ritual of drinking it - everything about it."
The back cover provides a glimpse into the world of "Three Lessons in Seduction:"
"Lord Nicholas Asquith needs his wife. Too bad he broke her heart ten years ago. Can he resist a second chance at the love he lost?
When Mariana catches the eye of the man at the center of an assassination plot, Nick puts aside their painful past and enlists her to obtain information by any means necessary, even if it means seducing the enemy agent.
Even if the thought makes his blood boil.
Only by keeping his distance from Mariana these last ten years was he able to pretend indifference to her. With every moment spent with her, he feels his tightly held control slipping …
Can she trust the spy who broke her heart?"
"Three Lessons in Seduction" is available now for preorder on Amazon: Amazon.com/Three-Lessons-Seduction-Sofie-Darling-ebook/dp/B074WGWGMK.
To read more, including a sneak peak at chapter one, visit SofieDarling.com.
Related Articles View More Books

Stories
More Hot Stories For You