Scott Volpe of Tucson-Based Fiamme Pizza Dominates in Freestyle...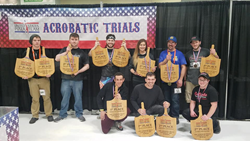 Scott Volpe of Tucson, Arizona-based Fiamme Pizza claimed the first-place trophy in the dough-spinning Freestyle Acrobatics category of the U.S. Pizza Team's Acrobatic Trials, held Monday, Jan. 14, at the Mid-America Restaurant Expo in Columbus, Ohio.
The USPT event has become an annual tradition in Columbus, but this year's edition had a new wrinkle: For the first time, all four categories of competition—including Freestyle Acrobatics, Largest Dough Stretch, Fastest Pie Making and Fastest Box Folding—were broadcast live on ESPN3.
Daniel Lee Perea, PMQ Pizza Magazine's senior media producer, and USPT member and 2016 World Pizza Championship winner Jamie Culliton provided on-air commentary for the event, with PMQ's Chris Green covering it from the sidelines. It was the first time a USPT competition has been aired live on national television.
Often working with two dough skins and executing snazzy reverse double-rolls and other tricks, Volpe won the acrobatics category with a score of 225.5 out of 250. He earned 13 points more than the second-place winner. Volpe will now travel with the U.S. Pizza Team to Parma, Italy, later this year to compete at the World Pizza Championship.
"Italy is going to be tougher than last year," said Volpe, who won second place in the 2018 WPC competition. "I think the talent level of everyone else has gone up. I'm always ready."
The freestyle acrobatics contest also saw the return of veteran spinner Patt Miller of NY Mobile Fire'd, located in Cincinnati, after an absence from competition for several years. Showing no ring rust, Miller took home silver. Nate Wilson of 600 Downtown in Bellefontaine, Ohio, took bronze with a solid performance.
In Fastest Pie Making, Landon Butler of 600 Downtown grabbed gold with a blistering 43.78 seconds. Newcomer Tara Hattan, hailing from Andolini's Pizzeria in Tulsa, Okla., took silver with 52 seconds flat. Roman Miller, also of 600 Downtown, won bronze with 57.44.
Fastest Box Folding concluded with David Whisker of B.C. Pizza in Boyne City, Mich., being as good as gold—he folded five pizza boxes in just 27.87 seconds. Newcomer Max Mathious of Caliente Pizza & Draft House in Pittsburgh took silver with 35.54. Matt Hickey, also of Caliente, took bronze with 42.90 seconds.
The Largest Dough Stretch competition saw a bevy of pizza makers test the limits of how much an 18-ounce dough ball will yield in five minutes. When his paper-thin pizza skin went to the floor for measurement, Butler again came away with gold by stretching it to an eye-popping 35.44 inches averaged diameter. Patt Miller earned silver with a measurement of 33.88 inches. Wilson and Roman Miller narrowly tied for third at 30.42 inches. (Note: due to a mathematical error in the score-keeping process, only one bronze winner was announced at the event.)
PMQ Pizza Magazine, the business trade publication for the pizza restaurant industry, created the U.S. Pizza Team in 2000. Since its formation, the USPT has participated in an international event every year, most frequently at the World Pizza Championship in Parma, Italy. Ranging from culinary masters to dough-tossing phenoms, the Pizza Team renews the passion of those in the industry year after year.
For more information or media inquiries, please contact Heather Cray at media@pmq.com or 662-234-5481 ext. 137
Related Articles
View More Books

Stories
More Hot Stories For You