Scientist, New Thought Practitioner Delves into Relationship Between...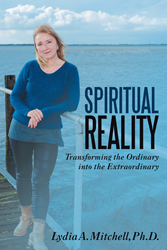 A scientist and researcher who holds a doctorate in chemistry has published her inspirational approach to combining the spiritual and physical realities of life as explained through her unique scientific understanding of the subtle energies that exist undetected by the human eye.
In "Spiritual Reality: Transforming the Ordinary into the Extraordinary," author Lydia A. Mitchell, Ph.D., presents a comprehensive examination of the agreements that exist between physical and spiritual realities and how being aware of these agreements can transform a person's physical and spiritual life. The book presents an approachable and useful guide to developing spiritual awareness and enables readers to tap into the magic that exists all around them.
"Over the last 20 years, I have started more than 11 books on a wide spectrum of topics," Dr. Mitchell said. "It wasn't until about three years ago that I decided I really did want to finish a book – and I wanted the book to be connected to the spirit and the things I've learned and observed about the relationship between the realms we can see and the ones we can't. The guidance I have received over the years gave me the confidence and certainty to carry through the goal, and I hope my readers can glean the wisdom and empowerment from this book that I have."
A gentle and motivating guide to fostering spiritual expansion and empowerment, "Spiritual Reality" encourages readers to incorporate a sense of spirit into every day to maximize their happiness and fulfillment and provide them with confidence and clarity in all decisions.
"Spiritual Reality: Transforming the Ordinary into the Extraordinary"
By Lydia A. Mitchell, Ph.D.
ISBN: 978-1-9822-0602-4 (hardback); 978-1-9822-0603-1 (paperback); 978-1-9822-0604-8 (electronic)
Available through Balboa Press and Amazon
About the author
Lydia A. Mitchell, Ph.D., holds a doctorate in chemistry from Carnegie-Mellon University, completed her undergraduate studies in chemistry and microbiology and has held a diverse array of research positions, both corporate and academic, over the course of her career as a scientist. Dr. Mitchell has carried out numerous experiments based on electromagnetic principles to determine the structure of compounds on a molecular level. An experienced new thought practitioner for more than three decades, Dr. Mitchell has been a Feng Shui consultant for 20 years and has provided Feng Shui consulting services and training courses for clients in the U.S., Spain, Ireland and South America. She currently resides in Villarrica, Chile. To learn more, please visit http://www.lydiaannemitchell.com.
General Inquiries, Review Copies & Interview Requests:
LAVIDGE – Phoenix
480-648-7557
dgrobmeier@lavidge.com
Related Articles View More Books

Stories
More Hot Stories For You