Rhythms: A Thriller of Love & Freedom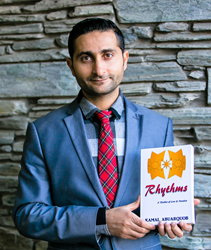 The Book:
What is it that gives rise to revolutions? Is it love? Is it oppression? Could it be music? The answer to this question puzzles Sovann Tumaini, an aspiring scientist who is held back by a haunting past political matter. In pursuit of change, Sovann embarks on a journey to make peace with his past, but consequently loses control over his present. Along the way, his path crosses that of a charismatic journalist, Skylar Akins. Only then he realizes that even revolutions can use a personal touch.
The Author:
Kamal Abuarquob is a trained scientist in San Diego, California. His current work revolves around developing protocols that support ongoing oncology clinical trials. Writing is a strong passion of the author, more like his personal "getaway" -the same way are road trips and camping in the wilderness. Rhythms is the author's first fiction novel. Although dramatized, Rhythms' plot is based on true life events that the author had encountered. It narrates a love story and sheds light on the making of a revolution, employing a variety of lively elements; such as science, politics, and music.
Abuarquob earned his bachelor's degree in Cellular and Molecular Biology, from The University of Michigan. And his master's degree in Molecular and Cellular Biology, from Eastern Michigan University.
Links & Contact Info:
Book's Page on Amazon: Rhythms: A Thriller of Love & Freedom
Email: RhythmsBook@gmail.com
Website: Rhythms-Book.com
Instagram: @GeneticLove
Twitter: @GeneticLove
Author's LinkedIn: Kamal Abuarquob