Reflective New Children's Picture Book Invites Readers to Reminisce on...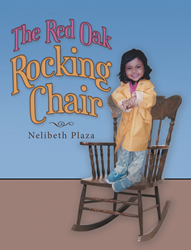 Author Nelibeth Plaza, an elementary school teacher, loves being a grandmother to her granddaughter Mya. As Ms. Plaza watched Mya grow, she cherished each milestone in her life—which turned into beautiful, lasting memories. Wanting to connect with other families who were experiencing their children grow into young adults as well, Ms. Plaza was inspired to publish her first children's book, "The Red Oak Rocking Chair."
As told from the view point of the family's personified red oak rocking chair, the story teaches adult readers the importance of observing and reflecting on children's growth and development while also entertaining young readers with relatable stories and creative illustrations including authentic artwork created by the real-life Mya from kindergarten through the age of 18.
"Watching Mya grow up was the most wonderful experience," Ms. Plaza said. "I was able to see her grow from a baby into the successful young woman she is today. I loved writing this story because I was able to reflect on my granddaughter's growth and express the importance of keeping those memories alive as I am very proud of Mya and all of her accomplishments."
"The Red Oak Rocking Chair" also highlights Puerto Rican culture through food and traditions, especially at Christmas time, which further promotes the importance of family values. As readers journey through the story, they will see aspects of their own family memories reflected in Mya's experiences as told through the eyes of the red oak rocking chair.
To learn more please visit http://www.theredoakrockingchair.com.
"The Red Oak Rocking Chair"
By Nelibeth Plaza
ISBN: 9781489714220
Available at the LifeRich Online Bookstore, Amazon and Barnes & Noble
About the author
Nelibeth Plaza has 26 years of experience in the New York City Board of Education. She has taught children from second to sixth grade, has been an assistant principle Pre-k to fifth grade and is currently a second-grade teacher at the Public School 16 in Williamsburg, Brooklyn. She volunteers her time to Pre-k and day care centers where she does read-alouds and promotes the importance of parents reading bedtime stories to their children. Ms. Plaza's granddaughter, Mya, is currently attending Wesleyan University where she is an art major and is minoring in environmentalism. "The Red Oak Rocking Chair" is Ms. Plaza's first children's book with several more to be released soon.
General Inquiries:
LAVIDGE – Phoenix
Lauren Dickerson
480-998-2600
ldickerson(at)lavidge.com
Related Articles View More Books

Stories
More Hot Stories For You