Political Book Encourages Change in the 2018 and 2020 Elections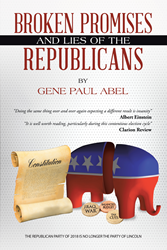 Discussing the history of modern conservatism from the early 20th century up to the 1980s and the present, author
Gene Paul
Abel informs the public of the conservative policies that have failed to solve the major issues faced by America in his new book "Broken Promises and Lies of the Republicans."
Using factual data, Abel demonstrates that the promises made by republicans and their conservative policies have not benefitted the low and middle-income Americans. He also addresses the real and present danger posed by President Donald J. Trump and the refusal of republicans in congress to fulfill their responsibilities under the separation of powers principle in the US Constitution.
"We are faced with serious issues that must be solved—our huge deficit, tax reform, immigration, background checks for gun purchases, the funding shortfall of Social Security and Medicare, rebuilding of our infrastructure and military, educating our children, and creating living wage jobs," said Abel. "The book cites facts to document that the conservative approach has failed to resolve any of them."
"Using figures from government agencies, he forcefully debunks the Reagan-esque theory that cutting taxes for the rich stimulates economic growth and create new wealth that, to the supposed benefit of all, trickles down," states a Kirkus Review.
With the elections in November 2018 and 2020 rapidly approaching, Abel emphasizes how crucial it is for everyone to vote.
"Broken Promises and Lies of the Republicans"
By Gene Paul Abel
ISBN: 9781546248491 (softcover); 9781546248484 (eBook)
Available at the AuthorHouse Online Bookstore, Amazon and Barnes & Noble
About the author
Gene Paul Abel brings a successful and diverse educational and professional background to his factual analysis of conservative policies. He graduated as a Distinguished Military Graduate from Penn State and spent 5 years on active duty as a Regular Army Office and 25 years as an Army Reserve Officer. Abel retired as a Colonel in 1993. From there, he started his passion and love for justice and equality grounded in his ideals of democracy and fairness. To learn more, visit http://www.colonelfortruth.com.
General Inquiries:
LAVIDGE – Phoenix
Bryan Beach
480-306-6554
bbeach(at)lavidge(dot)com
Review Copies & Interview Requests:
LAVIDGE – Phoenix
Kiersten Woglom
480-998-2600 x 586
kwoglom(at)lavidge(dot)com
Related Articles View More Books

Stories
More Hot Stories For You