New Book Challenges American Christians to Find the Jesus of the Red...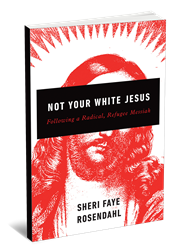 Can you imagine what the world would look like if the thousands of Christian churches in this nation actually lived like Jesus?" Sheri Faye Rosendahl, author of the new book
Not Your White Jesus: Following a Radical, Refugee Messiah
, asks. "Consider how it could look to love a little bolder." Shockingly honest and raw, Rosendahl's debut book challenges American Christians to reconsider the Jesus they've grown up with—a White-Jesus immortalized in gleaming portraits with blond, flowing hair—with the Jesus of the red letters: a Middle Eastern Jew who preached radical, humbling, self-emptying love.
Rosendahl didn't identify with the Jesus of her youth or the message that American Christianity has the answers to save a fallen world. It was only when Rosendahl's humanitarian work with refugees took her to the Middle East that she discovered the Jesus she could follow, one who called for bold, sacrificial love, the kind that imparts radical generosity. In the vein of writers like John Pavlovitz and Jamie Wright, Rosendahl will get under your skin; she'll make you uncomfortable. But in the end, she reminds us what following Jesus truly means.
Sheri Faye Rosendahl is Codirector of The Nations DSM, a nonprofit that is dedicated to advocacy and working with refugees from the Middle East, both domestically and abroad. She is a regular contributor to HuffPost and a blogger at NotYourWhiteJesus.org.
Advance Praise for Not Your White Jesus: Following a Radical, Refugee Messiah
"Sheri Faye Rosendahl gives those of us who follow Jesus a tremendous gift. She holds his life and words up to us like a well-lit mirror, and asks us to look closely, unflinchingly. With boldness and brutal honesty, Sheri invites those of us who call ourselves Christians, to decide if we're okay with what we see—or if we want to aspire to something more beautiful. I'm grateful for her courageous challenge."
—John Pavlovitz, author of A Bigger Table and Hope and Other Superpowers
"Be moved by the passionate, heartfelt reflections of a brutally honest, refreshingly real woman who is totally devoted to following Jesus into the hard places and among those often overlooked by the church. Yes, she's forthright and candid. Yes, she says things that will likely rub you the wrong way. She's just trying to be true to Jesus—the radical, brown-skinned, refugee Jesus."
—Michael Frost, author of Keep Christianity Weird, and Surprise the World!
"Dust off your hope and ditch the despair as Sheri Faye Rosendahl unleashes us to breathe deeply and love as boldly as the Jesus we follow. Not Your White Jesus challenges us to love our Palestinian, refugee, pro-choice, Muslim, marginalized brown and black neighbors, like Jesus' reputation depends on it."
—Diana Oestreich, writer, speaker, and justice activist
"If you are over it with the blond-haired, blue-eyed, white Jesus…
If you struggle to see the connection between Jesus and the actions of his 'followers'…
If you believe that Jesus was a badass but are having a hard time finding him in today's world…
Look no further. Sheri Faye Rosendahl delivers that Jesus and so much more. Not Your White Jesus will have you nodding your head and saying, 'There you are, Jesus. Welcome back. I thought I lost ya.'"
—Jerry Herships, Founder/Pastor of AfterHours Denver and author of Last Call: From Serving Drinks to Serving Jesus
Not Your White Jesus
Following a Radical, Refugee Messiah
Sheri Faye Rosendahl
October 2018
9780664264161 • 5.5" x 8.5" • 204 pages • Paperback • $16.00
Related Articles View More Books

Stories
More Hot Stories For You