How to Live a 21st Century Kingdom Life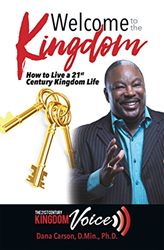 Even in places like Texas, where there seems to be a church on every corner, church leadership is reporting a steady decline in attendance. According to ChurchLeaders.com, only about 18% of Americans actually attend a weekly worship service.
Pastor Dana Carson, D.Min., Ph.D., believes that the key to bringing believers back is teaching the fundamentals in a practical way, using contemporary terms.
In "Welcome to the Kingdom: How to Live a 21st Century Kingdom Life," Dr. Carson offers a guidebook for understanding the teachings of Jesus and the fundamentals of the "Kingdom of God," in its Jewish context.
"Our young people are exiting the church in great numbers," Dr. Carson said. "It has become a social institution, based upon racism, classism, sexism, denominationalism, and egotism, and has lost its direction and identity."
Dr. Carson is the founder and senior pastor of Reflections of Christ Kingdom World Outreach International and has written over 200 books, guides and educational materials to train leaders and laypeople in the Kingdom Bible University: a distance-learning program that offers "Kingdom-based" courses in biblical education.
"The church was created to usher people into the kingdom and serve as an embassy of God's kingdom on earth," Dr. Carson said. "This book is designed to help provide some insight and assistance to 21st century believers, who desire to live wholly and completely for Christ the King."
"Welcome to the Kingdom"
By Dana Carson, D.Min., Ph.D.
ISBN: 978-1-9763-0193-7
Available at the WestBow Press Online Bookstore and Amazon
About the author
Dr. Dana Carson takes a practical and academic approach to teaching biblical concepts. He plants and oversees Bible-centered, Spirit-filled, Community-building, and Kingdom-minded churches on three continents: Africa, Asia, and North America. He received a Bachelor of Science from Wiley College in Marshall, TX, a Master of Divinity at Oral Roberts Seminary and Austin Presbyterian Theological Seminary, and a Master of Counseling from Texas A&M University-Commerce. Dr. Carson has a Doctorate of Christian Psychology from Logos University; a Doctorate of Ministry from Boston University, where he studied The Church and Economic and Community Development at the Harvard School of Divinity; and a Ph.D. in Organizational Leadership from Regent University. In addition to a Global Executive MBA from Duke University, Dr. Carson utilizes his extensive training, combined with over 30 years of organizational experience, to train clients in ministry and corporate settings. To learn more about the author or his book visit: https://www.westbowpress.com/Bookstore/BookDetail.aspx?Book=763463.
Review Copies & Interview Requests:                    
LAVIDGE - Indianapolis                        
Lindsey Gobel                    
317.435.2116                
lgobel@lavidge.com