Fiction Takes Over; ThriftBooks Announces Top Books by State for 2017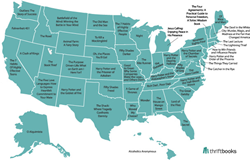 Contact:
Nicole Cox, VP of Marketing
Thrift Books Global, LLC
ncox(at)thriftbooks.com
Phone - 253-275-2241 x 7101
FICTION TAKES OVER; THRIFTBOOKS ANNOUNCES TOP BOOKS BY STATE FOR 2017
Celebrating readers of all types, ThriftBooks Global, LLC this week announced the top-selling books by state for 2017. This is the second year the online used book retailer has released the results, which revealed a move from non-fiction with a slant toward self-help, to fiction.
The data found no two states had the same top-selling book two years running. California was the closest with The 7 Habits of Highly Effective People in 2016 and The 7 Habits of Highly Effective Teens from the same franchise in 2017. Many states found an entirely new favorite for 2017.
Mike Ward, CEO: "It was interesting to see reader choices changing by region. The West Coast is focused on self-improvement, with books from the Seven Habits franchise and Malcolm Gladwell topping lists. This could be influenced by the tech and start-up cultures in those states. Whereas, the next generation of Harry Potter fans looks to be in the North East."
KEY FACTS:

All 50 states were included for both 2016 and 2017, with 2017 seeing 42% more books shipped than in 2016.
2017 saw escapism books dominating, with more fiction and books adapted to movies showing up.
The Northeast has the next generation of Harry Potter fans getting their Hogwarts letters, with five of the seven main titles appearing.
The number of states favoring self-help books nearly doubled from 2016 to 2017.
While many states preferred children's books, only Nebraska had a picture book as their top seller. It was Oh, the Places You'll Go! By Dr. Seuss.
Only four authors dominated the results in more than one state. They are J.K. Rowling, George Orwell, E.L. James, and George R.R. Martin.
The full list of top books by state can be found at https://www.thriftbooks.com/test/b/most-popular-books-by-state-2017/.
-
About ThriftBooks Global, LLC @ThriftBooks
Based in Tukwila, WA, ThriftBooks Global, LLC is the largest online seller of used books in the world. Founded in 2003, ThriftBooks employs more than 650 people and operates 9 US fulfillment centers that purchase, grade, and distribute used and collectible books. ThriftBooks relies on proprietary software to accept, list, and price books across a variety of online channels, including thriftbooks.com, Amazon.com, eBay, and others. ThriftBooks has sold more than 100 million books since its inception.
# # #
Related Articles View More Books

Stories
More Hot Stories For You