Faviana's Spring 2018 Collection Release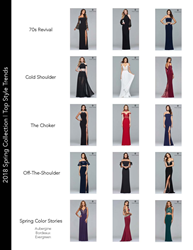 Faviana, the leading designer dress brand for prom, pageant, and evening wear dresses, announces the launch of the Spring 2018 Collection that centers around helping women feel good and celebrate themselves. Not only is this mission statement being carried out by delivering style trends this season that include a 70s revival, cold shoulder options, and the choker necklace, but through social initiatives that go beyond the dress as well.
Faviana is focused on evolving with the everyday woman to relay the perfect Faviana experience. Part of the experience is creating styles for women that are on trend to empower the woman wearing it to be her true, unique self. This collection encompasses three particular trends to set forth a new season of style. The 70s are back in full swing with a modern take on the long sleeve featured with intricate embellishments, bell shape, and lace applique styles this season. The second show-stopping trend of the season is the cold shoulder; a subtly sexy trend that is quite feminine and offers a bit of edge. This style is about to become the party dress go to of Spring 2018 with graceful cut-outs and delicate details. A special addition to the Spring 2018 Collection is the choker necklace. Whether it's an added accessory or a part of the dress, the choker trend is not going away anytime soon. This is a trend that has shown to be timeless and will continue to evolve into each season.
With a focus on empowerment and a mission of "helping women to feel good and celebrate themselves," Faviana created the Faviana Foundation to assist in carrying out these actions, not only through the remarkable selection of gowns curated each season but, in various other ways as well. The Faviana Foundation is launching a number of socially responsible initiatives this season that includes the Faviana Foundation's Women's Leadership Conference, The Upcycle Program, and the Brand Ambassador Program to serve as a starting point to empower women to feel good and celebrate themselves. This season, look for various empowerment mantras inside select Spring 2018 dresses.
Faviana has distinguished themselves over the years as a leader in the industry for being able to create the perfect formal dresses for any special occasion, including prom. The company is known as the 'go to' brand for the best red carpet inspired looks. Designed with the fashion-smart girl in mind, Faviana speaks to a variety of discerning fashion forward consumers. Trending styles are listed below, with images and more information to be made available upon request. Please send all inquiries to Kayleigh McPeck at kayleigh(at)faviana(dot)com.
Trending styles are attached, and images and more information may be made available upon request. Please send all inquiries to Kayleigh McPeck at kayleigh(at)faviana(dot)com.
Related Articles View More Books

Stories
More Hot Stories For You